Gun owners in the Northeast: Part 1 of 4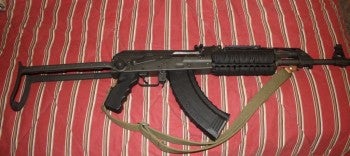 In following online forums and comments, we noticed crime stories around the Northeast often lead to discussions about gun ownership. In this four-part series, we'll hear from four Northeast residents on why they own guns, and their beliefs surrounding gun laws.
This is Vince. The 34-year-old Holmesburg resident owns 12 guns.
NEast Philly: How long have you been a gun owner?
Vince: I finished my tour in the Marines 11 years ago, and ever since then I've owned firearms.
NEP: Why do you own a guns? Was there a specific event that motivated you to get one?
V: Nothing in-particular. My grandfather was an avid marksman and so was my dad — so its in our blood. We are all veterans.
NEP: Are your guns registered?
V: In the state of Pennsylvania, firearms are not kept on any legal registry. 18 Pa.C.S. § 6111.4: Registration of firearms: "Notwithstanding any section of this chapter to the contrary, nothing in this chapter shall be construed to allow any government or law enforcement agency or any agent thereof to create, maintain or operate any registry of firearm ownership within this Commonwealth. For the purposes of this section only, the term "firearm" shall include any weapon that is designed to or may readily be converted to expel any projectile by the action of an explosive or the frame or receiver of any such weapon." With that being said they were all legally purchased.
NEP: Have you ever had to use, or come close to using your guns?
V: Never. And I hope to God I never have to.
NEP: Does owning guns make you feel safe?
V: Owning firearms is just another level of security as far as I am concerned. People lock their doors, turn on their porch lights, have home alarms and own firearms — all because of the criminal element in our neighborhoods.
NEP: Is owning guns relevant to where you live? Would you not own one if you lived someplace else?
V: I would own one regardless of where I lived, but I do agree that where we do live plays an important role in our decisions to own them.
Pictured are two of Vince's handguns. At left is a Beretta 9000 9mm, and on the right is a Glock 22 .40cal. NEP: Do you keep your guns loaded?
V: All of my semi-automatic handguns are always loaded with additional magazines available. On the other hand, my rifles and shotguns are unloaded but have ammunition stored with them if necessary.
NEP: Do you keep your guns locked?
V: They are always locked away unless I am carrying or going to the range. In pains me to hear that some child finds a handgun in dad's sock drawer. A simple locked box costs nothing compared to a life.
NEP: How accessible are your guns when they're not on you?
V: They are all easily accessible anywhere in the home.
NEP: Do you carry in the house, or in the street?
V: In the house, almost always. I may not carry a full-size handgun but I'll easily carry, say, a smaller-framed semi — say a Sig P238 all day at home, washing the car or cutting the grass. In the street, always. I can be going to Wawa, walking my dogs, going to the mailbox or to my parents' house for dinner. It doesn't matter. Keys, wallet, cellphone, handgun, extra magazine…
NEP: Would you encourage others to own a gun?
V: Firearm ownership is not for everyone. Even though I am an avid shooter and NRA member, I believe that people should have rudimentary knowledge of how a firearm functions and its safety features. Its' bad that you can walk into any shop, buy a handgun legally, and have no idea how to shoot it. I've seen people apply for concealed weapon permits that probably have never handled a firearm in their life. I do think that people wanting to own a firearm should take a basic safety course and do their research before making a purchase.