Fundraiser underway to rename St. Cecilia's gym for PGW worker killed last year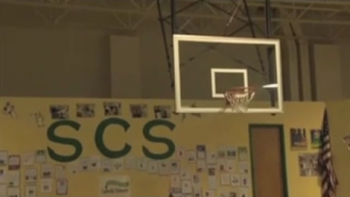 Family and friends of Mark Keeley, a 19-year-old who was tragically killed in an explosion last January, are currently planning fundraising events to renovate the gymnasium at St. Cecilia's School in Fox Chase.
"St. Cecilia's Gym is being renovated due to the extreme generosity of the Mark Keeley Foundation in memory of Mark, who was very involved with our basketball Catholic Youth Organization," CYO Preist Moderator Skipp Miller said. "We are dedicating a plaque that the lights and floor have been donated in his memory."
According to the Facebook page dedicated to these efforts, Keeley grew up attending St. Cecilia where he both played and coached basketball. His two biggest passions were basketball and giving back. He was also a member of St. Cecilia's CYO, an organization that encourages the youth to engage in positive activities that "help them to grow as young Catholic members of our parish while providing service to those in need."
This past season of the CYO kicked off with the teams paying tribute to Keeley on opening night by wearing t-shirts that read: "MK—Be a Giver, Not a Taker."
Thomas Wagner, the head of the maintenance department at St. Cecilia's, said that the gym was in dire need of a repair. The lights are outdated and dull and the floor is severely damaged from several years of use and no care.
Keeley's family and friends are planning several fundraising events including a 5K run, a basketball tournament, a Phillies game tailgate a beef and beer and more, according to the Facebook page. The beef and beer, set for the end of March, raised more than $1000 worth of tickets in one day and has only been getting bigger from there.
The most recent efforts were a bracket pool for March Madness, where the family collected $20 tickets from anyone interested in entering and a $10 raffle to win tickets to the Phillies Opening Day games both at home and away.
Also on the page is an outline of their goals for the renovations. Phase one includes new lighting and is expected to take place this summer. Phase two is tentatively planned for the summer of 2013 and will include a completely restored gym floor.
Keeley, a resident of Fox Chase and employee at Philadelphia Gas Works, was killed in a gas explosion on January 18, 2011, while responding to a gas leak on the 6900-block of Torresdale Avenue in Tacony. Since then, his friends and family members have been eager to find a way to give back to the community in his memory.
"The whole community was shocked," Wagner said. "I was here at his mass and it was overwhelming."
While there is confusion as to the actual events of the day, PGW has been working with the Pennsylvania Public Utilities Commission to get to the bottom of it.
"The case will be referred to the PUC's Office of Administrative Law Judge for hearings because the company objected to the complaint filed against them," said Jennifer Kocher, press secretary for the PUC. "The case is in the early stage."
In December of 2011, the PUC filed a complaint against PGW after investigating the incident. PGW was called to the scene after the police and fire department had been called to investigate a strong gas odor on the 6900 block of Torresdale Avenue.
In their complaint, the PUC stated that Keeley, who is referred to as Crew Member Four, was preparing equipment to begin ventilating the holes that were drilled into the street although he was not trained in emergency response and not qualified to perform that particular task. He was also not being supervised, said the complaint.
The complaint also stated that no one took gas readings to see how much gas was in the area where the drilling occurred.
Director of Corporate Communications at PGW, Barry O'Sullivan, confirmed that PGW had responded to the complaint within the mandatory maximum 20 days that PUC allows with their own account of what took place that day. Once the PUC reviews their response, the two legal teams will get together to assess both accounts and try to find out exactly how things happened.
In the meantime, O'Sullivan asserts that all of PGW is in support of the family's efforts and are still doing their part to remember Keeley.
"When you walk around PGW, the majority of the office spaces here still have photographs of Mark," O'Sullivan said. "Many individuals here want to make sure they remember his sacrifice as what we would consider a first responder and make sure his work within the community is honored and remembered."
The family is asking for the help of the entire community in order to accomplish their fundraising goals.
Maryline Dossou and Matthew Flowers are students reporting for Philadelphia Neighborhoods, the publication of Temple University's Multimedia Urban Reporting Lab.