Fringe Festival reviews: 'Broken Wing,' 'The Hunchback of Notre Dame…a Mute Play' and 'Anna K'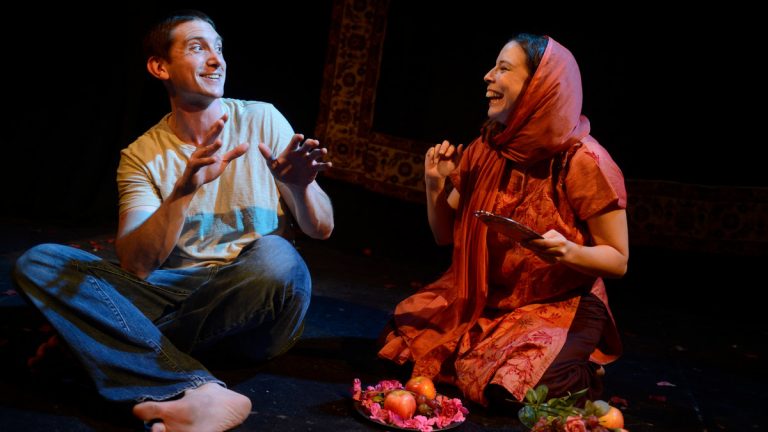 A trio of Fringe Festival reviews from Howie Shapiro; "Broken Wing," "The Hunchback of Notre Dame…a Mute Play," and "Anna K."
BROKEN WINGIn Lila Ghaznavi's "Broken Wing," we watch as a young American man who's working in Iran falls in love with a married Iranian woman. Ghaznavi, who convincingly plays the woman in the three-character drama, gives us a story primarily about the way women are demeaned and abused in many parts of the Muslin world. For me, though, it was as much a piece about American intolerance.
"Broken Wing" is nicely staged by Candace Cihocki amid hanging Persian rugs with the mid-sections replaced by scrims (Kit Stolen's set design), and lit by Matt Sharp to feel a bit dreamlike. Mal Whyte, as the husband who adopted his wife when she was a 5-year-old urchin and married her when she was 19, is excellent as the Iranian host who is housing his longtime American friend's stepson, a freelance American photographer visiting Iran to photograph the famous Damascus roses. The photographer is played by Bob Stineman, in an Ugly American way that's unrealistically arrogant and even at times heartless. Aaron Lathrop built a puppet used effectively in the play.
Stineman's portrayal is a result of the play's problematic set-up: The well-known freelance photographer tells us many times that Iran doesn't meet up with his expectations of the world. He's well-traveled, but Ghaznavi gives him the personality of an ignorant, exploitive novice who's shocked to find a culture other than his own.
As a result, "Broken Wing" seemed artificial to me, despite the sincerity of both the writing and the production. Ghaznavi uses flashbacks well to tell her story, and the tale has plenty of material to hold our attention. Plus, its final scenes are compelling. I couldn't shake the feeling, though, that the story was unnecessarily loaded.
_"Broken Wing," from Leila and Pantea Producions, runs through Sept. 19 at Studio X, at the corner of 13th and Reed Streets.
THE HUNCHBACK OF NOTRE DAME…A MUTE PLAYVictor Hugo's passion-filled story about the love and a devotion of a hunchback for a beautiful woman is a perfect vehicle for site-specific work, and the city's Renegade Company brings it off in great style – as a silent movie set inside the handsome sanctuary of the First Presbyterian Church in Center City.
Michael Durkin conceived and wrote the script and Mason Rosenthal collaborated with Annie Wilson and the ensemble to devise the all-important movement, which shows off the church's interior by using it to tell the story in dramatic and meaningful ways. The highlights of this story about the bell-ringing hunchback at the famous church in Paris are all here – set to rousing music and a frequently soulful soundscape by Joo Won Park and Adam Vidiksis. To the audience's left of the playing space in front of the altar, Vidiksis operates a Foley system and plays percussion.
Genevieve Geer's puppets are part of the action (there's a pre-show, too), and Rebecca Kanach's costumes have an old-time Parisian street feel. The dramatic lighting by Eric Baker is paramount – all the stagecraft needs stand out when you're working without any dialogue.
Renegade's cast delivers the story with highly expressive faces and smooth movement. Dan Higbee makes a determined outcast of a hunchback, and Steve Wright is the Notre-Dame priest who is his protector. Lee Minora is a mysterious Esmeralda, the object of both their affections, and Doug Greene, Shamus Hunter McCarty, Eric Scotolati and Anna Zaida Szapiro round out the rest of the able cast.
_"The Hunchback of Notre Dame…a Mute Play" from the Renegade Company runs through Sept. 22 at the First Presbyterian Church, 201 S 21st St.
ANNA KThe energetic cast of Chris Davis' independently produced version of "Anna Karenina" could perform it anywhere, but the show feels so much at home in what's supposed to be the residence of Anna and her family – a row house in South Philadelphia on Wharton Street. Accordingly, Davis has set the story in Philly, in that particular house, and our time.
"I gotta bounce!" says the character Vronsky (played by Davis) as he quickly exits from Kitty (Jenna Horton), the gal who has her hearts set on him. Later, Kitty tries repeatedly without success to contact him by text messaging — when she complains to her dad (David Sweeny) that he doesn't answer, her dad informs her that people can actually speak into the phone with their own voices. When the suitor Levin (Sam Henderson) comes into town from his home in the woods, he tells of the trip's difficulty – all those bumps and swerves on the Pennsylvania Turnpike.
Anna, we're not in Moscow anymore. Still, Leo Tolstoy's story is clearly perceivable here, and a whole lot funnier. Ama Bollinger makes a swell Anna, and Eva Steinmetz directs the show to use the house as a natural setting in every best way. Davis gives us both an updated "Anna" and a home-grown show that's an hour of many delights.
_"Anna K" runs through Sept. 21 at 1816 Wharton St.
WHYY is your source for fact-based, in-depth journalism and information. As a nonprofit organization, we rely on financial support from readers like you. Please give today.