Frankford Pioneers' center Shaquille Duncan chooses a college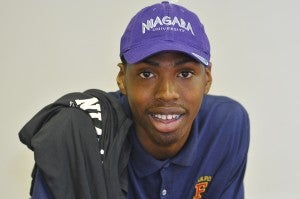 "Wednesday, September 9, during a press conference held at the school's library, Shaquille Duncan announced that he plans to attend Niagara University next year on a full scholarship. Duncan, a 6-foot-8, 198 lb. senior who plays center for Frankford's basketball team visited several other universities including Robert Morris, George Mason, and Drexel before deciding on Niagara.
Niagara's basketball coach has his roots in Philadelphia, something Shaq didn't learn until this past week. Shaq said Drexel was near the top of his list of schools he considered, but he looked forward to attending school away from home, and Niagara seemed to offer the best opportunities overall. Yes, he was taken to see Niagara Falls and got "real wet." Shaq is very optimistic about the upcoming basketball season. "I think we'll be No. 1," he said."
Click here to see our complete coverage of the Northeast's high school football teams in our High School Football Preview package.