Former Phillies slugger Jim Thome voted into Baseball Hall of Fame
Listen
0:47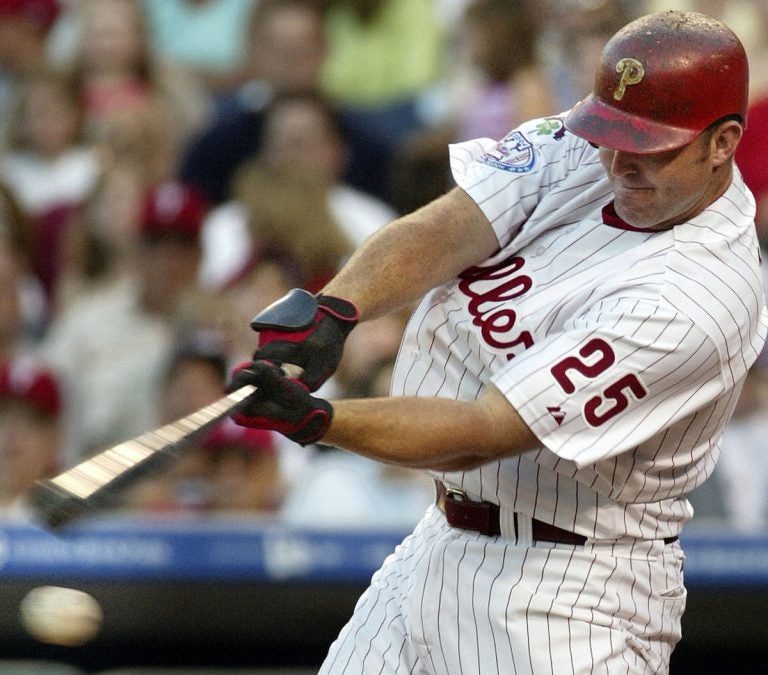 The Baseball Hall of Fame will induct six new members this summer, including one Phillies fan favorite.
Jim Thome, who spent parts of four seasons with the Phillies from 2003 to 2005 and again in 2012, was selected in his first year of eligibility appearing on nearly 90 percent of the ballots cast. A five-time All-Star, Thome played 22 Major League seasons, 11 with the Cleveland Indians.
He hit 612 career home runs, including a record 13 walk-off home runs. Thome, who is also Cleveland's all-time home run leader, credited his success to his longtime hitting coach — and former Phillies manager — Charlie Manuel.
It was Manuel that also helped Thome with his trademark batting stance.
"I would not be here if it wasn't for Charlie," Thome told MLB Network on Wednesday. "There were days when I was in Triple-A that he told me I wasn't ready to go to the big leagues. So from that point, I knew and trusted him like a father."
Manuel said that he was "happier than Jim is" that he was elected to the Hall. Manuel was managing in the Cleveland farm system at the time and he saw a lot of Roy Hobbs, the fictional star in the baseball movie The Natural, in Thome. He suggested that he mimic Hobbs' approach at the plate and it paid dividends.
In his first season with the Phils, Thome led the National League in home runs with 47, drove in a career-best 131 runs, and finished fourth in the National League MVP vote. Thome also had stints with the Baltimore Orioles, Minnesota Twins, and Chicago White Sox, where he currently works as a special assistant to the general manager.
Thome will be joined by former Atlanta Braves star Chipper Jones, former Expos and Angels slugger Vladimir Guerrero, and former San Diego closer Trevor Hoffman along with former Detroit Tigers stars Alan Trammell and Jack Morris — who were selected by the newly formed Modern Baseball Era Committee — as a part of the 2018 Hall of Fame class.
The induction ceremony will be held on July 29 in Cooperstown, N.Y.