Flavorhood: Lower Moyamensing's tomato pie treasures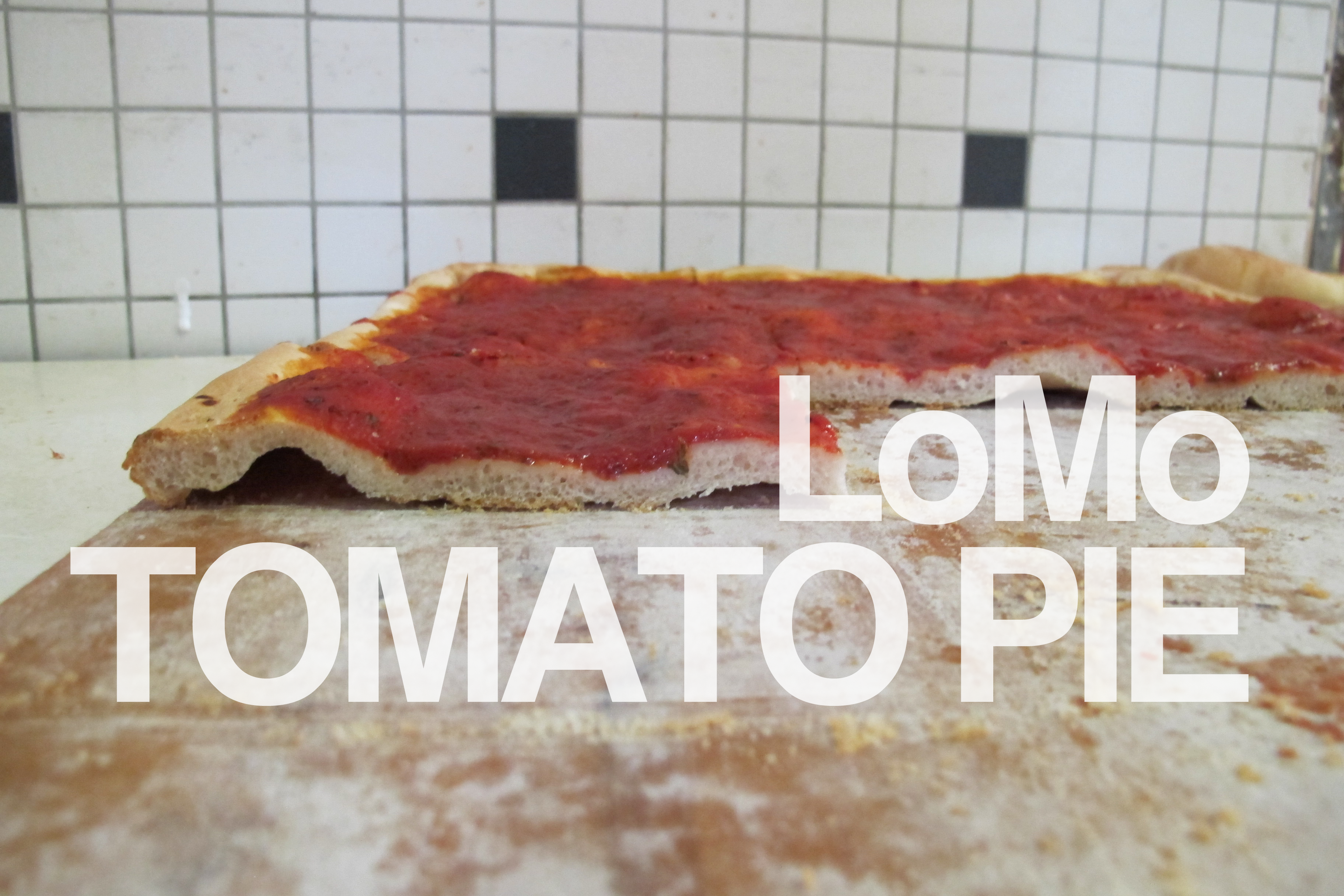 Philadelphia is a city of neighborhoods, packed with distinctive tastes, treats, and flavor all their own. Occasionally we set out to explore some of the city's unique food assets and their roles in neighborhood life as part of a feature we call Flavorhoods. Our first adventure was a trip on the Tacony Hoagie Trail. Today we share a dispatch from Lower Moyamensing where we tasted tomato pie and talked neighborhood change with two lifelong neighborhood bakers.
In South Philly's Lower Moyamensing neighborhood, New York Italian Style Bakery and Villari Brothers Bakery are two classic Italian bakeries specializing in fresh breads and delectable tomato pie. Despite decades of neighborhood change, along with shifting shopping habits and food production, both bakeries manage to anchor their respective corners by catering to locals and longtime customers drawn to the old neighborhood for tastes of their past.
Eyes on the Street was tipped off to the neighborhood's concentration of excellent bakeries by LoMo Civic's president Kim Massare. So I drafted my colleague Andrew Goodman for a bakery tasting tour of tomato pie wedges on a blustery late winter day. We began at a spot that Andrew already counted among his favorites: New York Italian Style Bakery at South 11th and Daly streets.
New York Italian Style Bakery 2215 S 11th St
Walk in to New York Italian Style Bakery and you're instantly greeted with the sweet yeasty smell of fresh bread; racks of seeded and unseeded loaves, rolls, pizza dough and tomato pie line the small storefront.
We ordered our slices of tomato pie, a surprisingly thin-crusted variety, topped with a nicely balanced sweet-yet-tangy red sauce flecked with herbs. Simplicity at its finest.
We'd been tipped that the vintage ovens and equipment at New York were a treat to behold. After a holler back from the counter, owner Stephen Candeloro invited Andrew and I into the back room to check the place out.
The rear wall is lined with 12-foot deep brick ovens, which Candeloro was using to bake tomato pies that afternoon. (They've been used for everything over the years, including a memorable 55 Thanksgiving turkeys one year.) The room is simple – long prep tables, rolling racks, and a museum of vintage baking equipment largely purchased by Candeloro's father in the 1950s. We were even lucky enough to the vintage roll-making machine in action.
New York Italian Style Bakery opened in 1926, and it's been in the Candeloro family since the 1940s. (He's not sure how it got the name New York, though.) Stephen Candeloro said by age 9 or 10 he started working with his dad at the bakery. That meant he stopped going to church on Sundays. But New York Italian Style Bakery had its own church routine of sorts.
Epiphany of our Lord sits just up 11th Street from the bakery and on Sundays, Candeloro recalled, kids would take 25 cents from the donation envelopes, and mob the bakery after church for pieces of tomato pie. As we talked, one longtime customer denied partaking in this practice, with a wink and smile, as he left with his loaves.
Back then, the bakery was very much a part of the neighborhood's daily routine, Candeloro recalled.
"Women would come in to buy rolls at 7 in the morning and would talk about what was already on the stove for dinner," he said. "No one's doing that anymore. Shopping habits have shifted."
By the time we got to munching on our tomato pie slices, Candeloro was warmly lamenting that it was too early for him to share his backyard figs with us. His wife doesn't like them, he said, which some people think is why they have a good marriage. No one fights over the figs. We agreed to take him up on it next time. Instead, we bought a seeded loaf and ball of pizza dough for the road.
Stephen Candeloro showing off some of his shop's vintage, but still used, equipment.

Racks of tomato pie at New York

New York's tomato pie

Stephen Candeloro and his mighty brick ovens in action

Inside New York Italian Style Bakery
Villari Brothers Bakery 2134 South 10th Street
Nearby at 10th and Winton, where we found Joe Villari behind the counter of Villari Brothers Bakery.
"This is a real tomato pie. The other one you see, trust me, it's a bunch of joke," Villari told us, eyes twinkling, his Italian accent still strong after decades in the US. The golden and buttery crust – thicker than New York's – was deliciously topped with garlicky sauce. (They also make a garlic-centric white pizza.) Sweet harmony.
Villari is a charmer who smiles and laughs as he speaks to customers, punctuating his sentences with God bless yous.
While we ate our slices, Villari tended to his customers and chatted with us about his 43 years in business and how the neighborhood has changed in that time.
"This was a beautiful section. Beautiful," he said. Back then the neighborhood was stronger because there was a lot of work nearby at the Navy Yard or quartermaster. But as those jobs disappeared, Villari said he watched the neighborhood – and his business – shift.
"Really what happened is many of the factories closed. When you don't work, you can't buy no pizza," Villari said laughing.
As we spoke, and customers came and went, Villari knew virtually everyone's face, their stories. How's your mother? Did you get that new job? God bless.
"Twenty years ago it was like a family. Years ago you used to know every person who worked around this place."
He doesn't blame people for moving away, because he says sees less opportunity for the neighborhood's young people these days. It reminds him of why he moved to America from Italy in 1961. "You can't live on beauty. At least over here there was opportunity."
Despite all a changing community, his bakery has its loyal regulars. Supermarket bread may be convenient and lasting, he said, but on weekends and around holidays Villari notices that his shop is at its busiest.
As were paying and getting ready to leave, I caught a whiff of cinnamon from his fresh raisin bread on the counter.
"I want you to buy it because it's great," Villari said proudly. It was rich and eggy and divine.
Joe Villari minds the counter of Villari Bros. Italian Bakery

Villari Bros.

Villari's tomato pie

Tomato pie makes one EOTS editor very happy.

Andrew Goodman, flavorhood comrade.
WHYY is your source for fact-based, in-depth journalism and information. As a nonprofit organization, we rely on financial support from readers like you. Please give today.