Fishtown Beer Runners say goodbye to founder
The founder of the Fishtown Beer Runners is stepping away from the club after 15 years. The group says it will continue its runs each week.
Listen
1:08
More than 100 people gathered in Fishtown Thursday to say goodbye to the founder of a local running group.
David April founded the Fishtown Beer Runners more than 15 years ago. The club promotes exercise, as well as the responsible enjoyment of a good beer. The group runs between three to five miles every Thursday before stopping at a nearby pub to close out the evening.
April says he got the idea from his "running mentor," Eric Fiedler, who told him about a study that focused on the rehydration benefits beer has after exercise.
"It grew pretty quickly, and I think for a couple of reasons," April said. "I think one of it was just the sheer curiosity of it. You know, runners didn't know if we were 'real runners.' I think that also coincided with the rise in running, especially in the Philadelphia area, but also the rise of craft brewing."
April has been battling kidney cancer since 2015. The group has previously raised funds for organizations in his honor, including the American Cancer Foundation and Legacy of Hope.
The support also extended to the day of his surgery to remove a tumor, which coincidentally took place on a Thursday.
"They arrived at my hospital bed with a fake IV filled with beer," April said. "We're a family, and any time something happens to a family member, you kind of coalesce and you gather around and you support them. That's exactly what they did for me."
The group's support can be seen in the relationship between members, including Mark McCowan, a visually impaired athlete who has completed 31 half marathons. He said the group's non-judgmental nature made it easy to join.
"Just put a pair of sneakers on and just come out," McCowan said. "There's no judgment, just come out. People are friendly, they're helpful. They'll probably even push you a little bit, meaning they'll get you going."
More than 100 people packed the street in front of David's house on Mar. 23, 2023 as he set out for his last run. (Cory Sharber/WHYY)

A film named Beer Runners, focusing on the group and its origins, was released in 2014. (Cory Sharber/WHYY)

David April addressed his longtime running partners and some of the families that have started as a result of the group Thursday evening. (Cory Sharber/WHYY)

Mark McCowan and David April (left to right) have been running with each other for the past decade. (Cory Sharber/WHYY)
McCowan's relationship with the group's founder stretches back more than a decade. April often helps McCowan navigate the paths they run on, but has also guided him in other ways.
"I used to drink Coors Light," McCowan joked. "Since I met David, David's introduced me to craft beer, so I've become a better drinker."
The unique combination of beer and running attracted the attention of documentary filmmaker Justin Wirtalla, who released "Beer Runners" in 2014. Wirtalla told WHYY News then he was inspired to make the film after hearing the runners' stories about how the club changed their lives.
Thursday was April's final run with the Fishtown Beer Runners. He and his wife have plans to retire and move to Spain. And while he'll soon be running on the other side of the pond, he took a moment to reflect on the legacy he's built in Philly.
"I never intended any of this. It was just something I did to kind of heal myself. A lot of people come up to me and say, 'Hey, I went through a divorce,' or 'I was overweight,' or 'I was a smoker, and I saw your story and now I run.'" April said. "This chapter of my life has opened new chapters and really created a new life for me."
The Fishtown Beer Runners will continue to meet on Thursdays and plan to select a new leader in the near future.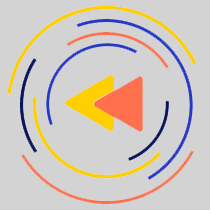 Saturdays just got more interesting.
WHYY is your source for fact-based, in-depth journalism and information. As a nonprofit organization, we rely on financial support from readers like you. Please give today.