Final thoughts on the snow: people across the city weigh in on the parking situation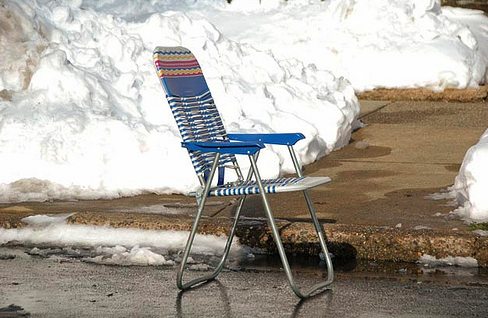 Now that the snow is finally going somewhere, it's time to take a step back and re-evaluate the parking situation. Perhaps now that there are fewer lawn chairs, trashcans and other paraphernaila saving spots, we can look back on the 2010 blizzard and laugh . . . or at least not slash tires, breaks windows and steal traffic cones.
We had hundreds of readers weigh in on various snow-related topics, but none was as popular as the spot-saving issue. Here are some of their thoughts, in addition to remarks from police officers, politicians and Mayor Michael Nutter:
Nutter: "Look, if you spent two hours digging your car out … ultimately that has to be something respected by the community" [source].
Shannon Foley-Harris (reader): Who cares what Nutter says IT IS ILLEGAL!!! So then when all you spot savers get tickets you will have something else to cry about!!
Steven Ptashkin (reader): The mayor is an idiot for making that statement.
State Rep. Tony Payton Jr.: "It is what it is. It's just a little snow, so if someone puts something in the way, find another spot. Let's let cooler heads prevail" [as told to the Northwood Civic Association during the Feb. 16 meeting].
Kit Perdunn (reader): I think you should only save the spot directly in front of your house. Most homes in my area of the N.E. (Bustleton and Harbison area) have parking spots in their back driveway so I don't know why people don't just clear out their driveway and then not have to worry about people taking their spots.
Gina Trice (reader): If I came home after breaking my back shoveling out a spot to find someone else in it…tires are getting popped ha.
Mark Mroz, community relations officer for the 2nd Police District, told Lawncrest residents: I'll throw your chair out and write you a ticket" for saving parking spots.
Peg Slagel (reader):If you dig it out and put your chairs there its your spot. It's the unspoken word of the northeast.?Jack Daniel (reader): actually its illegal…nobody OWNS a parking spot…unless u gotta driveway.
And on a more sarcastic note . . .
Barry Good (reader): You dig out that spot, IT is YOURS! FOREVER. You own that spot, even after the snow melts away. You could build a hotel on that spot, you own it, IT IS YOURS. Heck, you could build 2 hotels & put up a parking lot in that spot cause you dug it out, you own it.
The responses from our readers ran the gamut, but most agreed that the spot-saving stops when the snow being to clear. Question is, what's the definition of "clear"?