Kensington residents say drug users causing more problems in the wake of Conrail cleanup
Listen
1:59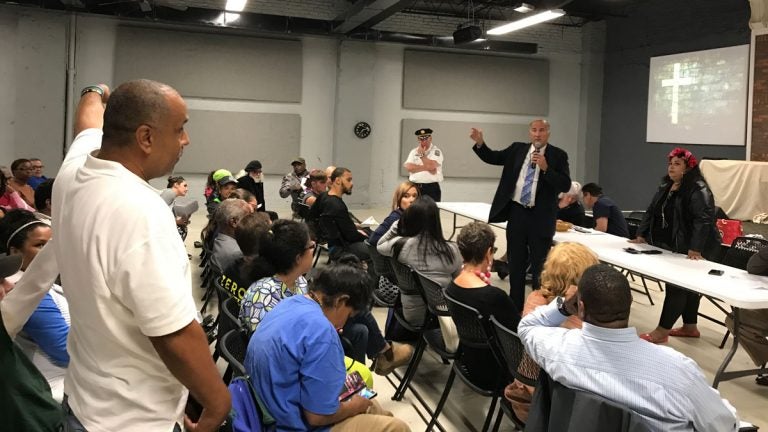 Residents in Philadelphia's Kensington neighborhood say conditions have gotten worse there since the city and Conrail began sealing off access to the railroad tracks that were popular with heroin users.
Addressing city officials at a meeting of the group Somerset Neighbors For Better Living, locals said drug users are now moving around to more visible spots in the neighborhood — and bringing threats to health and safety with them.
The litany of complaints included robbery, dirty needles littering sidewalks where children play, defecation in the street, and getting hassled by dealers. Residents said they were exposed to the trauma of drug overdoses on a regular basis.
"My issue is like the rest of our neighbors," said Elizabeth Carpenter, 57. "How can we be protected?"
Many residents said the situation had gotten particularly bad around the tunnel at Emerald Street and Lehigh Avenue, with more drug users camping out since the Conrail razed the notorious tent city along the Gurney Street railroad tracks. Conrail has been cleaning up the half-mile stretch of railroad tracks since the beginning of August and expects to finish fencing it off in the next two to three weeks.
Katie Rivera, who runs a gymnastics studio near the Emerald Street hotspot, said she's been forced to hire a security guard and goes out everyday to clear the sidewalks of dirty needles.
"I have little kids who are coming up, and they think these needles are treasures," said Rivera. She said that 200 to 300 children and their families come to the studio every week.
Captain Daniel O'Connor of the 24th Police District said officers and outreach workers are going out to Emerald Street every day. He told residents that law enforcement faces a difficult task of trying to help drug users and protect neighborhood residents at the same time.
"We're trying to find that balance between enforcement and treatment," O'Connor said.
Even the residents who spoke up weren't sure how to strike that balance. Some wanted more drug users locked up. Others called upon the city to treat them with more compassion.
"You have to understand, these people are sick," said Rick Alvarez, who volunteers his time to help local drug users. "This is a health and societal issue, not a criminal justice issue."
As Alvarez continued speaking, he was interrupted by a woman who objected to that distinction, saying the reckless behavior of drug users put her family's safety in jeopardy.
Officials from the city's behavioral health and homeless services agencies detailed efforts to provide treatment and housing for drug users, and promised to continue this outreach work. The city says 225 people have been referred to treatment so far.
Local councilman Mark Squilla said that a task force of various city agencies including the police department and homeless services are coming together to create a "citywide policy" for how to deal with the types of problems residents were reporting in Kensington.
Officials also urged residents to call 911 to report dangerous or illegal activity, and to contact the homeless outreach hotline when they see people living on the street. That number is 215-232-1984.
WHYY is your source for fact-based, in-depth journalism and information. As a nonprofit organization, we rely on financial support from readers like you. Please give today.