Fear of encroaching gun control draws hundreds to Harrisburg
Hundreds of people attended a Second Amendment rally in the Pennsylvania state Capitol.
Listen
4:49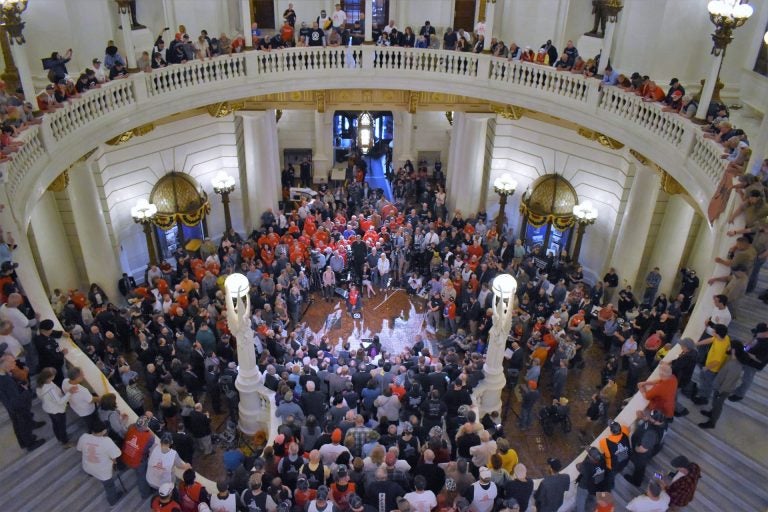 This article originally appeared on PA Post.
—
On Monday, gun rights supporters from across Pennsylvania flooded into the state Capitol for the annual Rally to Protect Your Right to Keep and Bear Arms.
Not coincidentally, state Capitol police were much busier than usual Monday morning.
Most days, if a person with a concealed-carry permit wants to go into the Capitol building, they can drop off their gun in a side room by the back entrance.
Officer Richard Schur said getting one drop-off in a day is considered a lot. But Monday, police anticipated so many guns that they opened a separate processing room.
Schur estimated he would check about a hundred concealed weapons by day's end.
The people who carry those guns came from all around the state and had a variety of reasons for taking off work on a Monday to demonstrate in Harrisburg.
Take Anthony Bruno, a tall man in a "come and take it" T-shirt emblazoned with a picture of a semi-automatic rifle.
He was standing by the Capitol's outdoor fountain because he didn't want to check his gun to go inside.
"We're not going to just sit back and let our rights be chipped away by something that's just a feel-good measure," he said.
Siobhra DeWar, who did check her 9mm handgun, comes at it from a different angle. She's a Navy veteran and transgender woman who said she was probably further left than most of the people at the rally.
But she is adamant about guns.
"As long as they're beating and killing transgenders for using the inappropriate bathroom or something, I need the gun," she said.
One rallier represented the American Guard, a self-described "constitutional nationalist" group that the Southern Poverty Law Center classifies as a hate group.
Firearms laws vary widely by state. In the last decade and a half, Pennsylvania's haven't changed much.
For instance, background checks are required for private sales of handguns, but not long guns. Firearms don't have to be registered with the state. Open carry is allowed.
Last session, gun control groups got a rare win, with a measure that requires convicted domestic abusers to give up weapons more quickly, and stops letting friends and family keep custody of them.
That bill was the subject of derision at the rally, as was one that's making progress this year—a so-called Extreme Risk Protection bill that would let police and family petition a judge to temporarily restrict a person's ability to possess firearms, as long as they can prove the person is a danger to themself or others.
Erich Pratt, the executive director for Gun Owners of America, described it as a scenario in which people subject to ERP orders would have "no trial by jury, no having your attorney present, no facing your accuser, just boom, a judge takes the word of someone who may have a vendetta against you, and you lose your guns."
Montgomery County Rep. Todd Stephens is sponsoring the extreme risk bill.
He's a Republican—though Pratt and other ralliers called him a "Republican in name only."
He said the gun rights crowd is misinterpreting his legislation.
"They don't understand the current state of the law," he said. "Today in Pennsylvania, you can be 302'd, which means you're taken away from your home, your family, your job for up to five days and then you lose your gun rights for life, and you have no due process whatsoever."
Stephens is pitching his bill as an alternative to that. He noted that he's been able to win over a number of fellow Republicans.
And he acknowledges that some will never get on board.
Those adamant opponents were out in force at the gun rally. One of them is Rep. Daryl Metcalfe.
The Butler County Republican frequently finds himself in the news for his skepticism of mainstream climate science and opposition to an LGBTQ nondiscrimination bill, among other things. But gun rights are one of his biggest issues—he founded the annual Second Amendment rally in 2006.
He said attention has ebbed and flowed since then, generally picking up steam when a major shooting happens, or when gun control bills are passed.
His role, he said, is to stand firm.
"I think it's going to be a hard position for any of our leaders to move legislation that will have more gun control as part of it," he said. "There's going to be more consequences brought to bear this year by myself and others if they try to."
Shira Goodman, director for the gun control group CeaseFire PA, said she's not trying to antagonize Second Amendment supporters.
"We continue to want to do things to promote safety, that will promote safety, that will save lives, that will reduce gun violence," she said.
Lately, Goodman's main focus has been Todd Stephens' extreme risk bill.
She said she thinks it has a shot at passing, but added that it's always been an uphill battle.
Correction: This story previously misstated the demonstrators in Harrisburg as gun control advocates. 
WHYY is your source for fact-based, in-depth journalism and information. As a nonprofit organization, we rely on financial support from readers like you. Please give today.