Father and son rescued from burning home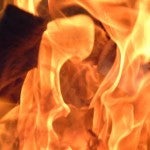 Paramedics were able to rescue an ill man and his son from their home yesterday after a fire broke out.
Firefighters were battling a blaze at 3306 Fairdale Rd., and had it under control when they heard screams coming from a nearby home. When smoke began spreading to neighboring houses, the father, confined to his bed had no way out.
Paramedics went into the house to save the two men, who were uninjured and able to return home. The home where the fire started is destroyed, and the cause of the blaze is still unknown.