Families gather for food, fun and faith at Seven Mile Road party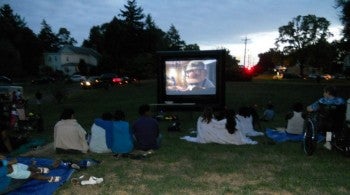 From Seven Mile Road Church:
Residents of the Bustleton neighborhood made the most of a beautiful summer evening by attending the second annual Community Night hosted by Seven Mile Road Church
Attendees sprawled out across the front lawn of the church. Children took turns jumping inside a large house-shaped moonbounce. Others giggled as they had their faces painted with butterflies and baseballs. Some of the adults played volleyball, while others tossed around a football or a frisbee. Everyone was treated to music and food while meeting new friends from the neighborhood.
The highlight of the night was an outdoor movie under the stars. Lawn chairs and blankets littered the lawn as families cozied up to watched Disney's UP on a large outdoor screen. Perhaps best of all, everything was free.
"We've been talking about being a church that exists not just in the city, but for the city," said Ajay Thomas, pastor of Seven Mile Road Church. "Our hope was to have a positive, completely free event to serve the people of our neighborhood. We are here to be a blessing to our city. Tonight was a baby-step in that direction."
The night was a great success and exceeded the expectations of many.
"We certainly can't take all the credit," said Shibu Daniel and Charley George, organizers of the event. "We were blessed with a lot of help."
The Community Night was made possible by the generosity of several partners and local vendors. True Vine Community Church, another new church in the Northeast, donated 200 free hotdogs and 200 bags of chips. A nearby Wegmans gave a $50 credit, which in turn, provided all the hotdog and hamburger buns for the night. Additionally, Starbucks on Roosevelt Boulelvard, supplied free iced tea and iced coffee for the event.
Dennis Mathew, a member of Seven Mile Road, said, "What made this night so special was the way different people and organizations partnered with us. And then to have the community come out the way they did – it's been great."
Seven Mile Road, whose unique name comes from a story in the Bible, is a new church in the Northeast.
"The name comes from the Gospel of Luke, where, after his resurrection, Jesus walks seven miles with two guys who don''t recognize him. They walk together, ask questions and talk together, eat together, and by the end, their eyes are opened to see Jesus," explained Thomas. "We love the story, because our hope is to be a church where people who are at different points in their spiritual journey can walk together, talk together, eat together, and live life together as our eyes are opened to Jesus. We often say, 'you are welcome to belong here even as you figure out what it is you believe.'"
Seven Mile Road began gathering for worship in September 2009. Less than a year old, the mission is ""to exist for the glory of God and the good of our city."" The young church is excited about its future and hopes to be an important part of the community.
For more pictures of the Community Night, check out Seven Mile Road''s Slideshow.
Submitted by Seven Mile Road Church