Expats of all stripes embrace Philly's brand of Americana at the Eagles' London game
Scenes from a Philly-themed bar in London during an American football game.
Listen
2:06
Officially, the American embassy in England is in Vauxhall, in Southwest London.
But in Fitzrovia, in Central London, there's a Philly-centric consulate called Passyunk Avenue. And, in true Philly fashion, this Philly-themed dive bar closed down the street Sunday for a block party in honor of the Eagles' matchup with the Jacksonville Jaguars at London's Wembley Stadium.
In true London fashion, it costs £20 (or about $26) a head just to get in. The block party sold out weeks ago – over 500 people bought tickets, and more showed up day-of, decked out in Eagles gear, pushing the fire code limits, which are strictly enforced.
Philadelphia can be a small town. If you spend enough time there, it quickly becomes impossible to walk down the street without seeing someone you know.
London is not a small town. The English capital is perhaps the most cosmopolitan city in the world. But with the Birds game on at Passyunk Avenue, it's still impossible to go long without running into someone you know.
In this reporter's case, two guys he played rugby with back in Philly. We were all here to watch the Eagles — all Americans who play a British sport watching American football in London at a Philadelphia-themed bar.
But this bar, open for less than a year, has already become a second home for expatriates of all stripes and Philadelphians in particular.
"It's the only place in London where people ask you what high school you went to," said Jamie Klinger, a Central High grad, who has lived in London for 17 years.
While thousands of Eagles fans flew across the pond to watch Sunday's game, expats like Klinger simply took the tube to Passyunk Avenue, which has become a familiar Sunday routine.
"It's the only bar I've ever brought a housewarming gift to," she said.
Alison Boettlin first came to London for her master's degree — a woman interrupted to drunkenly scream, "Biiiiirds!" before this reporter had a chance to find out when. Watching the game here in her Eagles jersey and matching wool knit hat makes the Reading native feel a bit closer to home.
"It's really special for me, especially Passyunk Avenue to do an event like this," she said.
Those who descended on the bar without roots in Eagles territory came to embrace Philly's particular brand of Americana, and all of them had a different story to tell about how they became Birds fans in the first place.
Sandra Hoefler, a native of Vienna, Austria, lived in New York City for a few years, where her Philly-born roommate, Max Stanisce, indoctrinated her into Eagles fandom.
"I'm totally converted," she said. "I finally get it now, I think."
"I think you might know it as well as I do," added Stanisce, who traveled from New York to be in London for the Eagles game and visit his friend.
"That's the only way to get him to leave New York," Hoefler jumped in. "The Eagles playing."
Watching the game here is no different from watching at any other South Philly bar — "Fly, Eagles, Fly" chants fill the air, along with the savory scent of freshly fried cheesesteaks — but there are some exceptions. Most notably, the Citywide Special, which at £6, is a bit more dear than the $3 deal you can find at most Pennsport dives. And while there are plenty of conversations that begin with a very Philly "Yo," there are just as many interactions that end with a very British "Cheers."
Not that Steve Barr minds. Barr was down in London from York, sporting a midnight green shirt that says, "I may live in England, but on Sundays, my heart belongs to the Eagles."
He became a fan through Jim Kane, a Philadelphian and mummer in the Froggy Car wench brigade who worked in London for a while. The two met while watching an England soccer match and became fast friends.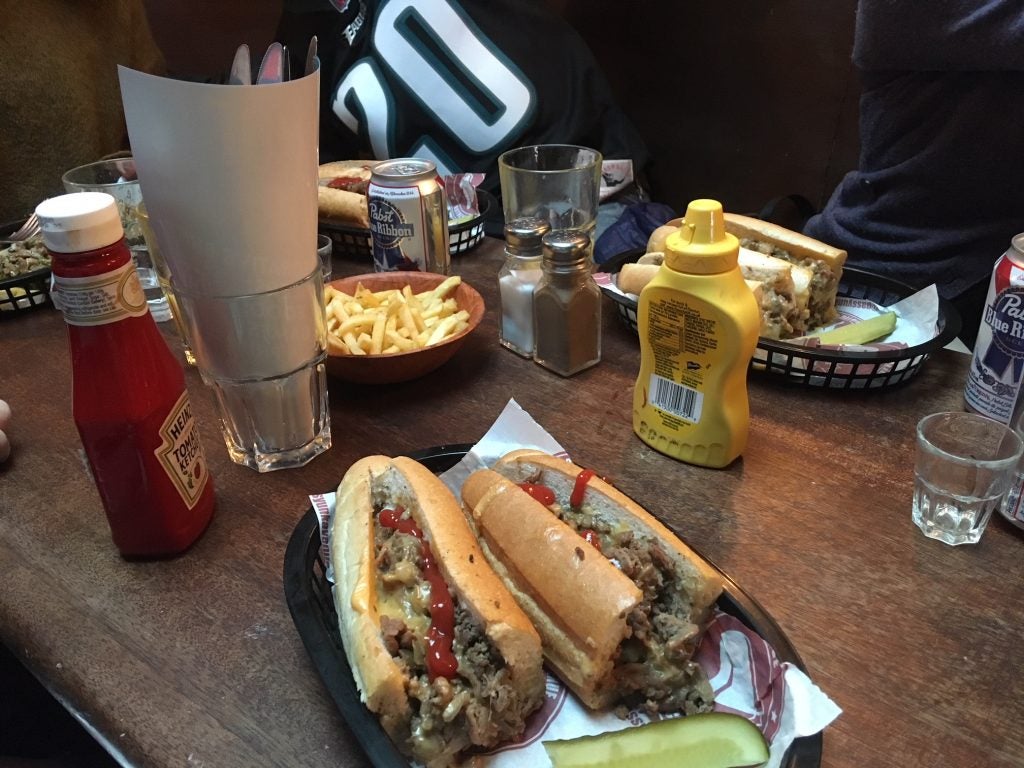 Another difference could be observed when the NFL Network went to commercial, and the UK broadcast jumped to interviews with British sports stars, like Christian Wade, a rugby player who's trying to break into the NFL, where minimum salaries often best what the highest-paid professional ruggers earn. The Eagles drafted Jordan Mailata, a rising star in Australian rugby league, this year as an offensive lineman.
Gabriele Marcotti became an Eagles fan as an undergraduate at the University of Pennsylvania during the early 90s. Decked out in an old Brent Celek jersey, he brought his family out to Passyunk Avenue to watch Sunday's game. The London-based ESPN sports writer – "I cover the other kind of football" – harkened back to last year's Super Bowl win to explain what he loves about this sport.
"I was struck just watching the celebrations, what happened last year, trying to explain it to somebody who's not familiar with the area, the Eagles really seem to cut across all social classes, racial lines," he said. "That's pretty unique, especially these days."
"The way it really does unite hedge fund managers and homeless people – it's pretty remarkable."
At the end of the game, when the Eagles emerged victorious, beating the Jaguars 24-18, a British woman turned to her friend, and asked, "Shall we sing?"
And, with that, the bar erupted in that familiar cheer: "Fly, Eagles, Fly, on the road to victory…"
—
Correction: The original version of this article misspelled "expatriates."
WHYY is your source for fact-based, in-depth journalism and information. As a nonprofit organization, we rely on financial support from readers like you. Please give today.