Expansion approved for North Broad synagogue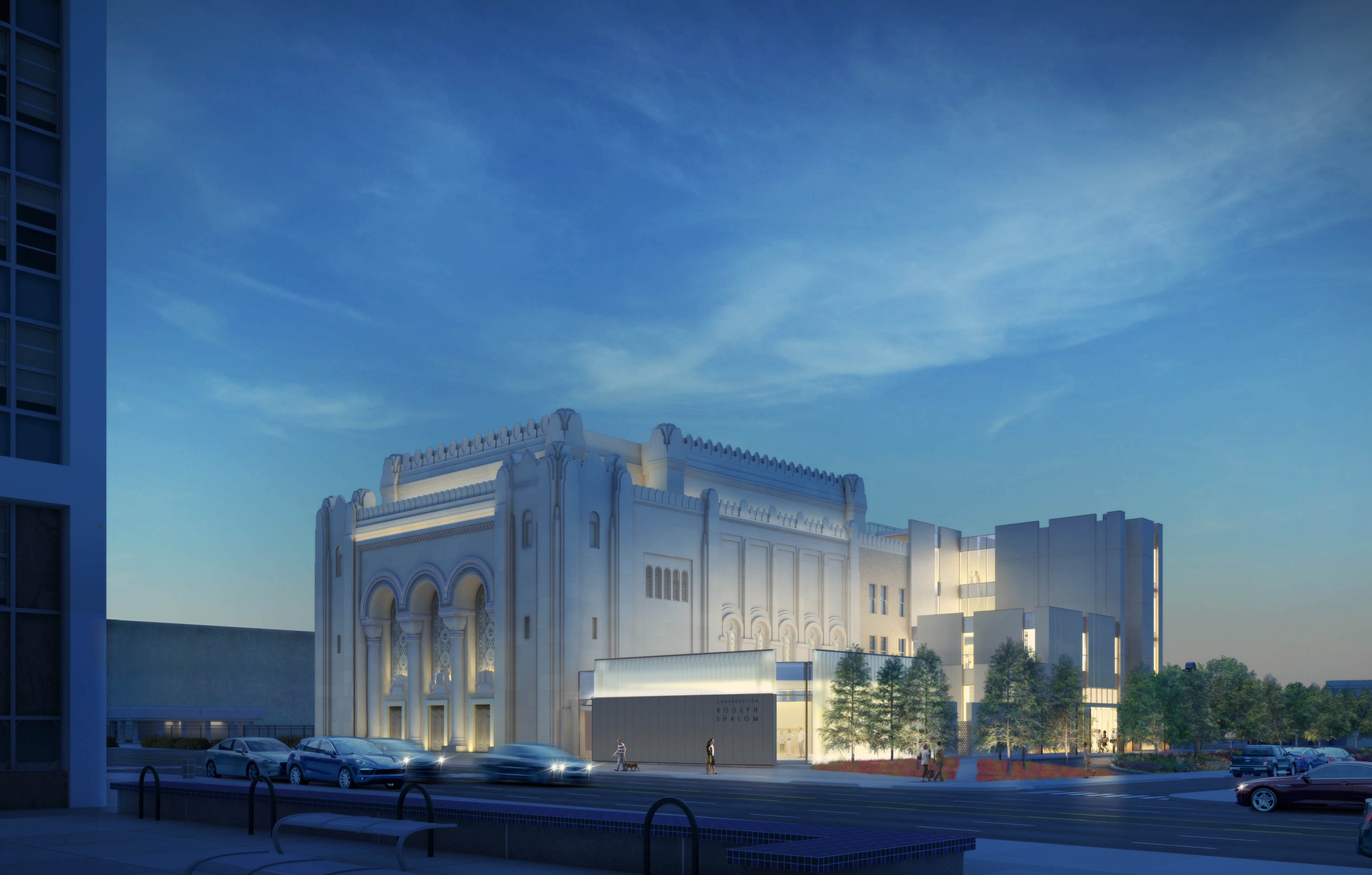 Congregation Rodeph Shalom is set to undertake a $13 million expansion of its synagogue at Broad and Green streets, which was built in 1928 and is listed on the National Register of Historic Places. The group's board of trustees voted to approve the expansion late last month, according to board member Mike Hauptman.
The addition was designed by the architectural firm Kieran Timberlake, which also a developed a master plan for the congregation about five years ago, Hauptman said.
It includes the construction of a new event space for the congregation, fronting on Broad Street at the south side of the property, which covers the entire block between Broad, Green, Mt. Vernon, and 13th streets. The synagogue currently has two gathering spaces, Hauptman said; one is too big for many occasions, and the other is too small. The new, mid-sized space will be surrounded by columns of translucent channel glass.
The expansion will also entail a renovation of the south entrance to the main sanctuary and the development of a new lobby, gallery space, a stairway and elevator to upper floors, and new offices for clergy, along with a loading area for cars.
A landscaping scheme was developed by Studio Bryan Hanes, the firm that designed the Sister Cities Garden on the Benjamin Franklin Parkway. The approved plan is pared down somewhat from an expansion announced last summer.
The congregation was established in 1795, and first moved onto its North Broad Street site in the 1860s, with the construction of a building designed by Frank Furness. The current synagogue replaced the Furness building in the 1920s. Its interior was renovated about ten years ago. From the 1950s until about five years ago, the congregation also kept a synagogue in Elkins Park, but ultimately sold that building to a different congregation.
Rodeph Shalom – Green Street view

Rodeph Shalom site plan

Rodeph Shalom – Broad Street view