I am not my hair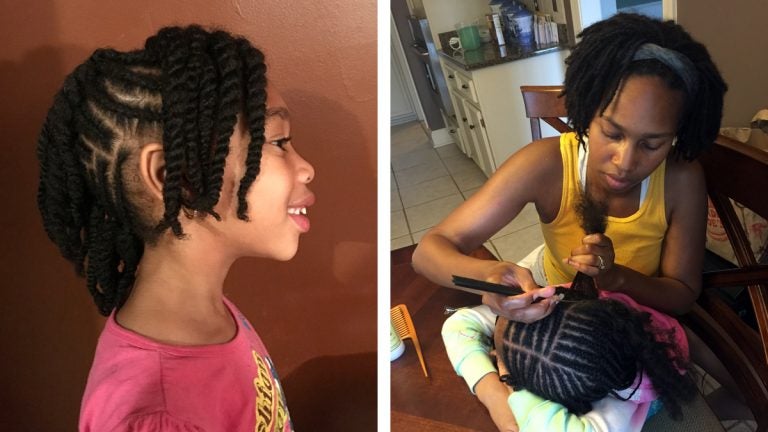 Don't touch my hair, when it's the feelings I wear
Don't touch my soul, when it's the rhythm I know
Don't touch my crown, they say the vision I've found
Don't touch what's there, when it's the feelings I wear
—Solange, "Don't Touch My Hair"
"Mom, may I get extensions one day?" my eldest daughter asked my wife Rashida last Saturday afternoon shortly after Rashida began the tedious task of doing her hair.
The two sat in our living room; my daughter slumped in our oblong, cerulean armchair, thumbing through a book that had grabbed her attention. Rashida dutifully perched above her, kneeling in a folding chair, meticulously plowing a rat-tailed comb through the dense forest sprouting forth from our daughter's scalp. I, seated on the opposite end of the room, overheard the exchange, and called her over to me.
I looked into her little mahogany-drenched eyes and said, "Leilani, your hair is perfect just the way it is. The color, texture, length, volume, are exactly how God intended for them to be, and it is beautiful. You have your whole life to figure out how you want to wear your hair, and try new styles and techniques, but it is important for me to remind you that your hair is beautiful exactly the way it is."
Leilani's hair is perfect, though it may take a lifetime to fully convince her.
For centuries black women have endured the stigmatization of their natural beauty, and thereby witnessed the normalization of the antithesis of their immutable traits. Black hair, in all its matted glory, has firmly sat at the apex of this unfortunate process. Consequently, a bevy of undesirable terms are attached to black hair in its natural state (e.g., "nappy," "coarse," "unruly," etc.), and thus tending to it is often described as "fixing" it, as if to suggest it is a problem requiring correction.
As author Marita Golden astutely observed:
Long, thick, straight hair has for generations been considered a down payment on the American Dream. "Nappy" hair, although now accepted in its myriad forms, from the natural to twists and locks, has long been and remains a kind of bounced check on the acquisition of benefits of that same enduring cultural mythology.
Golden is correct: "Nappy" hair, in all of its multitudinous manifestations, has regained popularity in recent years like it had not witnessed in decades. For example, the natural-hair industry is projected to reach a size of $761 million this year, and this is following years of steady growth.
Notwithstanding, the pressure to conform to the "enduring cultural mythology" and adorn its abiding symbols is persistent and explains why millions of black women still go to such great lengths to tailor their image to Eurocentric aesthetics. It is for this reason in part that black hair in its unaltered state (in addition to the industry designed to grow, nurture, sustain, and style it) is routinely referred to as "natural hair" rather than designating qualifiers for styles and products intended to manipulate it. The altered state became the standard to which the unaltered state has become compared, because the altered state often mirrors standards of beauty embraced by society at large. Again, as Golden put it, "long, thick, straight hair has long been seen as a down payment on the American Dream."
Many black women intimately understand their hair is "considered by many to be the definitive statement about who [they] are, who [they] think [they] are, and who [they] want to be," she writes.
In 2002, India.Arie communicated this pressure, and the desire to alleviate it, by declaring, "I am not my hair." In vivid detail, she recounted the various components of her journey toward accepting her hair:
Little girl with the press and curl, age eight I got a Jheri curl
Thirteen then I got a relaxer, I was a source of so much laughter
Fifteen when it broke off, eighteen and then I went all natural
February two thousand and two, I went and did what I had to do
Arie's journey is one many black women know well. The persistent vacillation between styles, techniques, and coloration represent individual steps upon a lifelong trek of self-discovery. For Arie, as with so many others, finding a style she loved signaled not just the comfort of a new 'do. It signaled finally achieving self-acceptance. It is why Solange sang so passionately "Don't touch my hair, when it's the feelings I wear … Don't touch my crown, they say the vision I've found" to express how she has come to understand and appreciate how her hair reflects the dynamics of her vivacious spirit. Her hair is a crown she wears with great pride.
Leilani has a beautiful crown. It is a lush ebony, teeming with disobedient, tightly coiled, flocculent locks. Tending to it is a labor of love that requires skill, attentive care, familiarity with physics (her hair defies gravity), a cursory understanding of chemistry (to know the right combination of products to retain moisture and style), and a depth of patience (the process takes hours).
I have observed the art of doing black hair for much of my life — first while conversing with my mother at the kitchen table on Saturday evenings as she slid rollers into her hair to secure the loose golden curls that bejeweled her crown. I would also routinely observe my mother on Sunday mornings earnestly attempting to tame my sister's wooly locks with hot pressing combs. I watch it now as Rashida cares for her own hair and that of our two daughters.
Faithfully, Rashida engages in this loving process with Leilani every other week or so. On alternate weeks, she will tend to our youngest daughter Amariah's hair. At some point in between, she finds time for her own. Washing and detangling Leilani's hair alone can take up to two hours. Implementing even the most modest of styles invariably takes hours more. Leilani recoils at the slightest sense of tension, which occurs frequently considering how ardently those locks entangle each other. This past Saturday was no different. The two spent hours forging toward the style of choice, a braid-and-twist Mohawk with two-strand twists. When Rashida finished, she told Leilani to look into the mirror and asked how she liked it.
She said simply, "I love it!"
Rashida then asked Leilani if she still wanted extensions.
"No," she said gleefully. "I like it just as it is."
Rashida and I did too of course, but were particularly glad Leilani did too.
—
Timothy Welbeck is an attorney, lecturer of African-American studies, hip-hop artist, and writer. His scholarly work examines hip-hop as an African folk art birthed America, in addition to hip-hop as a microcosm of the African-American experience. Timothy's work as an attorney and scholar has allowed him to contribute to various media outlets, such as the BBC Radio 4, NPR, The Huffington Post, and The Philadelphia Inquirer.