Esta historia es parte de la The 47: Historias along a bus route, una colaboración con WHYY's PlanPhilly, Emma Restrepo y Jane M. Von Bergen.
Este artículo está escrito en español. Para leer este artículo en una combinación de inglés y español, haga clic o toque aquí or to read this article entirely in English, click or tap here.
---
Cuando Marta Caj iba tarde al trabajo, tomaba la Ruta 47 para llegar a Los Amigos Bakery en el sur de Filadelfia.
Esta es una ruta de 10 millas que une los vecindarios latinos del norte con los del sur de Filadelfia y Center City. Este autobús es como una máquina con muchos caballos de fuerza, estable y confiable, que antes de la pandemia movilizaba diariamente 16,299 personas.
No se parece en nada a los autobuses que Marta tomó con su hija, para ese entonces de cinco años, en su recorrido de tres meses desde Guatemala hasta el límite de México con los Estados Unidos en 2019. Yendo hacia el norte de Guatemala, los agentes le pidieron documentos a las dos personas con las que ella viajaba y ellos tuvieron que bajarse. A Marta y a su hija no les pidieron nada así que ellas  pudieron seguir su camino. "No lo veo como una obra de azar, sino como una obra de Dios", dijo Marta.
Y el autobús en México, antes de llegar a la frontera con los Estados Unidos, no fue nada amigable. Una banda criminal los detuvo, golpearon al conductor y les apuntaron con armas a los pasajeros obligándolos a arrodillarse una vez fuera del autobús. Les exigieron dinero y todo lo de valor que llevaban. Luego de tres horas los delincuentes los dejaron abandonados en un lugar que no conocían. Krishna, su hija ahora de seis años, todavía está afectada por lo que vio en el viaje. "Ya no se comporta como una niña", dijo Marta. "Su mentalidad es diferente; la cambió psicológicamente. Vio cosas que no debió haber visto".
Guatemaltecos, hondureños y salvadoreños constituyen una proporción creciente de migrantes que cruzan la frontera del suroeste, superando a los mexicanos. En 2019, cuando Marta se dirigía "al norte", la oficina de Aduanas y Protección Fronteriza de EE.UU. (U.S. Customs and Border Protection office) registró 264,168 migrantes de Guatemala en comparación con 166,458 de México.
En sus países de origen, la corrupción, la falta de empleo, la pérdida de las cosechas a consecuencia del cambio climático, la violencia, incluida la violencia doméstica, son algunos de los factores que motivan a las mujeres a dejar sus hogares. Y cuando lo hacen, enfrentan riesgos adicionales convirtiendo éste en uno de los viajes más peligrosos; pero como Marta, cada vez más mujeres están dispuestas a correr ese riesgo. Tanto así, que alrededor del 25% de los migrantes detenidos en Estados Unidos en la frontera con México son mujeres, frente al 13% en 2012. En 2017, uno de cada tres niños detenidos en la frontera entre Estados Unidos y México son niñas menores de 18 años de Guatemala, Honduras o El Salvador.
Marta enfrentó muchas dificultades en su viaje, pero en el camino también hubo muchos momentos de bondad y solidaridad. Un hondureño le enseñó el camino y las cuidó cuando Marta estaba enferma. Después de esa dura experiencia de cruzar el río cargando a Krishna en la espalda, corrieron a un lugar seguro y finalmente encontraron descanso en un centro de detención en Texas. Allí, una abogada le ayudó a ganar su caso de inmigración basado en abuso doméstico.
En Filadelfia, Rogelio, el hermano de un amigo de su ciudad natal, pagó los boletos de avión para que Marta y Krishna pudieran llegar a la ciudad y vivieran bajo su techo mientras Marta encontraba trabajo. "Todo lo que me pasó, Dios ya lo había predicho", dijo Marta. "Mi camino iba a ser difícil para que yo entendiera el valor de las cosas".
Buscando trabajo, vio un letrero de "Se busca ayuda", en la ventana de Los Amigos Bakery en la calle 9. Le dijo al dueño que no sabía inglés ni hornear, pero le prometió aprender; él la llamó tres días después para empezar a trabajar.
"Así es como llegué a esta bendita panadería donde he conocido mucha gente. Es mi primer trabajo, que siempre llevaré en el corazón. Él [el dueño] me abrió las puertas sin conocerme, sin preguntarme nada". Y así fue como conoció a las otras dos mujeres y "comenzamos una hermosa amistad".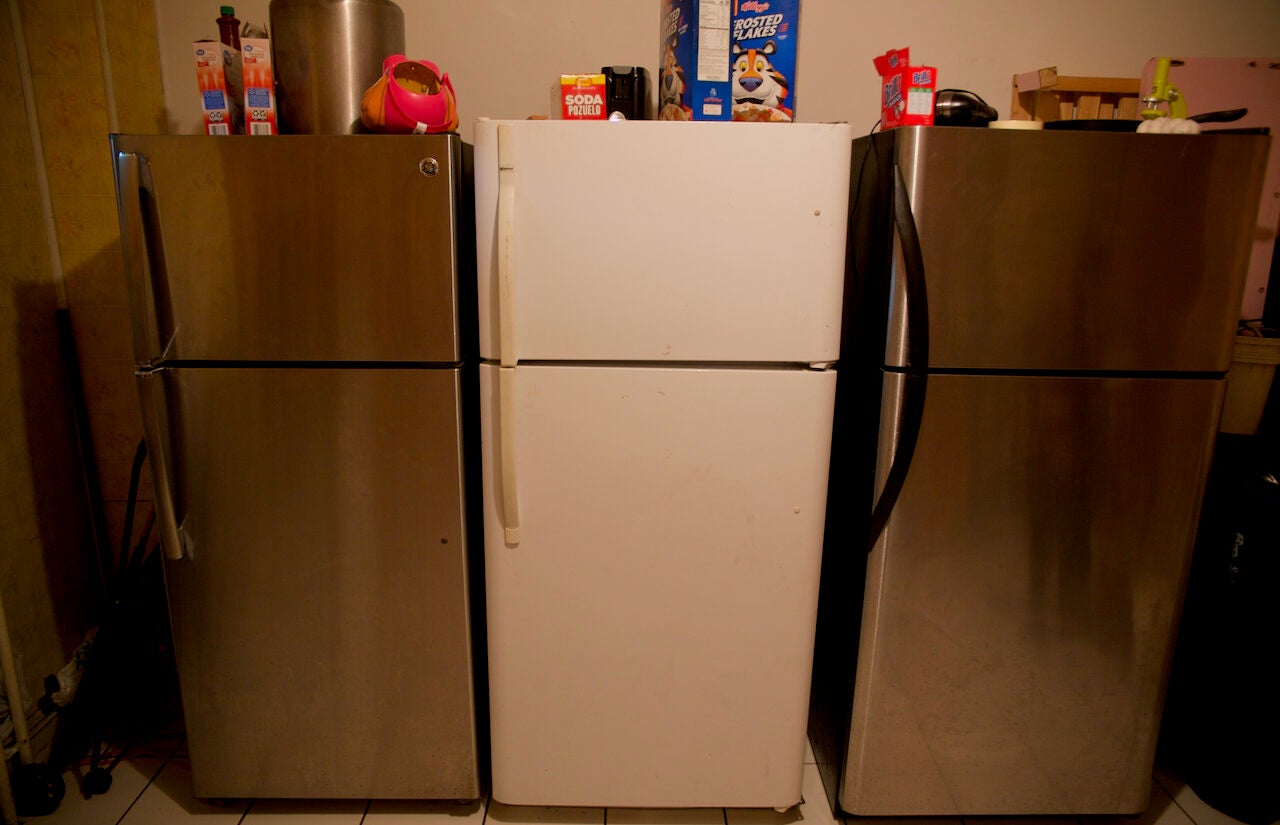 Marta ahora vive más cerca de su trabajo, compartiendo con otras dos mujeres inmigrantes, los gastos y el cuidado de los niños. Una es de Guatemala y la otra de Honduras. Hemos ocultado sus apellidos para proteger su privacidad. Marta y Sandra, tienen trabajo y viven bajo el mismo techo, y le pagan a Jaimi, que vive cerca, para que cuide a todos los niños; los de ella, y los de Marta y Sandra. Las tres cocinan, conversan al final de la jornada laboral y celebran los cumpleaños. Son una familia.
En total son cuatro niños. Krishna, la hija de Marta, de 6 años; el hijo de Sandra, David, de 6, y los dos hijos de Jaimi, David, de 7 y José, de apenas unas pocas semanas. "Es muy hermoso porque nos ayudamos unas a otras", dijo Marta. "Cuando yo no tengo, la otra tiene y cuando la otra no tiene, yo tengo. Entre las tres, nos ayudamos mutuamente. Es una convivencia y una amistad muy bonita".
Camino a la panadería, Marta pasa las paradas de autobús de la Ruta 47 mientras cruza las calles 7 y 8. Más de un tercio de sus vecinos utilizan el transporte público para ir al trabajo: el autobús es un elemento más del vecindario, casi un amigo.

WHYY is one of over 20 news organizations producing Broke in Philly, a collaborative reporting project on solutions to poverty and the city's push towards economic justice. Follow us at @BrokeInPhilly.