Election Live Blog: Biden makes final campaign stop in Philly; canvassers door knock into evening
Democratic presidential nominee Joe Biden made an Election Day appearance in Philadelphia while those voting in person turned out across the region.
Updated 8:52 p.m.
Polls closed in Pennsylvania, with long lines persisting across the commonwealth. Anyone who got in line to vote by 8 p.m. will be able to vote, and in many counties, that's a lot of people.
More than 300 people were still in line at a middle school in East Manchester township outside of York. A volunteer walked the line with pizza boxes, handing out hot slices to hungry voters in the cold.
There were reports of lines snaking around buildings at some polling places in Bucks and Montgomery counties in the hours before polls closed. Pennsylvania elected officials encouraged everyone in line to stay there until they had the chance to vote.
Mail-in ballots will be reported in batches, and will vary by county. For example, Allegheny County reported its first round of roughly 80,000 mail-in ballots with 80% coming in for Joe Biden. That's only a small fraction of the total number of votes, and a full picture of results in Pennsylvania is unlikely to come tonight. Check back for updates as election results come in for Pennsylvania, New Jersey and Delaware.
GOTV efforts continue
Get-out-the-vote efforts continued into the evening across Philadelphia's neighborhoods. Broderick Pitts, 27, came to canvas for Biden with Unite Here!, which represents 7,000 service and hospitality workers in Philadelphia.
"A lot of people are seeing how their votes count, especially in a battleground area like this, where before they may have been like, 'Well, everything is fine,'" said Pitts, who came to knock on doors from Baltimore. "But now they know each and every last person could make or break the decision tonight."
Pitts said he was inspired to campaign for Biden in part because his mother died several days ago. She suffered from a form of dementia, and because of the shutdowns, wasn't able to go to the type of programs she needed to keep her brain active.
"If we wouldn't have had the effects of this pandemic, we wouldn't be burying my mother," said Pitts. He said over the past month, he and his team spent more than 300 hours knocking on doors for Biden and Harris.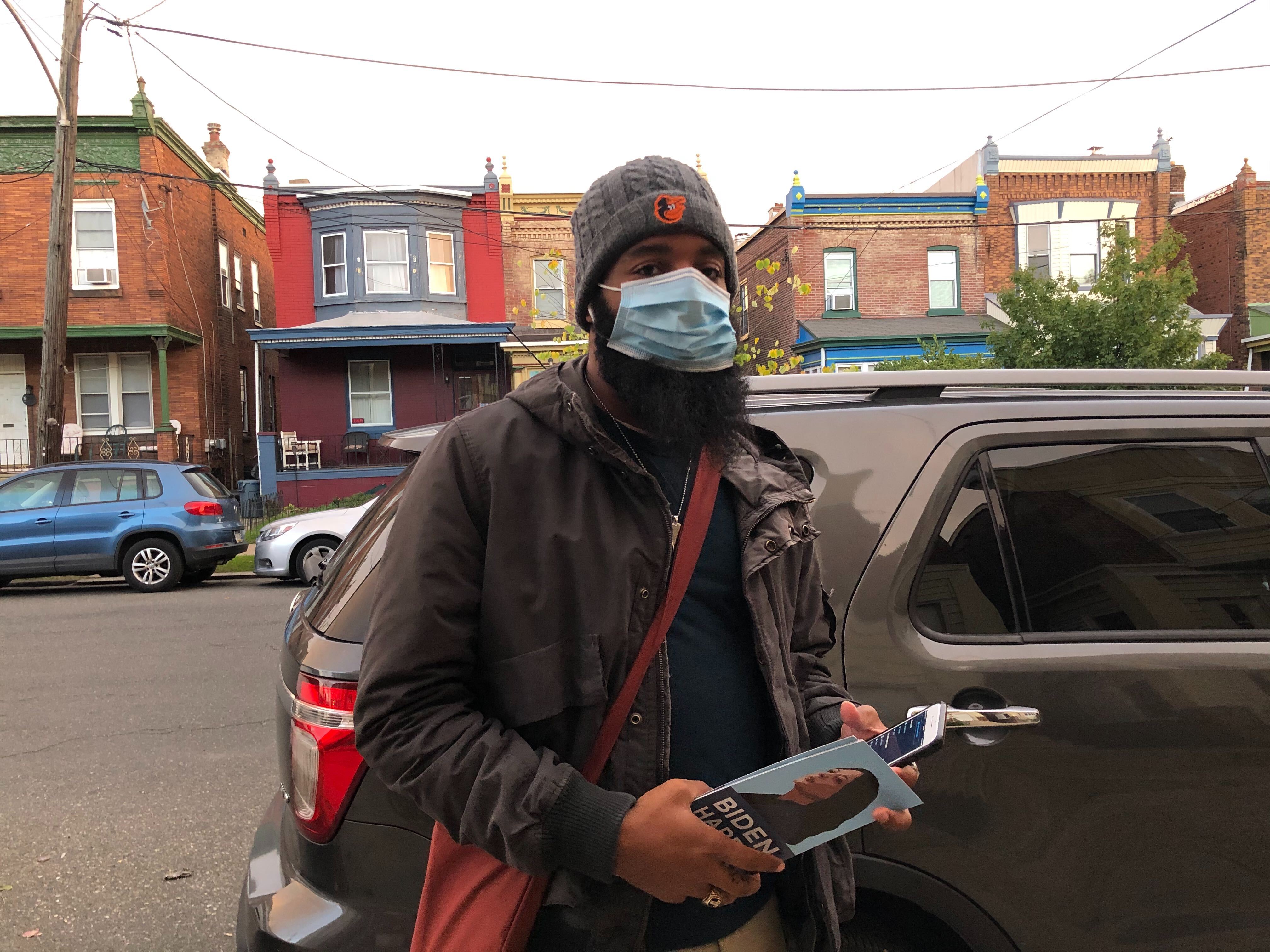 In New Jersey, voters were initially confused about the new requirement that anyone voting in person had to cast a provisional ballot, said Municipal Clerk and Chief Elections Administrator for Harrison Township, Diane Malloy.
"Uncertainty, uncertainty, uncertainty," she said of the general tenor of elections this year. Malloy said she worked to assure people that their provisional votes count and don't get thrown away — just a couple of the rumors she's had to dispel.
Malloy said she has been battling conspiracy theories all election season.
"They don't trust the system right now, so we have to work with them and understand that," she told WHYY, as the bell for first-time voters rang in the background. She said despite the lower in-person turnout, she saw more people who had never voted before this year. She was confident the township would exceed 2016's turnout and estimated that it already had.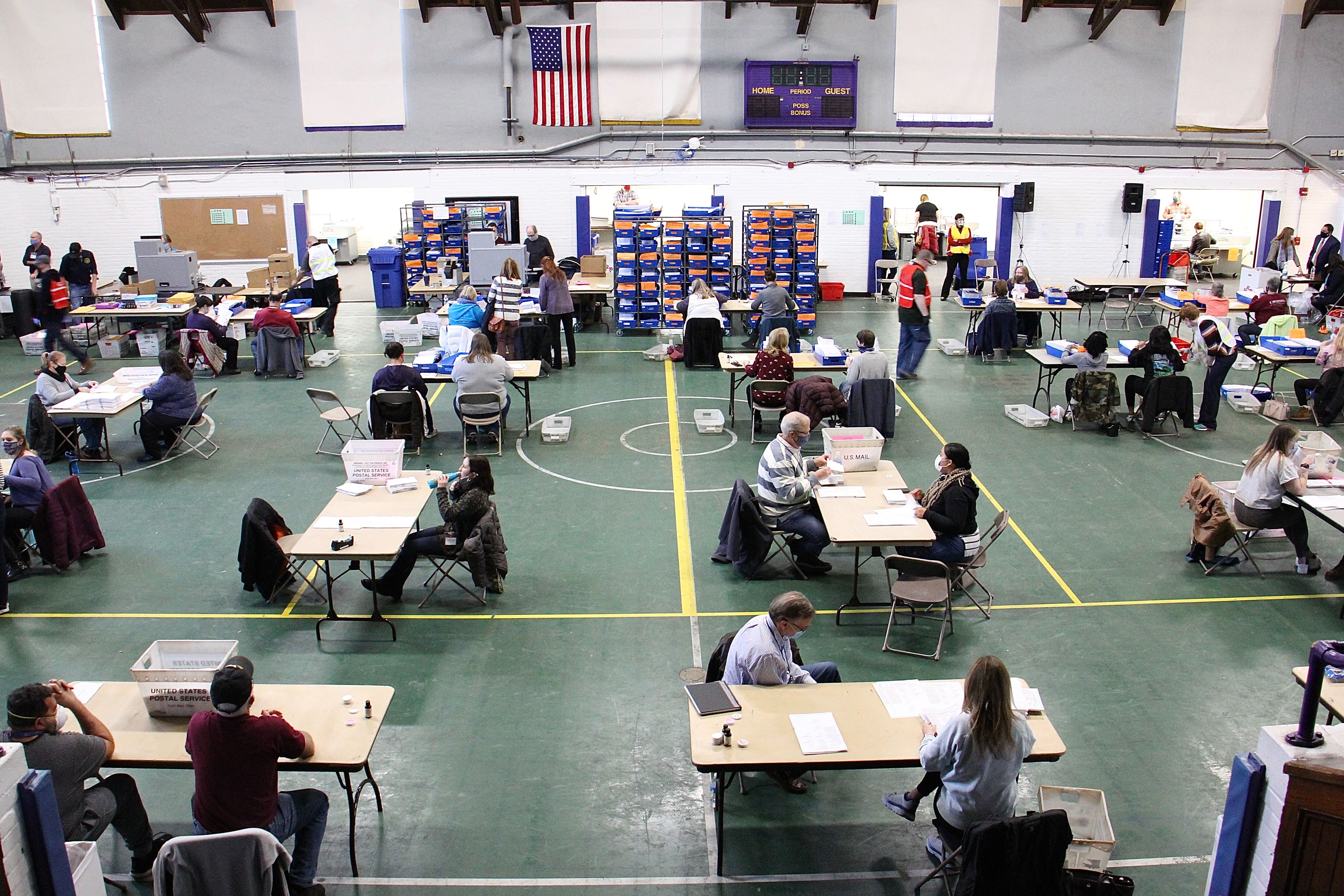 High mail ballot returns 
Pennsylvania Secretary of State Kathy Boockvar said Tuesday that 2.5 million mail-in ballots have been returned, about 80% of the total number mailed out.
"Historically, about 70-80% of the ballots that were mailed to voters were cast by voters. So that's the normal in regular years, and I think in the primary, it ended up being just short of 80%, even with that week extension of mail delays for counties who have been experiencing civil unrest," she said at a press conference Tuesday morning. "So we've already exceeded that, and we still have all day today [to count them]."
During the press conference, Boockvar also warned voters that drop boxes don't have the same rules as lines at the polls. Drop boxes need to be locked and closed at 8 p.m.
"Don't cut it close," she said. "If you're voting by mail, drop it off early, early, early."
Her final piece of advice: speak only to poll workers, to avoid voter intimidation.
"The only people you need to talk to are the poll workers who know the processes, and you can ignore everybody else," she said.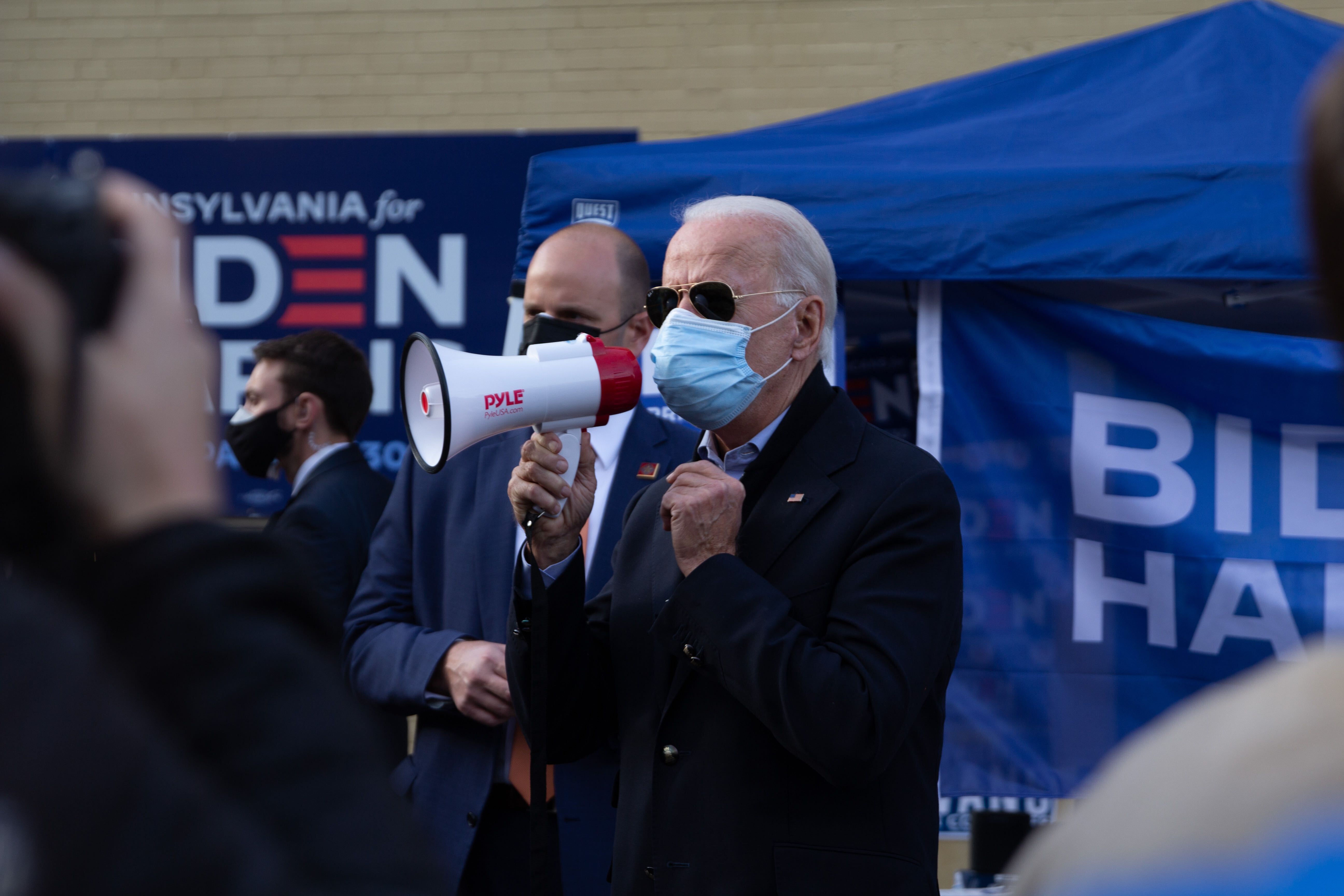 Biden in Philly
Former Vice President Joe Biden made a campaign stop in Philadelphia Tuesday, speaking at Rep. Dwight Evans' West Oak Lane office.
The Democratic presidential candidate told a crowd of about 50 supporters that President Donald Trump doesn't understand sacrifice. Biden criticized Trump for his comments referring to military service members as "losers" and "suckers."
Pledging to unite the country, Biden spoke to choosing hope over fear. "I will never break my word to you," he said.
Jason Hartwig, 37, of East Mount Airy, is a U.S. Army veteran who served in Iraq and Afghanistan who heard the presidential hopeful speak.
"This is the most important election of my life," said Hartwig, who came of age after September 11th and joined the service thereafter.
"At the end of the day, this is more important than anything I did overseas," Hartwig said. "This is maintaining democracy that we thought we were fighting for back then."
Hartwig planned to spend the rest of the day canvassing for Biden, phone banking while he cooks dinner in the hours until polls close.
A campaign stop in Philly: @JoeBiden talks to supporters outside @RepDwightEvans ' office pic.twitter.com/S6URMAtAHs

— Kimberly Paynter (@KPaynter) November 3, 2020
Patrice Ray and her 18-year-old daughter Saniyyah, both of West Oak Lane, said they felt empowered voting.
"It's just a calm now that's coming over," Patrice said. "I think we're getting a dictatorship out of office. "With that, it's nothing but blessings that could come down."
Patrice said the people lined up to vote, old and young, are tired. "Enough is enough," she said. "We showed up and showed out."
Saniyyah, a first-time voter, said the experience was emotional.
"Being a Black woman in this world, it mattered to me that I got out there … and do this for myself," Saniyyah said.
The incoming Hampton University freshman cited the Black Lives Matter movement and Trump's handling of coronavirus as some of the biggest issues for her this election.
Charles Younger lives nearby and called Biden's Election Day visit a "good injection for the block." He said that Trump's leadership had negatively affected people who live nearby. "
The 60-something resident pointed to local concerns over unemployment and Social Security. He thinks Biden can expand on former President Barack Obama's mantra of "Yes we can" with a mentality of "Yes we will."
Laurel Peterson (left) and Jason Hartwig are Mt. Airy residents who support Joe Biden. Hartwig said voting in this election is more important than anything he's done before. (Kimberly Paynter/WHYY)

Supporters of Democratic presidential candidate Joe Biden gathered to hear him speak in Philadelphia. (Kimberly Paynter/WHYY)

Neil Porter is a canvasser who said he'd be knocking on doors until 7 p.m. on Election Day. (Kimberly Paynter/WHYY)

Joe Biden arrives in Northwest Philadelphia on Election Day. (Kimberly Paynter/WHYY)
Legal challenges and tight congressional races in Montco
In Montgomery County, Republican candidate for Congress Kathy Barnett sued the county board of elections for allegedly illegally allowing mail-in ballots to be counted before Election Day, and for allowing voters with errors on their ballots to correct them. A federal judge will hear the case Wednesday. Barnett is challenging incumbent Madeline Dean for the fourth congressional seat.
Congressional candidate Christina Finello, who is looking to unseat Republican Brian Fitzpatrick in the neighboring 1st Congressional District, said she was feeling optimistic based on high turnout across the district.
"Voter enthusiasm is very, very high," she said.
Montgomery is the most populous of Philadelphia's suburban counties and is expected to have a heavy Democratic turnout for president. Dan Eydelman is a 22-year-old dental supply distributor who lives in Horsham and voted for Trump in 2016 because he thought he'd be good for the economy — he was thinking about buying a house. But now he sees Trump as a bully and a flip-flopper.
"It seemed fine in the beginning, and it slowly snowballed downward, especially once the old pandemic hit," he said. "Then it's like, 'there goes that.'"
Voters line up at dawn to vote at a Garnet Valley Middle School in Glen Mills, Pa. (Emma Lee/WHYY)

Voters wait in line at Brookhaven Municipal Center in Delaware Country, Pa. (Emma Lee/WHYY)

Gary Nelson waits to vote in a line that wraps around the Brookhaven Municipal Center in Brookhaven, Pa. (Emma Lee/WHYY)

7am voters in Havertown at the Manoa School voting poll. (Paul Parmelee/WHYY)

Polls open at 6 A.M in Cherry Hill, NJ in the midst of the Coronavirus pandemic to vote in person, Tuesday, November 3, 2020. (Miguel Martinez for WHYY)

Polls open at 6 A.M in Cherry Hill, N.J. (Miguel Martinez for WHYY)

Election Day in Cherry Hill, N.J. (Miguel Martinez for WHYY)

Polls opened at 6 A.M in Cherry Hill, N.J. on Election Day. (Miguel Martinez for WHYY)
The afternoon voters
In Delaware County, some Pa. voters expressed relief for the end of campaign season.
"Combined with COVID, this entire process has been draining emotionally in every way," said Audrey Neill, who was able to vote at her Aston polling place in 20 minutes.
"I'm relieved that the day is finally here and … you do your part, and the chips, they're going to fall where they may."
Maryellen Orner and her daughter Rebecca waited close to three hours to vote at the Aston Community Center. Still, everyone in line was in high spirits, according to the pair.
"Everybody that was in line was very positive," said Maryellen. "I saw no negativity at all, no political discussions."
A longtime Republican stronghold, Delco has become more solidly blue in recent years. Last November, Democrats took over the County Council for the first time since the Civil War era.
Michael Powell, 35, doesn't consider himself a lifelong Republican, but has voted for the GOP since Trump took office. He voted in Media for a second Trump term, explaining that he disagrees with Biden's tax plan and worries about his health.
"I'm not going to vote for Biden when he's obviously not capable of being in office," Powell said. "Mentally, I don't think he's there."
Powell can't remember if he voted for Obama in 2012, but says he's grown more conservative with age.
Noting the large turnout, Powell said he loved that people were out exercising their right to vote, regardless of party.
Michael Powell says he's not a lifelong Republican, though he can't remember if he voted for Obama in 2012, and he says he could vote Dem again in the future. He voted for Trump again bc he disagrees with Biden's tax plan and worries about his health pic.twitter.com/kCQ8BUsFKE

— Ximena Conde (@RadioXimena) November 3, 2020
Election activity was relatively quiet in Dennis, New Jersey, where Rep. Jeff Van Drew and Amy Kennedy are facing off in the state's 2nd Congressional District.
Van Drew in December 2019 announced that he was leaving the Democratic Party, becoming a Republican and backing the president.
Democrats hope Kennedy, a former middle school teacher and political newcomer, can hold onto the seat since Van Drew defected from the party.
By 1 p.m., fewer than 30 people had cast their votes. About 20 more dropped off their ballots.
"Not like the last election," poll workers told WHYY News, recalling long lines in 2016.
One 2020 voter, Eric Derienze, of Dennis, called Van Drew a "weasel."
"Oh, he's such a turncoat," Derienze said. "He'll do anything to keep his — whatever — job."
Election Day meals
Linda Andrews, 59, came from Washington, D.C., to West Philadelphia to give out 15,000 meals with the organization Feed The Polls. Andrews said the organization will be out at 34 different polling locations throughout the city till about 5 p.m., when she expects the meals to run out.
"We're just encouraging people to come out and vote today," she said. "If you don't have time to cook, if they don't have time to shop today … this is one thing we can do to help them out as they come to the polls to vote."
Early morning crowds
Well before the polls opened at 7 a.m. Tuesday, lines already were forming throughout the Philadelphia region. At 6:30, about 75 people lined up outside Garnet Valley Middle School in Delaware County.
Katherine Torregrossa, a Joe Biden supporter from Concord, was the first person in line at the middle school. She said she made a conscious decision to vote in person rather than by mail-in or early voting.
"I fear that it's going to [be] like a red tide at the polls, and I want some blue showing up," Torregossa said.
Katherine, a nurse, is first in line for voting at Garnet Valley MS. She's supporting Biden and says she wanted to vote in person so that there were some blue votes on Election Day. pic.twitter.com/Tu55jYyFi2

— Avi Wolfman-Arent (@Avi_WA) November 3, 2020
Bill Tyus, 93, of Glen Mills, was there to cast a ballot for Donald Trump. Tyus said he's voting in person out of habit. He's supporting Trump because he feels that Democrats showed a lack of bipartisanship over the past four years.
"This is my last vote maybe, so I'm going to do it in person," he said.
Bill Tyus, 93, says he's voting in person because that's what he's always done. Expected to be here first but there's already a significant line. Says it could be sign of strong support for his candidate, President Trump. pic.twitter.com/smSZSTVEMz

— Avi Wolfman-Arent (@Avi_WA) November 3, 2020
This Election Day, Gary Nelson, from Brookhaven, decided to vote in person with his wife because he felt it was the safer option, the one he had the most control over because he was worried about his mail-in ballot not arriving on time.
Of the already long line of voters, Nelson said, "I've never seen it like this in the15 years we've lived here.".
In West Philadelphia, Oshay Columbus said she's feeling nervous about the election.
"I'm feeling pretty anxious about it as most Black people are probably feeling about this time," Columbus said. "I hope the outcome is that we choose the right person that will take this country forward and not backwards like we have been."
She said she had tried to do early voting but the lines to turn in ballots were hours long and she didn't make it. Columbus arrived at 5 p.m. but her polling site closed at 6, and from her point in line, it would have taken two hours. Voting in person was her last resort.
Columbus said she didn't expect long lines Tuesday because she assumed most people would take advantage of early voting. Still, she said, she's happy to see the large turnout.
Oshay Columbus tried to vote early but said she was turned away because the line was too long. She feels anxious about the election, and so-so about safety voting in the pandemic pic.twitter.com/lmZsKOCT8O

— Layla Jones (@bae_lay) November 3, 2020
In South Philadelphia, Hao Luu is voting for the first time as an American — he moved to Philly seven years ago.
"We go to vote because we're citizens," he said.
He added that he wanted to support the eventual winner, but didn't specify to WHYY News who he was voting for.
Voters practice social distance while lining up at polling place in Northern Liberties in Philadelphia. (Miguel Martinez for WHYY)

Voters line up at a polling place in Northern Liberties, Philadelphia on Election Day 2020. (Miguel Martinez for WHYY)

Voters practice social distance while lining up at polling place in Northern Liberties in Philadelphia on Election Day. (Miguel Martinez for WHYY)

Dessie Hawk of Pull Up Neighbor hands out food to voters as they wait in line up at a polling place in Northern Liberties, Philadelphia in the midst of the Coronavirus pandemic to vote in person, Tuesday, November 3, 2020 in Philadelphia, PA. Pull Up Neighbor is handing out food and providing entrainment to voters at 20 different polling locations in Philadelphia.

A Philadelphia voter waits in line to cast his vote in person on Election Day. (Miguel Martinez for WHYY)

Voters practice social distance while lining up at polling place in Northern Liberties in Philadelphia on Election Day. (Miguel Martinez for WHYY)
Concern about mail-ins
Ellinzia Young-Leigh, from West Philadelphia, said she chose to do in-person voting because she was afraid of making a mistake.
"I felt like there were so many stipulations with the mail-in and if you made one wrong thing, it wouldn't be counted and I wanted to make sure mine was counted," she said.
Ellinzia Young-Leigh doesn't like pictures and has lived in West her whole life. She votes in every election and said she's never seen a line like this at her polling place.

"I'm so proud of everyone today." pic.twitter.com/24kBmLOdUU

— Layla Jones (@bae_lay) November 3, 2020
Gregory Gooden, 63, sent in a mail-in ballot but said he wasn't notified if it was received. He tried to vote in person instead at Sharon Baptist Church, but was turned away because voting twice would be considered fraud.
Gregory Gooden, 63, sent a mail-in ballot but never got notified of its status. He was told at his polling place, Sharon Baptist, he couldn't vote again or it'd be fraud. pic.twitter.com/Xa4Jx3vWiY

— Layla Jones (@bae_lay) November 3, 2020
Gooden said he felt confused with his voting experience.
"It's the first thing we've had to do it, so that's something new for all of us and that's understandable … but the system has to get a lot better," he said.
Chester Country election worker Jessica McPherson inspects ballots in the West Chester University gym, where all county mail-in ballots are being counted. (Emma Lee/WHYY)

Election worker Patricia Masi inspects mail-in ballots at the West Chester University gym, where Chester County ballots are being sorted and counted. (Emma Lee/WHYY)

Election workers check ballots one last time before sending them to be scanned and counted in Pennsylvania in November 2020. (Emma Lee/WHYY)

Margaret Hodgkiss-Lilly operates an extractor, which removes ballots from their envelopes, at the Chester County ballot counting center at West Chester University. (Emma Lee/WHYY)

Chester Country election workers check ballots one last time before sending them to be scanned and counted in the West Chester University gym. (Emma Lee/WHYY)

Chester County election workers Megan Delaney and David Turnier load ballots into a scanner at the West Chester University gym. (Emma Lee/WHYY)
A waiting game, and doughnuts
Brian Haines saw the long line that took over three-quarters of the block outside the Brookhaven Municipal Center in Delaware County as he drove there this morning. He knew it was going to be a while before he could vote, so he brought along his "Kendama," a ball-in-cup game, to keep himself occupied.
"I always have it in my car," Haines said. "I had to grab it, try to hunker down, and stay warm."
Like others, he wanted to go in person, to make sure his vote got counted.
Brian Haines saw the huge lines here so he took his "Kendama" game out of his car to keep company. Figures he'll need it to stay warm and occupied. pic.twitter.com/4LYbGB8gQb

— Avi Wolfman-Arent (@Avi_WA) November 3, 2020
In Chester, Malcolm Yates and his fraternity brothers from Phi Beta Sigma handed out coffee and doughnuts for people waiting in line to vote, in honor of the late U.S. Rep. John Lewis, a fellow brother of the historically Black fraternity.
Yates has already voted early for Joe Biden.
"I just think it's time for us to bring things together," he said. "It's too polarized, it's too charged right now and that's not who we are. Leadership dictates the temperament of the country, and if this is the leadership that we have and the temperature of the country right now … then that's not a direction I think we should continue to go."
In Delaware, meanwhile, more than 200 people waited to vote at Skyline Middle School in Pike Creek this morning. Some said it took about an hour to cast a vote.
Reports of poll worker issues
A first-time poll worker who declined to be named said she showed up at her assigned polling location in Strawberry Mansion this morning only to be turned away because the location had too many poll workers already. Election officials sent her to a second site, but that one also had extra workers, so she went home.
When asked whether other voting sites had also been overloaded with poll workers, City Commissioners spokesperson Kevin Feeley said it was his "first time hearing of it" and suggested that it could be a one-time incident.
The Philly GOP Twitter page made allegations throughout the morning about certified Republican poll workers being kicked out of voting sites.
Certified Republican poll watchers are being kicked out of Mitchum Wilson Funeral Home, Wharton Rec Center, AND Greater Mt. Sinai Baptist Church. Watchers are told their certification doesn't mean anything. @CouncilmemberKJ , what's going on in your district?

— Philly GOP (@PhillyGOP) November 3, 2020
When asked about the allegations, the District Attorney's Office said its Election Task Force had not received any complaints that fit the tweet's description.
The DA Office's debunked a separate allegation earlier this morning about campaign materials being too close to a polling place.
Members of our Election Task Force have investigated this allegation. This polling place is located in an interior room and the sign in question is further than 10 feet from it. This tweet is deliberately deceptive. #PhillyVotes #Election2020 https://t.co/szKgxoigVm

— Philadelphia DAO (@philadao) November 3, 2020
The office said it encourages anyone to report possible criminal attempts to interfere or influence voting through its hotline at 215-686-9641.
As of noon, 25 incidents have been reported to the DA's office's Election Task Force; 21 of them have been resolved.
Jane Roh, communications director for the office, said the vast majority were related to alleged interference. An example of these kinds of complaints includes construction partially blocking an entrance of a polling location.
Complaints that remain unresolved will be investigated after the polls close.
"The most 'excitement' the Task Force has seen so far today can be attributed to bad information or misinformation being shared on social media," Roh said in an email statement.
Some hiccups begin
Judge of Elections William Squires, 69, said the city took about an hour to fix a broken voting machine at Christy Recreation Center in Philadelphia. Squire said tech support had to be called several times before the problem with the one machine was resolved.
"We only lost about two people who didn't want to wait," he said.
Squires said there were issues with machines during the last election, as well. Still, he said that he's excited by the turnout, and that it reminds him of 2008, when Barack Obama first ran for president.
"So far, I'm happy," he said. "People are patient."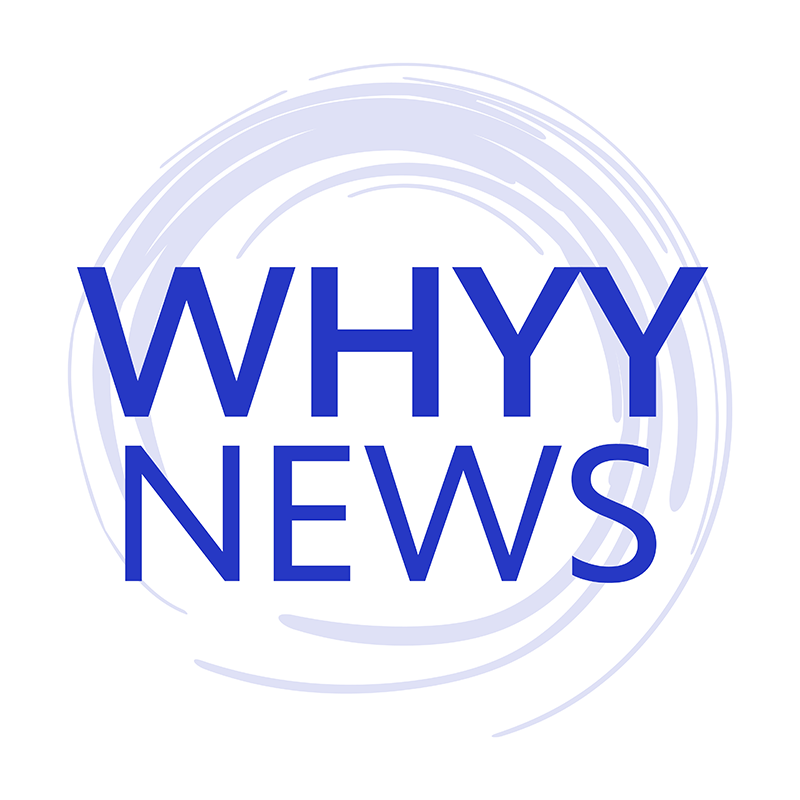 Get daily updates from WHYY News!
WHYY is your source for fact-based, in-depth journalism and information. As a nonprofit organization, we rely on financial support from readers like you. Please give today.