Eastern State Penitentiary casts a light on its LGBTQ history
Historic prison museum documents gay life behind the walls in the 1800s. During the prison's 142 years, at least 500 inmates were incarcerated for the crime of sodomy.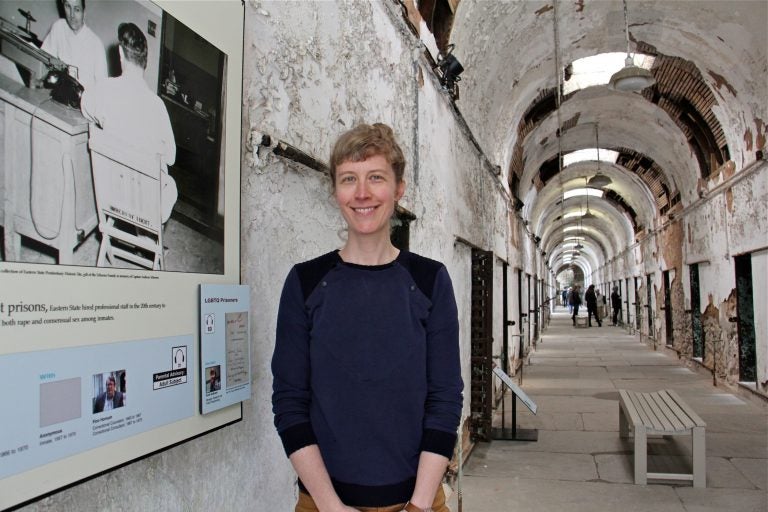 On May 24, 1881, a man named Isaac Hall was incarcerated in Eastern State Penitentiary in Philadelphia for the crime of "sodomy and buggery." Arrest records show he had engaged in consensual sex with another man and was was sentenced to eight years.
Hall was a relatively well-known person in his neighborhood, what is now Northern Liberties in Philadelphia, under a different name: Lady Washington.
"In every court record and prison document, an official listed Hall's alias as Lady Washington," said Annie Anderson, the research manager at Eastern State Penitentiary historic prison museum in Philadelphia. "It's interesting — as a researcher and historian with a more intersectional lens in 2019 — to look at these records and think, 'Hmm, maybe prison officials were confirming Hall's gender in a roundabout way.'"
Anderson could not say those 19th-century prison officials accepted Lady Washington's transgendered identity, but the records suggest they at least openly acknowledged it.
Eastern State has expanded a stop on its audio tour to explain its research into LGBTQ life behind the walls. That research is challenged by the fact that the terms "gay" or "homosexual" were not used at the time to identify people. Even the crimes often were not described in legal terms, rather in moralistic words with fuzzy definitions: "wicked," "indecent," and "unnatural."
New research shows that over the prison's active life of 142 years (1829-1971), at least 500 inmates were incarcerated for the crime of sodomy, often not making a distinction between consensual and assault. There are also records of inmates being punished for having intimate relations with other inmates while incarcerated.
Anderson said it's a "bittersweet" truth that in order to learn about gay life in American history, some of the richest sources are prison records. Using other historic archives, she was able to discover that Lady Washington was from a somewhat prominent Philadelphia family, taught music for a living, died in 1902 from a stroke at age 56 or 58, and is buried in South Jersey.
"Lady Washington was this really fascinating character who we might not have any documentation of had they not been arrested, incarcerated, and punished for their identity," she said. "I'm so glad the records exist, but they are pretty heartbreaking to read through."
WHYY is your source for fact-based, in-depth journalism and information. As a nonprofit organization, we rely on financial support from readers like you. Please give today.