Dozens gather to debate protected bike lanes on Pine and Spruce Streets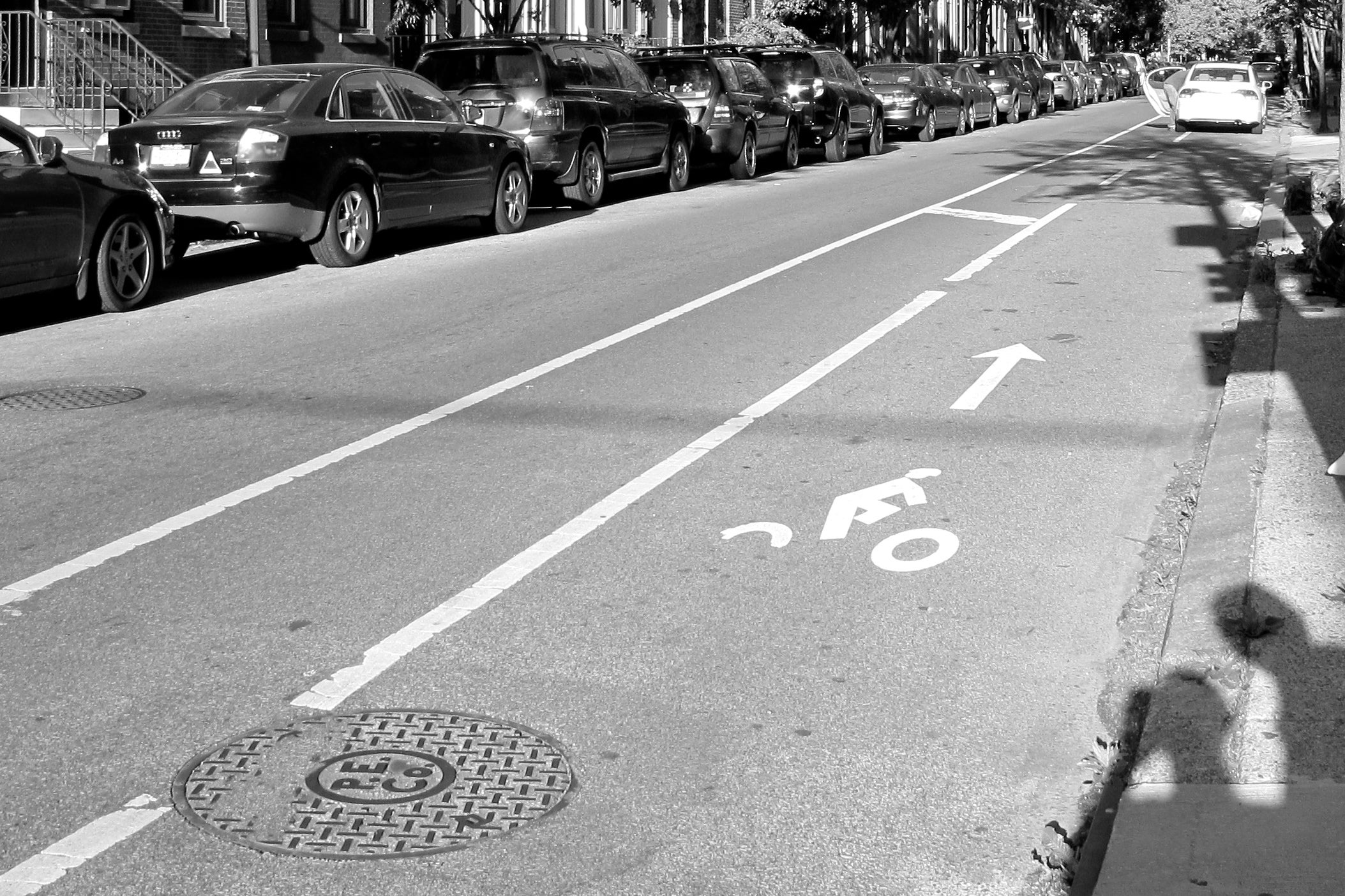 On Tuesday night, less than one percent of the residents in Washington West showed up to a neighborhood association meeting, nominally to hear a presentation about protected bike lanes.
In actuality, of the 75 people attending the December meeting of the Washington West Civic Association (WWCA) a majority were there to talk, some in favor of protected bike lanes, others opposed.
Washington Square West has 11,939 residents, but few showed up at the meeting despite efforts to drum up interest through anonymous flyers plastered across the neighborhood warning that protected bike lanes would block deliveries and prevent rushing ambulances from getting to Pennsylvania Hospital in the nick of time, and a push by bike advocates to turn out voices in support of safer streets. The latter were leery of a statement from the city's Office of Transportation and Infrastructure Systems (OTIS) saying the meeting was "intended for Washington West Civic area residents," as opposed to anyone who uses the Spruce of Pine street bike lanes. In the end, the pro-protected lane crowd outnumbered skeptics, making up perhaps two-thirds of the crowd. Those who were motivated to come already had the most, and strongest opinions on the issue.
The city, for its part, wanted a listening session. Instead it got a meeting where for the better part of an hour the crowd spoke past one another through a series of loaded questions nominally directed at representatives from OTIS.
The WWCA board invited OTIS to discuss the tentative proposals for installing protected bike lanes on Spruce and Pine Streets. The city won a $300,000 federal Transportation Alternatives Program (TAP) grant through the Delaware Valley Regional Planning Commission in March to plan and design 30 miles of new bike lanes across the city. OTIS asked for $589,000, and is seeking the remainder through the program funds administered by PennDOT, which should announce recipients early next year.
Both Pine and Spruce streets were targeted for protected bike lanes, along with 15 other projects, in the city's grant proposal. So far, the city has built two miles of protected bike lanes, mostly along Ryan Avenue in Northeast Philadelphia.
During the initial 10-minute presentation, Jeannette Brugger, pedestrian and bicycle program coordinator at OTIS, highlighted the need for protected bike lanes: 10 percent of people will ride pretty much regardless of conditions, 37 percent never will consider cycling, and 53 percent will when they feel like it's safe enough. Protected bike lanes are aimed at that last group, using some sort of physical barrier to separate the cyclists from automotive traffic. In most cases, the changes are purely psychological—flimsy plastic delineator posts or raised "turtle bumps" will do little to physically stop a car from entering the lane, but it may signal to a driver that the bike lane shouldn't be treated like a breakdown lane, loading zone, or church parking.
Other types of protected bike lanes make it virtually impossible for a car to enter, using raised planters or parked cars to separate automobile and bike traffic. In between, raised curbs would strongly signal cars shouldn't be there, but wouldn't stop a determined driver (like an EMT rushing to the hospital).
On the flyers advertising the meeting and at the event itself, opponents warned that protected bike lanes could interfere with ambulances racing to Pennsylvania Hospital. When asked if they agreed, representatives from Pennsylvania Hospital in attendance declined to comment. "We're just here to listen," said one.
For the dubious, the proposal elicits fear of inconvenience, lost business—unfair burdens to be singularly placed upon their shoulders to the benefit of cyclists commuting through their neighborhood. For the supportive, protected bike lanes mean safety, a point dramatically made by Washington West resident Amy Cherowitz, who called the skeptics concerns "hyperbolic."
"Let's wait until we cry disaster and that everybody is going to die," said Cherowitz. "Now what is an actual disaster is that I was hit by a car because there was not a protected bike lane. "
Another in the crowd then asked everyone who had been hit by a car to raise their hands. Nearly every hand shot up.
Brugger, and OTIS in general, faced a lot of mistrust from the bike lane skeptics in the crowd. More than once, Brugger was asked angrily, "Who is OTIS?" One of the questioners was a member of the WWCA board, which invited OTIS to speak.
"It looks like to me this is a done deal that's going to happen," said neighborhood resident Leslie Graves, expressing a suspicious sentiment prevalent among the handful who spoke in opposition to the bike lanes.
"That's not true," responded Brugger.
"We haven't decided where or what protected bike lanes will look like in Philadelphia," said Brugger. But the bike lane opponents did not seem to believe her.
At one point, someone in the pro-crowd pointed to other cities that have exceeded Philadelphia on building protected bike lanes, like Chicago and New York. In response, a skeptic noted that Philadelphia's streets tend to be narrower.
"We had an incident in New Jersey called Bridgegate, where what they did is they cut down the lanes," he began.
"Are you comparing me to Chris Christie?" Brugger asked, half bemused and half incredulous.
Brugger, mind you, is a professional transportation planner who works for the elected mayor of Philadelphia, Jim Kenney.
This meeting was supposed to be about listening to concerns, said Kelley Yemen, the city's new Complete Streets Coordinator. That's why OTIS emphasized the meeting was for local residents—it wasn't a planning session, it was a listening session. It's tough to build trust among an incredulous group when every statement is met with counter arguments or derisive laughter. And it's harder still for city officials to convince dubious residents of their impartiality when the pro-cycling crowd applauds every statement those officials say in their favor.
Without trust, audiences are less inclined to listen openly to a speaker, no matter how well-reasoned or factual her statement, instead parsing remarks, rooting for rebuttal. It makes finding common ground difficult, if not impossible.
But not every exchange was an exercise in shouting past one another. One self-identified neighborhood shop owner and cyclist expressed his concerns with some of the design options presented. "I'm not opposed to bike lanes," he said, saying he very much supported the non-protected, paint-buffered bike lanes currently on Pine and Spruce. "But I have to agree with a lot of people that taking the bike lane and protecting it in such a way that it can't ever be used by delivery vehicles would be a huge problem for me."
"I think the little bumps, they would be great."
At another point, a bike lane opponent clarified that she wasn't opposed to protected bike lanes generally, just those on Pine and Spruce. And therein lies the harder question: No one seemed to hate the idea of separating bicycles and cars on Philadelphia's streets. It's just a matter of where, and how. Some residents who opposed protected bike lanes sounded open to removing parking, a move that surely would incense their car-owning neighbors. Other's suggested moving the protected lanes to Locust Street or Bainbridge Street.
Since bike lanes were painted on Pine and Spruce streets in 2009, car crashes declined significantly, according to a City report. At the same time, daily car traffic totals remained steady, dipping slightly, while bike traffic counts increased.
About 50 minutes into the back-and-forth, local resident William West asked about better enforcement against cars and trucks illegally parked in the bike lanes. Yemen said the city was looking into that as part of their Vision Zero Action Plan. Then West did something no one else that night had done.
"Thank you," he said.
Afterwards, Yemen said that OTIS will look to create forums to hear from the residents who don't necessarily live on Pine or Spruce but travel along it regularly. She described the meeting as a "productive discussion," and Brugger said it was far more civil than many she's attended.
*Based on the 2011-2015 Census' American Community Survey 5-Year Estimates for Census tracts 6, 9.01, 9.02, 11.01 and 11.02.
WHYY is your source for fact-based, in-depth journalism and information. As a nonprofit organization, we rely on financial support from readers like you. Please give today.