District 172: Pretrial motions still await decisions in Perzel case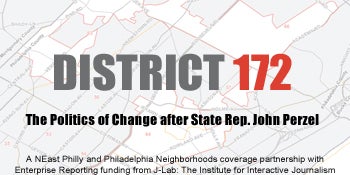 This is part of ongoing coverage in "District 172: The Politics of Change after State Rep. John Perzel," a collaborative effort with Philadelphia Neighborhoods funded by J-Lab.
While former House Speaker John M. Perzel waits to fight corruption charges against him, there has yet to be rulings on some of the pretrial motions, a spokesman for the attorney general wrote in an e-mail.
Attorney general spokesman Nils Frederiksen did not say when these motions are expected to be decided on. Most of them from Perzel's attorney, Brian McMonagle, seek to have the charges dropped.
Dauphin County Judge Richard A. Lewis ordered last month to delay jury selection until August so defense lawyers can look through evidence, including 1.8 million paper documents and thousands of computer files.
McMonagle argued during a pretrial hearing the Blue Card program was legitimate because it was used for legislative actions, The Pittsburgh Post-Gazette reported.
Calls made Friday to McMonagle's office were not returned.
A pretrial grand jury indicted Perzel in November 2009 of spending about $10 million of public funds for political gain — most of which on computer software used to track opinions of voters. Read their findings in PDF part one, part two and part three.
Prosecutors told the grand jury the program was used to find Perzel's political base. Campaign employees called supporters on election day to vote.
Other charges against Perzel include obstructing administration of law or other governmental function, conspiracy to hinder apprehension or prosecution and theft to make required disposition of funds received.
"In its ensuing investigation of the House Republican Caucus, this grand jury has uncovered a concerted plan to use taxpayer funds, employees and resources for political campaign purposes," the grand jury wrote.
Many political aids and associates of Perzel were also charged in the corruption probe, including his former Chief of Staff Brian Preski, Perzel's brother-in-law and former campaign manager Samuel Stokes, legislative aide John Zimmerman, campaign aide Don McClintock and Perzel's nephew-in-law Eric Ruth.
Stokes was in charge of the Blue Card system which prosecutors claim was controlled by Perzel's campaign.
The system gathered addresses and voting opinions from households to be uploaded onto a computer database which campaign officials could access, according to the attorney general's office. Prosecutors claim the system was built to insure Perzel won elections when little or no funding came from his campaign.
The attorney general's office claims when Perzel was frustrated with the early system, he appointed his wife's nephew as the House Republican information technology deputy director. Prosecutors claim Ruth made the Blue Card program the top priority for Perzel's staff.
The grand jury found that Perzel's office outsourced the Blue Card program's maintenance in 2002 to GCR & Associates, a private company in New Orleans.
Prosecutors told the grand jury that Perzel's office went on to create similar voter tracking systems in other districts.
Prosecutors claim these programs expedited his growing influence across the state, as Perzel was a major campaign fundraiser for the House Republican Party.
One system was called the Edge because its purpose was to give the House GOP an edge over opponents, according to prosecutors.
Perzel was the Northeast's 172nd District representative from 1978 to earlier this month, after losing his reelection bid to Democrat Rep. Kevin Boyle.
Former Rep. Brett Feese of Lycoming County also faces corruption charges relating to the probe.
The investigation was sparked after a newspaper series revealed secret taxpayer bonuses given to staff members, according to the attorney general's office.
Perzel has maintained his innocence since the allegations started.
Ian Romano and Megan Paolini are students reporting for Philadelphia Neighborhoods, the publication of Temple University's Multimedia Urban Reporting Lab.