Despite delays in Sandy aid, Christie administration cites 'substantial progress'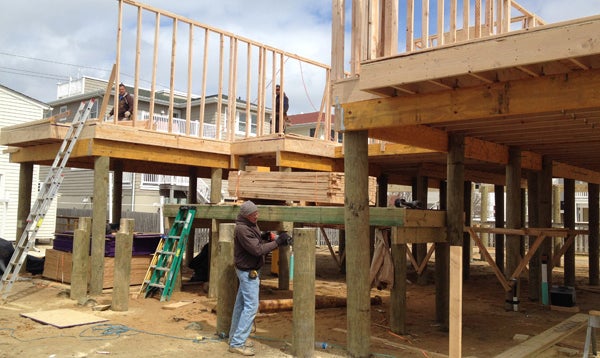 More than a year-and-a-half after Hurricane Sandy, New Jersey has distributed only about one-third of the original batch of $1.8 billion in federal aid it received from the U.S. Department of Housing and Urban Development.
According to the report submitted to the federal government, New Jersey spent just shy of $600 million as of June 30 on a variety of grant programs, such as ones designed to help homeowners and renters recover from the storm. Most notably, that includes the RREM program, which offers homeowners up to $150,000 to repair, elevate or rebuild their primary homes.
The fund has $1.1 billion to hand out, but only about $130 million has actually been distributed so far. Christie administration says in a new spending report that it's made "substantial progress."
That's slower than many struggling homeowners would like, and the state has been criticized in the past for not handing out money fast enough. State officials have responded by pointing the finger at what they characterized as burdensome federal requirements aimed at eliminating waste, fraud and abuse, as well as environmental and historic reviews, which they said have slowed things down.
At the same time, the state has made a number of modifications on its end in recent months to speed up the process, including allowing homeowners to choose their own contractors and start repairs earlier, before all the funds have been released. Other changes include allowing applicants to submit more paperwork by mail rather than having to make as many visits to Housing Recovery Centers.
Whatever the reason, the flow of aid money does appear to have quickened. The latest report notes that the state spent more than $175 million over the preceding three months, compared with just $100 million in the previous quarter.
The feds approved another $1.46 billion in aid to New Jersey this spring, but the state has yet to tap into any of that funding. The Christie administration notes in its report that it expects to use that money to launch several new recovery programs in the second half of the year, including rental assistance for low-income storm survivors, infrastructure resiliency projects, additional buyouts in flood-prone communities, and outreach to non-English speakers and other vulnerable populations.
A third round of $882 million in aid is also on the way, although nearly half of that is earmarked for engineering projects to reduce flooding in Hoboken and the Meadowlands through the Rebuild by Design initiative.
The aid money detailed in the report comes from the Community Development Block Grant program, and while it's not the only source of Sandy funding the state has received, it is one of the largest and most visible sources.
The Christie administration says that it "anticipates that this momentum will continue throughout 2014."
_____________________________________
NJ Spotlight, an independent online news service on issues critical to New Jersey, makes its in-depth reporting available to NewsWorks.