Delaware's Blunt Rochester has progressive agenda but aims to bridge D.C. divide
Listen
5:09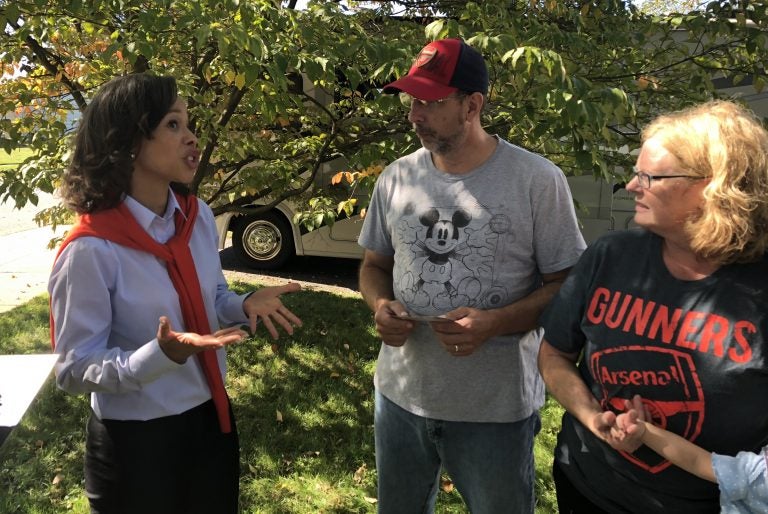 With the fervor of a preacher, U.S. Rep. Lisa Blunt Rochester pumped up a group of Democratic women candidates and office holders on a recent Saturday morning.
Led by Blunt Rochester, Delaware's lone representative in the U.S. House, the politicians were gathered in the upscale, upstate community of Hockessin. They were hosted by Moms Demand Action, who were holding a rally for stricter gun laws.
"Who believes that we should have common-sense gun laws in this country?" the congresswoman called.
"We do!" her audience replied.
"Who believes our neighborhoods and our schools should be safe?"
"We do!"
"Who believes that we should not fear in our own homes from someone who might be a domestic violence abuser? Well, you know what I'm saying," she said with a chuckle.
"We do!"
Although the battle between gun control advocates and those who oppose restrictions on the right to bear arms is one of the most partisan in America and Congress, Blunt Rochester said she has focused on building bridges in her first term — even as she pursues her progressive agenda.
Since Delaware has only one seat in the 435-member body, "it's really important to establish strong relationships and bonds with people,'' Blunt Rochester said as she campaigned for a second two-year term.
Delaware's first black and first female member of Congress, the Democrat is facing a surprise Republican primary winner in the Nov. 6 general election.
Blunt Rochester discussed her first term amid a day of door-knocking after the rally in Hockessin's Hickory Hills subdivision.
She expressed joy at sponsoring two bills that just passed the House – one to help victims of domestic violence and another to assist retirees. They have not passed the Senate, though.
She's also sponsoring four other measures that have not been up for a vote. Those measures would assist employees who are harassed at work; entrepreneurs forming startups; people with minor criminal records; and some Delawareans with coastal homes.
All will help people in her state and across the nation, Blunt Rochester said.
"I feel it's really important to represent all of Delaware. That was one of my goals, to have people know I'm thinking of all the stories I heard up and down the state," she said.
To that end, she serves on the House Agriculture Committee as well as the Education and Workforce Committee. She's part of the New Democrat Coalition and Congressional Progressive Caucus. But she's also pursuing across-the-aisle cooperation in polarized Washington.
"The bringing people together part to me is even more vital at this time because we won't solve any of the big issues if we don't come together,'' she said.
One example of her dedication to bipartisanship, she said, was co-sponsoring a night at the U.S. Holocaust Memorial Museum with some colleagues.
"We shut down the museum. Afterward, we talked about immigration with no staff, no cameras, just … honest, where are we coming from?" she said. "Do we have common ground? We as a class signed a pledge of civility."
'People are dying, and that hurts'
In Hickory Hills, Blunt Rochester led two candidates for the Delaware General Assembly – fellow Democrats Laura Sturgeon and Krista Griffiths – through the neighborhood.
At one home, they chatted with Democrats Cliff and Ann Dempsey, who were playing with their dogs on their front lawn. Cliff is a former Wilmington police officer and now an investigator for the Delaware attorney general's office. Ann works for an orthopedics practice.
Blunt Rochester told them her domestic violence legislation, which among other provisions would help fund shelters and hotlines, had just been approved by the House.
Cliff Dempsey said measures like that would help ensure that victims and witnesses come forward. "That's one of our biggest issues, the safety of our people coming in,'' he said. "They are scared to testify."
The Dempseys plan to vote for Blunt Rochester, formerly Delaware's labor secretary and personnel director.
"I worked with her, so I know her real well. She's always been a good person,'' Cliff said.
Ann said Blunt Rochester is "supporting and addressing issues that are important to us."
To remain in office, Blunt Rochester must once again defeat Scott Walker. Oddly enough, she trounced Walker in the five-candidate 2016 Democratic primary.
Now he's a Republican and the surprising victor in this year's GOP primary.
In a WHYY profile after his primary victory over Lee Murphy, Walker talked about how he campaigns alone in an old station wagon. He even resorted to sleeping in the car over the winter after a dispute with his wife.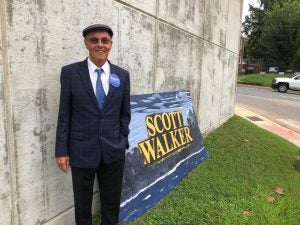 Walker spoke of painting his own wooden campaign signs and planting them in areas with a lot of traffic. He acknowledged that he struggled with alcoholism but still drinks about a six-pack a day.
Walker also is known for outrageous comments. He recently called Blunt Rochester an "Aunt Tom," a twist on the racial insult Uncle Tom.
Asked about that slur, Blunt Rochester said it stung but that other problems in America are far more offensive.
"I pretty much stated up front that it felt that it was really a distraction from the issues out there,'' she said. "What really hurts, what really hurts and really is part of my motivation right now is that … we need to be finding common-sense gun reform and we're not. And people are dying and that hurts.
"When my dental hygienist told me her premiums are $440 a month, and she can't afford it, that hurts. When you see kids in cages, that hurts. A name is momentary. What hurt was seeing Klansmen and Nazis marching in our country."
Though Democrats outnumber Republicans nearly 2-1 in Delaware, Blunt Rochester said she won't take the election for granted.
"We have received really positive feedback," she said. "And I think a part of it is that we intentionally spend a lot of time up and down the state, and I think people like to see that."
She's also campaigning hard in rural, conservative Sussex County.
"One day, I just visited different farms, and they took the time to share with me what are the challenges of being a dairy farmer. What are the challenges of being in poultry?"
And on the morning after our interview, Blunt Rochester said, she would doing what she had done with the gun control advocates:  "I"ll be preaching at a church in Sussex County."