Delaware to sell playing cards featuring cold cases to inmates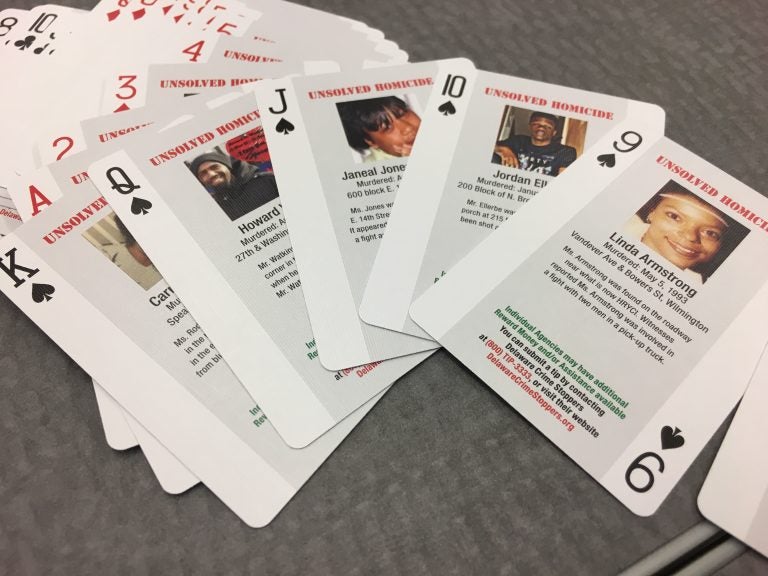 Every year, the Delaware Department of Correction sells 8,000 decks of playing cards to inmates looking for a way to pass the time behind bars. Now those cards will be emblazoned with the names, pictures and story of murder victims whose cases have never been solved.
"It's becoming more and more difficult for agencies to solve homicide cases because we don't have a lot of people willing to come forward," said New Castle County Police Chief Vaughn Bond. "[We're] putting this information out here and putting it in the right places so that the individuals who committed these crimes or individuals who have information about who committed these crimes will come forward."
The deck of 52 cards are made up of 18 unsolved cases from New Castle County, and 17 each from Wilmington Police and Delaware State Police. "This is not just a New Castle County issue, this is a statewide issue affecting every jurisdiction within the state of Delaware," Bond said. "It was imperative that we had all of the people and other agencies involved."
The idea was brought to Delaware after members of the New Castle County Police cold case unit saw the cards being used in Connecticut. "Without any question, myself and the command staff agreed to it, that we would move forward and make this project become a reality," Bond said.
The cards are the latest effort to solve these older cases. Last year, the county launched a cold case Facebook page in hopes of getting tips from the public. Earlier this year, the county used DNA phenotyping to predict the physical appearance and ancestry of an unknown murder victim found in a ditch in Townsend in 1977.
"The families should know and the people of this county and state should know that every police agency is working together collaboratively, with the Department of Correction, with CrimeStoppers, using the most innovative strategies that we find anywhere in the world to bring these individuals that are out there to justice," said New Castle County Executive Matt Meyer.
The cards were able to help police in Connecticut solve about 20 homicide cases. Police hope to see similar results in Delaware.