Delaware Memorial Bridge second span marks 50 years
They say fences make good neighbors. But for New Jersey and Delaware, bridges may be doing a better job. Leaders from both states gathered in New Castle Wednesday morning to commemorate 50 years of travel across the Delaware River on the second span of the Delaware Memorial Bridge.
It may be the only Delaware landmark millions of Americans have ever visited. "When I talk to people outside of the state and tell them where I'm from, they'll always say to me, 'Well, I've been through Delaware once, I drove across the Delaware Memorial Bridge," Gov. John Carney said during a ceremony marking the anniversary.
He called the bridge an incredible connection between Delaware and New Jersey. "This partnership has meant so much to our two states for more than 50 years."
The bridge recorded its 500 millionth crossing 31 years after it was opened. In 2012, the DRBA celebrated the bridge's billionth crossing. On an average day, more than 80,000 vehicles cross the bridges.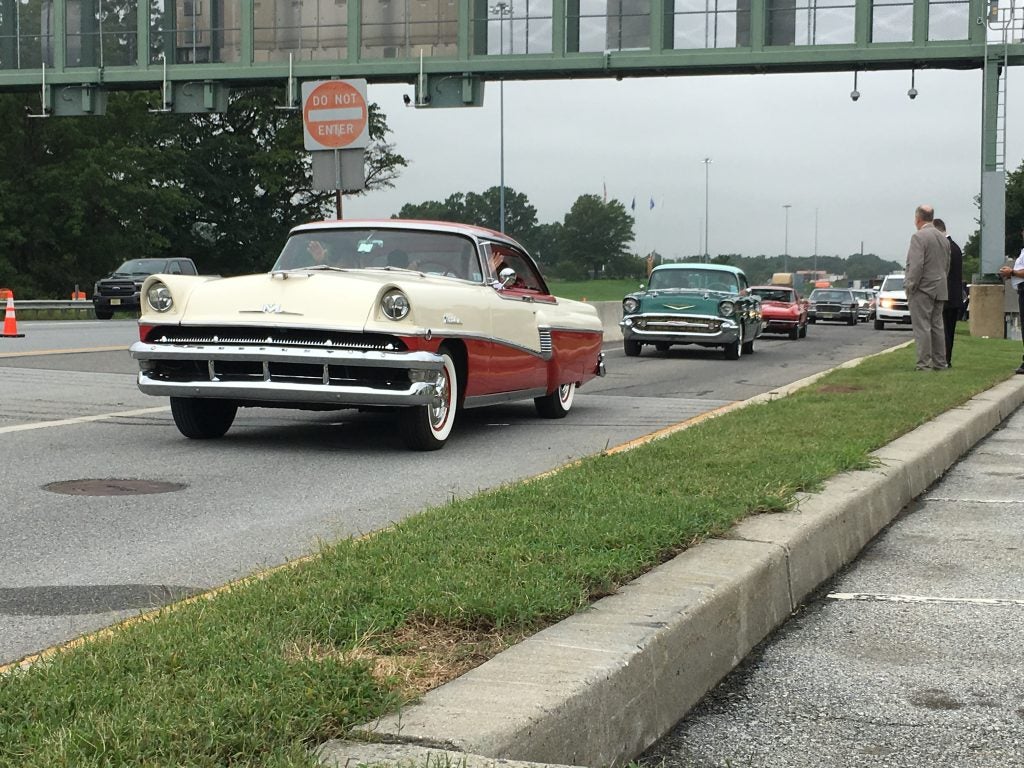 The second span opened Sept. 12, 1968, with a parade of vehicles. That procession was recreated Wednesday with classic cars from the '50s and '60s. Delaware River and Bay Authority officials joined leaders from both states in placing a wreath at the midway point of the bridge in honor of DRBA employees who were killed during construction or subsequent work on the bridge.
DRBA executive director Tom Cook quoted then-Vice President Hubert Humphrey who helped dedicated the second span 50 years ago.
" 'We must build new bridges — not just bridges of concrete and steel, but of tolerance, understanding and cooperation.' Those words are as true today as they were in 1968," Cook said.
U.S. Rep. Frank LoBiondo said the bridge — and more broadly the DRBA — has helped build the economy of the South Jersey area he represents.
"With economic developments in Millville and in Cape May and the energy and enthusiasm that's placed into creating jobs, that's made a tremendous difference," he said.
In addition to the wreath ceremony, DRBA officials also unveiled a pair of plaques, one commemorating the anniversary and the other honoring former DRBA executive director William Miller. Miller, who led the agency for 28 years, oversaw the planning, financing and construction of the second span.
While the second span cost $70 million in 1968, a new bridge today would cost more than $1 billion. That's why the DRBA upgraded the bridge and its older companion with a $35 million dehumidifier system designed to keep humid air away from the main suspension cable. The system will reduce corrosion along the cables by keeping the humidity level below 30 or 40 percent. That should extend the lifespan of the bridge cables indefinitely, officials said.