Delaware hopes new NFL season brings better luck for 'the house'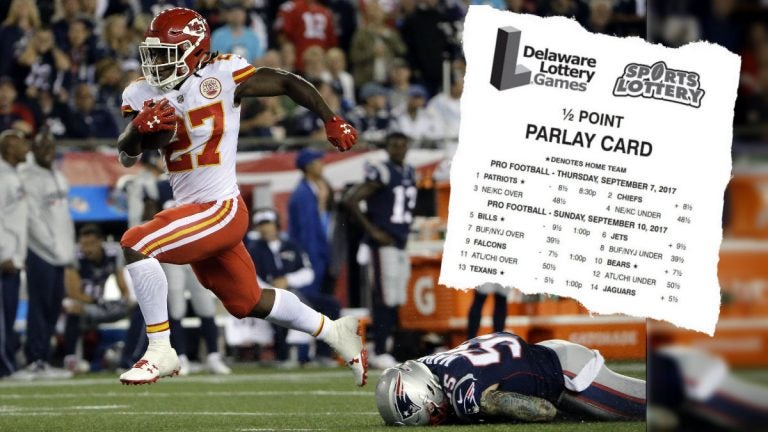 Last season, bettors made out like bandits gambling on NFL games in Delaware. Lottery officials hope Thursday night's upset loss by the Patriots is a sign of things to come.
When the favorites win, lots of gamblers win too. That's why the 2016 NFL season was very good to sports bettors make parlay wagers on games in Delaware. More than three million wagers totaling more than $47 million were made last season. The state paid out nearly $37 million in winnings.
That success for gamblers nearly cut the state's net proceeds in half. For the 2016 season, the state's net proceeds were $4.26 million. The year before that, the state brought in more than $7.8 million in net proceeds.
"Last year was a particularly difficult year for all sports books," said Delaware Lottery Director Vernon Kirk. "Any time the favorites win, the bettors win, and last year was a big year for favorites winning … We had a lot more winners winning a lot more money than usual."
Although it depressed the state's take of proceeds, a good year for bettors isn't all bad the house. Kirk said it may lure even more players, or encourage existing players to reinvest those winnings with more wagers. Bets made through the preseason this August were up about 10 percent over last year, Kirk said. "There's enthusiasm and encouragement out there, and we hope everybody has a good experience, but maybe doesn't win quite as much."
The bettors luck wavered Thursday night as the NFL regular season opened with the favorite New England Patriots losing to the Kansas City Chiefs. "The underdog not only covered, but also won out right, so we made a lot of hay on that game, so maybe that's a good omen."
Delaware first launched sports betting during an economic downturn in 2009. That first year, only 88,000 wagers were made totaling $1.5 million. The number of wagers and the amount bet has grown exponentially since then.
In July, Delaware Governor John Carney signed legislation reinstating fantasy sports in Delaware. While there is some concern that fantasy sports could siphon bettors away from parlay wagering, the state has imposed some of the highest fees in the nation on fantasy sports companies. Paid fantasy sports are subject to a 15 percent fee on their net adjusted revenues, or the equivalent of the highest rate set by another state, as well as a $50,000 annual fee. Delaware would always have a fee equivalent to the highest rate in the country, which is currently in New York.