Delaware coalition announces funding plan for low-income kids
Listen
2:19
A diverse coalition of educators, faith-based leaders, members of law enforcement and others are calling for a $54 million windfall in unexpected tax dollars to be invested in a trust fund to benefit low-income children in Delaware.
The group unveiled its proposal for how it believes the money should be spent during a news conference today at Shortlidge Elementary School in Wilmington, where more than 87 percent of its students live below the poverty line.
Members of the Coalition for Delaware's Kids include Delaware Attorney General Matt Denn, Red Clay Consolidated and Colonial School Districts, Delaware state NAACP, Delaware PTA, Delaware chapter of the American Academy of Pediatrics, Latin American Community Center, United Way of Delaware, Interdenominational Ministers Action Council, Delaware Council on Faith-Based Partnerships, Delaware Nurses Association, Network Delaware, Metropolitan Wilmington Urban League and atTAck Addiction.
Denn and others said the money should not be used to help balance next year's budget.
"We're here today to urge a different approach, we're here to urge that it not be spent all at once, but rather conservatively, over a 4-year period of time and that it be spent in a very focused way on at-risk kids in Delaware to help lift those kids up and give those kids an opportunity to fulfill their potential," Denn said.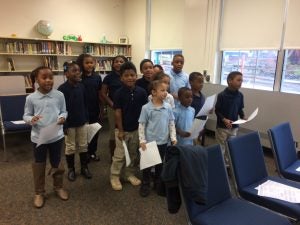 The coalition wants to spend the money on expanding pre-K, after school and summer programs in poor neighborhoods; providing grants to 10 high-poverty elementary schools in the state, including Shortlidge, so they can hire more teachers and staff; funding evidence-based re-entry and rehabilitation programs for kids leaving juvenile correctional facilities; creating a recovery high school for Delaware students battling addiction.
"This is a rare opportunity to fundamentally change the lives of a lot of these kids," Denn said.
Latin American Community Center President Maria Matos said investing in low-income children and poor neighborhoods will help level the playing field.
"Being poor doesn't give you the opportunity to buy the educational toys, the books, the additional resources that children need," Matos said. "When you're poor and you're a child, you're behind. So I think that $55 million is a lot of moolah and if Delaware is really serious about taking care of poor children, then they better put their money where their mouth is."
Getting the governor and state lawmakers to sign off on something like this won't be easy. After surviving through years of lean financial times, Delaware's finances remain tough and a tempting, one-time boost of $54 million would go a long way.
But Colonial School District Superintendent Dusty Blakey said investing in children now will help the state long-term.
"I look at this as an investment. It's an investment in our future, it's an investment in our kids and families, it's an investment in our communities. And it will pay dividends if we are proactive and not always being reactive."
"Today is day one of what we know is going to be a long process. The General Assembly and the governor work right up through the end of June to put a budget together and we know it's unlikely that final decisions on the use of this money are going to be made until the spring or the summer, but we wanted to speak up on behalf of Delaware's kids now and we intend to do so consistently until the budget's passed," Denn said.
A more detailed description of how the coalition would like to see the tax revenue spent can be found below.