Debut of Japanese Garden's Sakura Pavilion Kicks off Cherry Blossom Season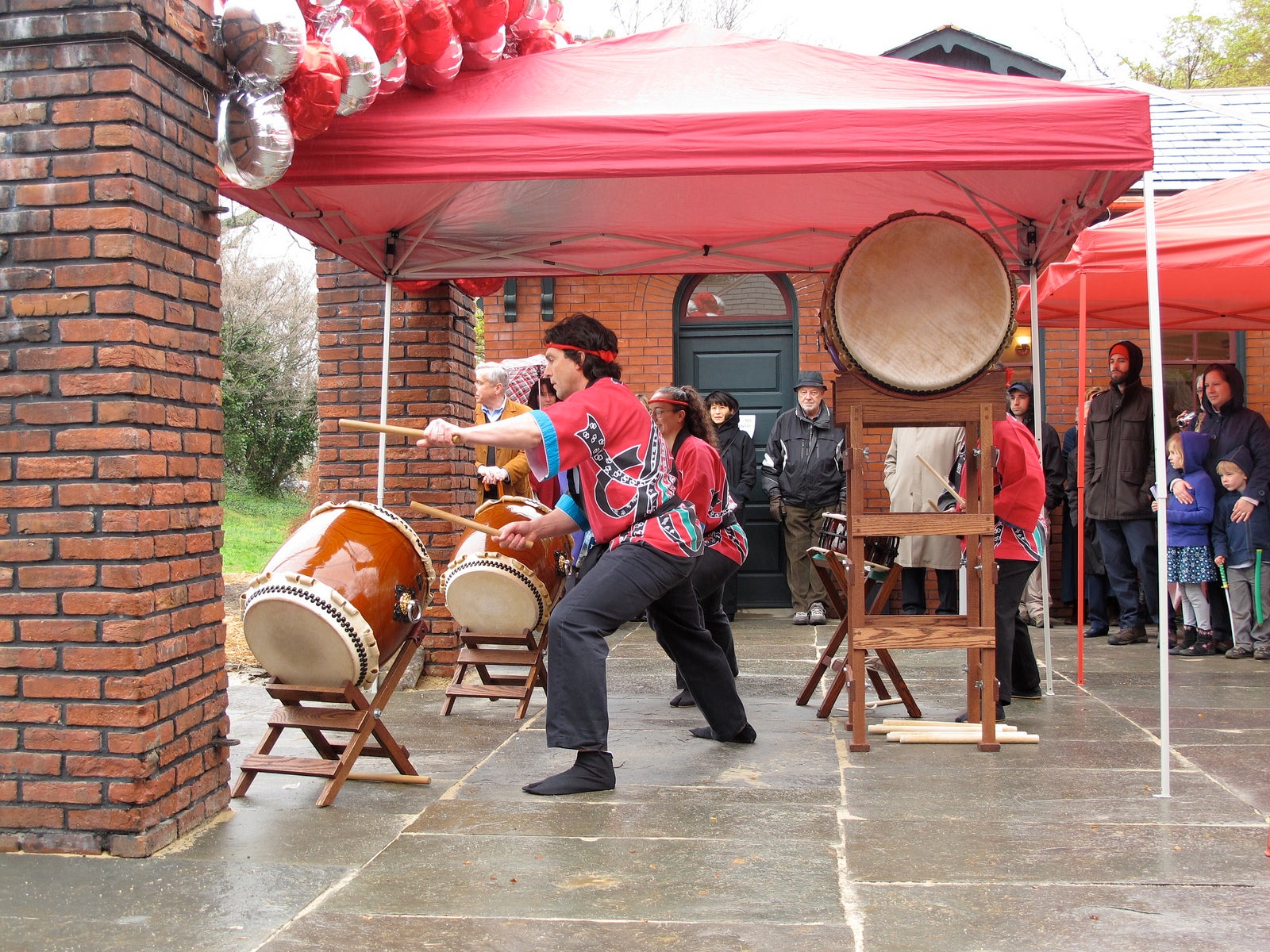 Of the more than 200 buildings built in West Fairmount Park for the 1876 Centennial Exposition, only four remain, and two of those – originally built as "comfort stations" or bathrooms – were in dire need of attention before the Friends of the Japanese House and Garden and the City of Philadelphia began an adaptive reuse restoration project in 2010.
On March 31, Friends of the Japanese House and Garden hosted the grand opening of that completed project.
To kick off the 2012 Cherry Blossom season and debut their newly restored structures, Friends of the Japanese House and Garden opened the two buildings and their shared flagstone patio, officially named the Sakura Pavilion. Guests were invited for a sake cask breaking, Japanese-style drumming performances, origami workshop, traditional storytelling and more.
"It's part of what makes Philadelphia the great, great city that it is – that we respect our history, that we protect our culture," Mayor Michael Nutter said at the opening ceremony.
The two restored buildings are nestled on the grounds of Philadelphia's Shofuso Japanese House and Garden in West Fairmount Park.
Originally built as comfort stations for the Centennial Exhibition's Horticulture Hall, their condition had since deteriorated. In 2010, Friends of the Japanese House and Garden and the Philadelphia Parks and Recreation Department received funding from the Pew Center for Arts and Heritage to preserve the buildings and convert them into a space for year-round programming.
"It gives us a physical anchor in the history of Philadelphia and helps tell the story of Shofuso," said Kim Andrews, executive director of the Friends of the Japanese House and Garden.
The story of Shofuso in Philadelphia began in 1876 when the Centennial Exposition's Japanese bazaar and garden was built and became the first Japanese garden in North America. From 1905 to 1955, the area was home to a gate from a Japanese Buddhist temple, and in 1958 Shofuso, an authentic 17th-Century style Japanese house, garden and koi pond was installed on the site.
Today the Shofuso house and garden is the third ranked Japanese Garden in the United States.
"It's a treasure to behold," Mayor Nutter said. "It's a jewel in our great Fairmount Park system that will be open for all to enjoy."
With the adaptive reuse of the Sakura Pavilion, the Friends of the Japanese House and Garden will be able to provide year-round accommodations to Shofuso visitors for the first time in its history.
Leslie Walker, vice president of community learning at the Please Touch Museum, attended the opening ceremony to show support for the Shofuso Japanese House and Garden, which neighbors the Please Touch Museum's Memorial Hall location.
Walker said she thinks the opening of the Sakura Pavilion will help bring more visitors into the Centennial District.
"We have so much to offer," she said, "…and I think when people realize that they're going to come for all sorts of things, not just one [venue]."