DACA dollars the goal of new fundraising effort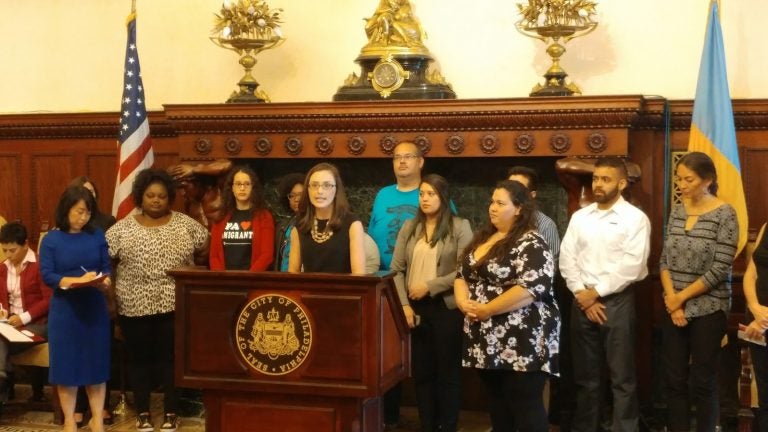 While the Trump administration has stopped accepting new applications for Deferred Action for Childhood Arrivals, some "dreamers" who have their authorization to stay in the U.S. expiring soon, are being allowed to apply for renewal.
By paying a $495 fee every two years, those who qualify for DACA are allowed to work in the U.S. and are protected from deportation.
An effort is underway, coordinated by the Philadelphia Foundation, to collect donations to cover that fee.
Prudance Powell said she could use the help.
"My DACA expired in January, so I need to renew mine yesterday," she said. "As a single parent of two kids living paycheck to paycheck, $495 is not in my account, just sitting there waiting for me to use it to renew my DACA."
Mexico's Consulate General Alicia Kerber said her country's government also is willing to help.
"I want the DACA students from Mexico to know that they are not alone," she said. "The consulate of Mexico has the resources to help them to renew their DACA permission and to give them the economic support to obtain the new DACA permission."
As for DACA, U.S. Rep. Bob Brady of Philadelphia said he's cautiously optimistic that the program will continue — now that Congress struck a short-term deal to fund the government.
"We have three months to deal with the continuing resolution to keep the government open and also be able to put the Dream Act together," he said. "It's a total absolute disgrace that 800,000 people would be let go out of our country, it's totally ridiculous."
The Philadelphia Foundation is coordinating the fundraising effort through PA is Ready! to support DACA application fees for Pennsylvania dreamers who must apply by Oct. 5 to extend their legal status.