Cyclists, pedestrians lack a good crash reporting system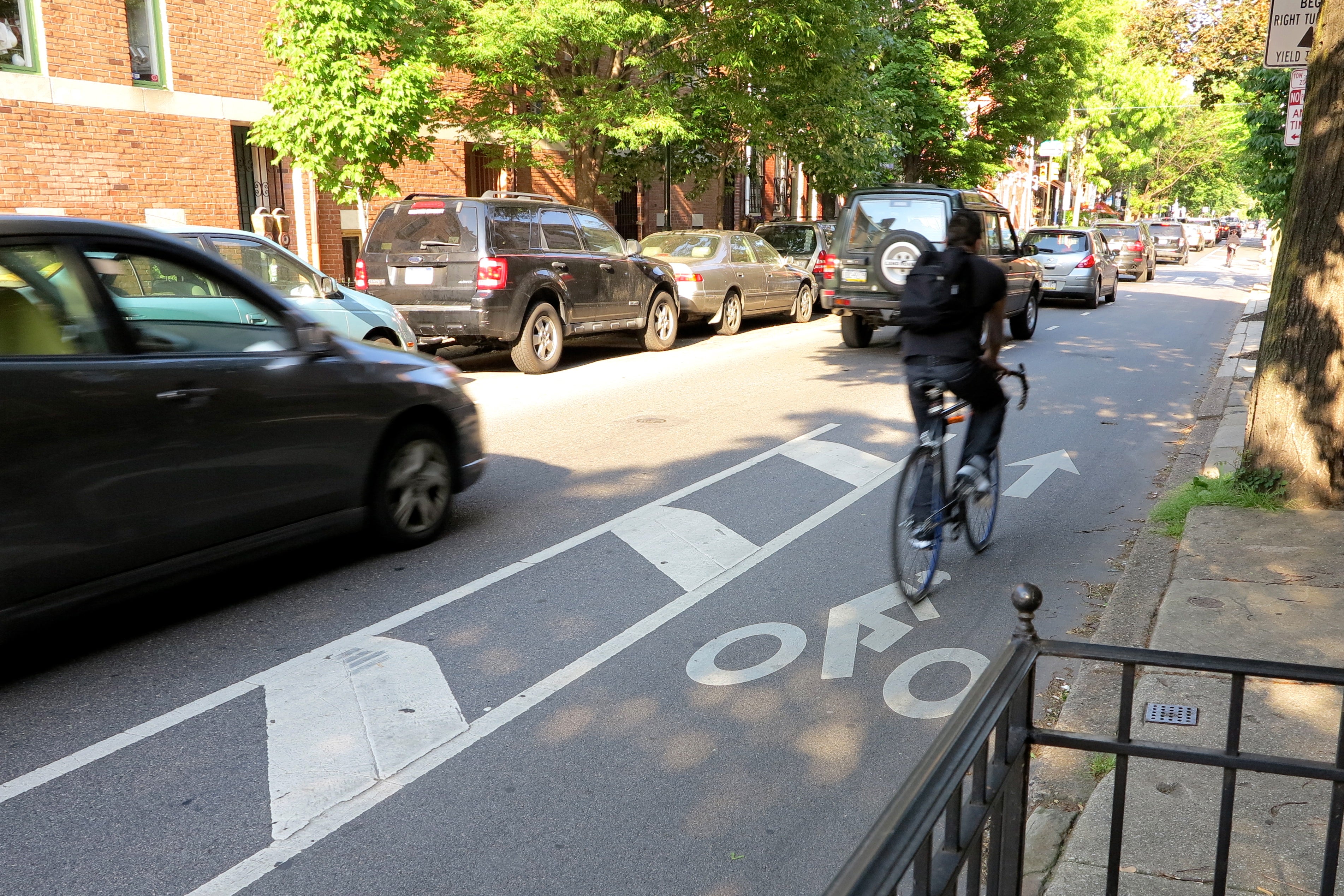 Jake Liefer was getting his morning workout in, bicycling down Gray's Ferry Avenue towards 34th street, when it happened.
Liefer, 30, was heading straight past a gas station. Low on gas, a car from the opposite lane was making a left. The driver didn't see Liefer until the last second, and Liefer didn't expect the turn. Both slammed on their brakes at the last second, but the cyclist ended up on the car's hood.
Fortunately enough, both Liefer and his bike were fine. "Hitting the hood… actually lessened the impact a bit," he said.
"I was pretty much alright, a little banged up, bruised, but for the most part, alright."
Liefer called the cops. He wasn't going to press charges or sue the driver, who he described as "cordial" and "a bit shaken up." But he called anyway, "just to get [the crash] on the record."
IF IT ISN'T COUNTED, THEN IT DOESN'T COUNT
Reporting the crash is what both the Philadelphia Police Department and the Bicycle Coalition of Greater Philadelphia recommend for any cyclist hit by a car, even if both man and machine are no worse for wear.
The same goes for any person hit by an automobile, whether you're Philadelphia's version of Tony Hawk on your skateboard, Melanie Safka on a brand new pair of roller-skates, the Mighty Ducks rocking inline rollerblades, some ex-Pets.com employees scooting around on razors, a modern day Marty McFly on a hoverboard, or just a regular guy walking down the street.
If you get hit by a car, call the cops and wait.
And wait.
And wait.
That's what Liefer did. After 20 minutes, he took down the driver's information and let him go to work. He called the police again and was told someone was on their way. Forty minutes later, as Liefer was about to give up and go to work himself, an officer finally arrived.
WHAT GETS MEASURED GETS MANAGED
The PPD recommends reporting even minor crashes because injuries and property damage may go unnoticed at first, and police reports are important for insurance claims or potential lawsuits.
But there's another reason to file a report: data. Specifically, crash data that gets used by city planners to identify dangerous intersections or to design safer roads. On some of the area's most dangerous roads, today's minor collision could be tomorrow's fatal crash if nothing changes.
And that's why Liefer waited. The Point Breeze resident has been a vocal proponent of making Washington Avenue better for bicyclists and pedestrians. During meetings and presentations with the Philadelphia City Planning Commission, he came to realize how important crash data can be – part of the reason a long-proposed lane re-striping for Washington still hasn't happened has been a debate over crash data.
Planners and traffic engineers look at crash data when they are trying to identify roads in need of overhauls and again when they decide just what those renovations should look like.
Lots of hit cyclists suggests a need for bike lanes, lots of hit pedestrians suggests a need for better crosswalks.
FACTS DO NOT CEASE TO EXIST BECAUSE THEY ARE IGNORED
Liefer knows he's an outlier – he's an outspoken street safety advocate who understands the importance of collecting crash data – but even he wasn't willing to wait around forever to file some paperwork.
And, says Liefer, "if I was on my way to work, I wouldn't [have waited] an hour."
No one, including Liefer, really blames the Philadelphia Police Department for taking its time to respond to a minor collision where no one was injured and no property was destroyed.
Data is important in ensuring public safety in the long run, but there are frequently much more pressing demands of police time in the short run.
This begs the question: isn't there a better way to report bike accidents?
NOT EVERYTHING THAT CAN BE COUNTED COUNTS, AND NOT EVERYTHING THAT COUNTS CAN BE COUNTED
Not really.
Under Pennsylvania law, crashes only need to be reported if: it involves an automobile and either (a) someone dies or is injured enough to need medical assistance, or (b) the car needs to be towed.
Pennsylvania's statutes reflect the National Highway Safety Administration's crash reporting system. Even when these crashes are reported, though, the standard police report forms lack-generalized descriptions for bicycle and pedestrian incidents. If a cyclist dies without a car hitting him, it wouldn't necessarily get reported in the crash database.
On the other hand, even minor fender benders between two cars get reported frequently. A small dent can cost hundreds, even thousands, to repair, so many drivers want to get a police report to support their insurance claim.
While bicycle insurance is a thing, it's not a thing most cyclists get, given the relatively low cost of most bikes and the lack of a legal mandate to carry it. And unless you're Heidi Klum, you probably haven't insured your legs.
As a result, most bicyclists and pedestrians skip reporting minor accidents, whereas many drivers will report small bumps.
"You're right about the under-reporting on bicycle and pedestrian crashes," says Ema Yamamoto, a project manager at the Mayor's Office of Transportation and Utilities. But, she says, "there is an under-reporting of all crashes."
Yamamoto says planners like her take these aberrations into account. Despite the under-reporting, "we still have thousands of crashes."
And she added: "We're able to analyze the data that we do have, knowing it is a sub-segment of the total number of crashes."
Still, one can't help but wonder: isn't there a better way to report bike and pedestrian crashes?
THERE'S AN APP FOR THAT…
One alternative has been seriously suggested: crowdsourcing the information using a mobile app.
There's a group in Philly already doing this: Run Philly set up an online incident report so runners can file "every time a pedestrian unleashes a stream of expletives at you, if you tangle with a cyclist's handlebars, or if a car taps you."
The project's founder, Alon Abramson, told my colleague Ashley Hahn that he hopes to use the data to "appeal to our decision makers to improve intersections or increase patrols."
It's the sort of intuitive idea that seems like an obvious fix. Apply the same idea to cyclists and the gap in reported accidents would be fixed.
He uses statistics as a drunken man uses lampposts—for support rather than for illumination
Unfortunately, apps like Abramson's may be more like Apple Maps than Google Maps, charting an inaccurate course forward for planners.
In general, self-reporting can bias data in a number of ways. According to Yamamoto, when New York City used crowdsourcing to identify intersections that felt unsafe, the crowd over reported intersections in wealthier parts of town (I'm guessing the billionaires screwed the millionaires over by hiring mere thousandaires to report intersections near them).
A mobile app for minor crash reporting would face similar issues, as smartphone owners tend to be wealthier: It would likely make Rittenhouse Square look like a deathtrap and Roosevelt Boulevard like a good picnic spot.
"While I think crowdsourcing can be potentially useful, it would under-report and skew the data more than would be beneficial," said Yamamoto.
Yamamoto suggested that some far more pedestrian reporting changes would be better, such as including crash information on hospital in-take forms, so that when the injured runner or skateboarder shows up a day after the crash, it gets included in the planning data.
You can use all the quantitative data you can get, but you still have to distrust it and use your own intelligence and judgment
STATISTICS ARE NO SUBSTITUTE FOR JUDGMENT
Still, perhaps crowdsourcing could play a role, if planners didn't overly rely on it. The Delaware Valley Regional Planning Commission has turned to crowdsourcing for its CyclePhilly app, knowing that the app doesn't provide a true reflection of all cyclists.
Or maybe some other, somewhat more objective reporting systems could be added. Perhaps bicycle repair shops could start keeping track of customers who come in for repairs and asking them to fill out a quick crash report while their wheel gets trued.
The under-reporting of pedestrian and bicycle crashes is a problem everyone seems to agree needs fixing, but no one has a single answer for doing it.
"I haven't heard of a silver bullet," said Yamamoto. "When you find one, let me know."
The annual Ride of Silence is today, meeting at the Art Museum steps at 6:30 p.m. and leaving at 7 p.m. for a silent, hour long ride through Center City that will end back at the PMA around 8 p.m. Helmets are required and bike lights are encouraged.
Six bicyclists were killed over the past year in the Delaware Valley and the second in Philadelphia in 2015. Most recently, filmmaker Vijay Mohan, 26 ,died after being hit by a car on Girard Avenue. You can contribute to a GoFundMe campaign to support funeral costs here.
More information on the Ride of Silence can be found here.
WHYY is your source for fact-based, in-depth journalism and information. As a nonprofit organization, we rely on financial support from readers like you. Please give today.