Councilman Johnson schedules hearings for Open Streets initiative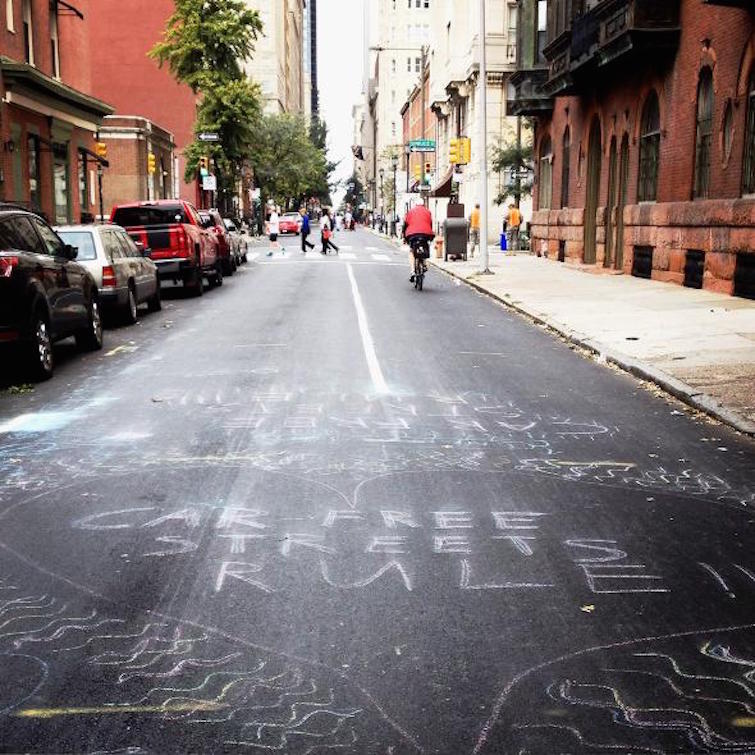 Councilman Kenyatta Johnson introduced a resolution today calling for a hearings on the Open Streets initiative in Philadelphia.
Johnson expressed support for the initiative, which aims to close long stretches of streets to traffic for a day or weekend for recreational purposes. Unlike Philadelphia's numerous street fairs and block parties, Open Streets proposes far less programming and concessions; the emphasis is on simply enjoying the outdoors without worrying about dangerous traffic.
Philadelphia inadvertently piloted Open Streets during the papal visit, when the Secret Service security measures blocked cars from most of Center City. Families took to the pavement and filled sidewalk cafes. For a weekend, flâneurs flooded the streets, turning Rittenhouse into Montmartre. For a short bit, air quality in the city improved dramatically.
The initiative began in earnest last year when some advocates formed Open Streets PHL and launched an online petition after the papal visit.*
"The Open Streets initiative will allow us to get out of cars and enjoy ourselves as a city as communities," said Johnson.
According to Johnson, the purpose of the hearings will be to generate a plan to support the initiative.
"As a city, we need to reevaluate how we're utilizing our open space," said Johnson.
Mayor Jim Kenney has been supportive of the initiative. City officials are in the midst of planning a pilot Open Streets event sometime in September or October that would stretch miles across most of greater Center City. Unlike the papal visit security box, this event would be long and linear, snaking along a handful of streets. Imagine an event like Blocktoberfest on South Street or the PIFA Street Fair on Broad Street, only much longer and less packed.
Johnson sold the Open Streets concept as a way of continuing to attract millennials, who along with immigrants have driven Philadelphia's population gains in recent years. "We're a younger city," said Johnson. "As we move forward and talk about our trails, we talk about our bike lanes, we talk about us just being a progressive city, this is another added attraction that'll make us a young and vibrant city."
Shortly before he left office last year, Mayor Michael Nutter endorsed the Open Streets concept and called for it to become a regular event during Philadelphia's warmer weather months.
Johnson chairs City Council's transportation committee, which will hold the hearings at its next meeting. That meeting has yet to be scheduled.
*Disclosure: PlanPhilly Engagement Editor Jon Geeting is a co-founder of Open Streets PHL.