Council plans to use quality-of-life data to guide future budget decisions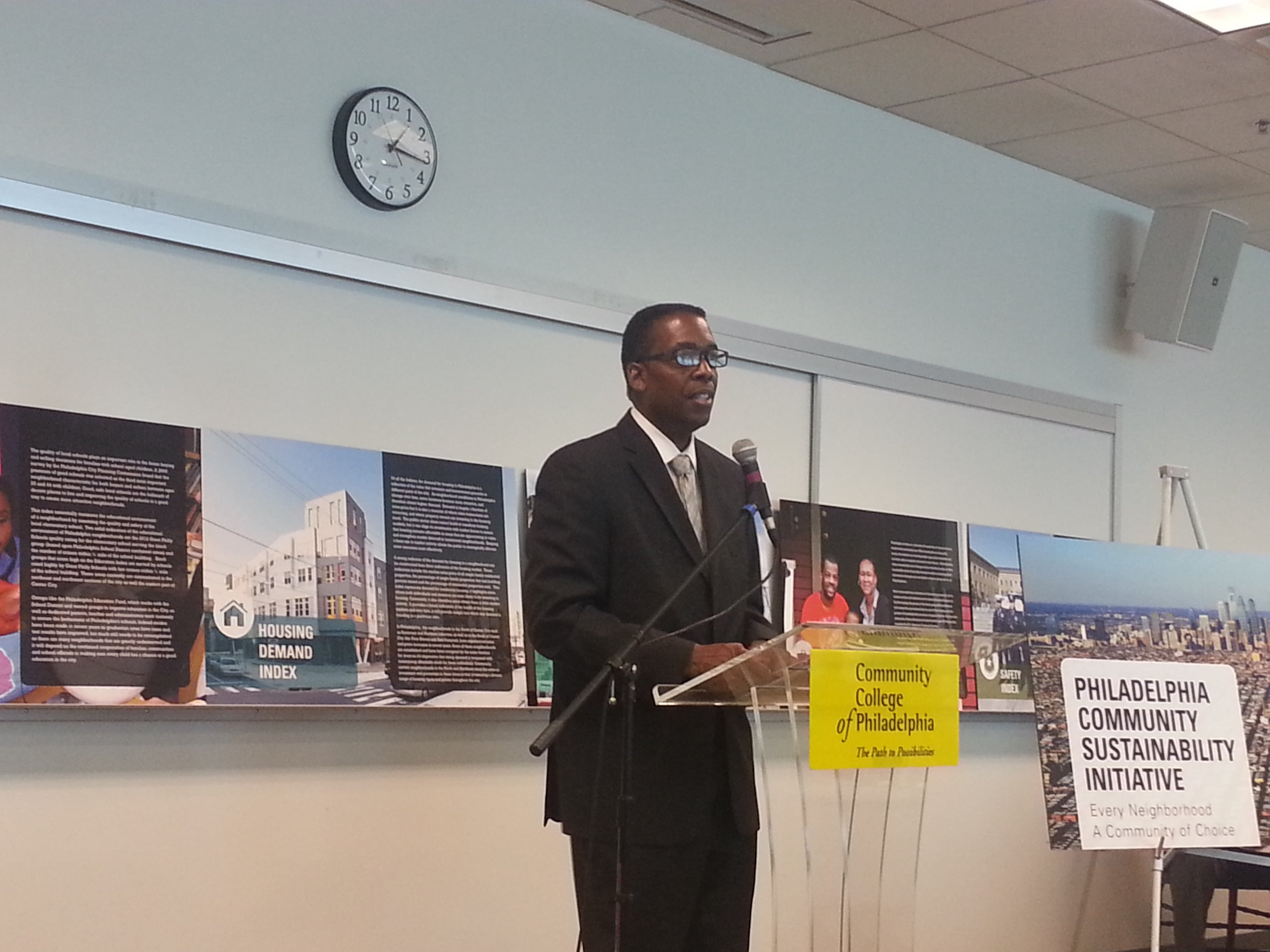 PlanPhilly reporter Jared Brey contributed to this report
At a Tuesday press conference, City Council President Darrell Clarke and other members of Council revealed the Community Sustainability Initiative, a plan they said would allow every neighborhood in Philadelphia to become a "neighborhood of choice."
Under the plan, council would use data collected and analyzed by Econsult Solutions and The Reinvestment Fund to guide budgetary and planning decisions, especially for neighborhoods that don't typically lobby local representatives.
"We cannot declare Philadelphia to be the great city we know it can be until we implement a strategy for every one of our neighborhoods, particularly those in desperate need of investment and revitalization," Clarke said in a press release.
Clarke was unable to say how much the city paid the two firms for the data analysis work, and suggested that the question wasn't pertinent. He said the cost was considerably less than the cost of doing nothing.
When finished, the data set will allow users – Council reps and anyone else who wants to use it – to learn more about all parts of the city and compare them to each other. The Community Sustainability Initiative aims to diagnose Philadelphia neighborhoods according to several specific quality-of-life indexes, including access to amenities, commercial activity, educational opportunity, housing demand, housing stability, neighborhood prosperity and safety.
For neighborhoods that don't meet the benchmarks, the plan contains a host of broad policy recommendations, from making improvements to commercial corridors and expanding partnerships between universities and public schools to building new affordable housing units and establishing Tax Increment Financing districts to pay for improvements to public parks and recreation centers.
Searches will be possible by zipcode, neighborhood, school catchment area and other delineations.
Stephen Mullin of Econsult said the data-mapping tool would be ready sometime in the fall, which is also when Council members will make presentations in their districts, based on the data.
Clarke said it was important to hear from constituents about how they experience their neighborhoods, and compare those experiences to the numbers. However, he and several other council members also said the data would allow them to make decisions that aren't overly influenced by perceptions—residents' or their own.
"Our perceptions don't always meet the physical facts," said 4th-District Councilman Curtis Jones.
Clarke said that the plan would allow Council to approach the next budget cycle more deliberately, and to manage community expectations for what's possible. Clarke said he is frustrated with the current budget process. The city doesn't have enough revenue, he said, and Council is forced to simply shuffle funds around in the budget that the Mayor prepares. Too often, Clarke said, Council ends up responding to groups that protest the most and the loudest.
"If you're going to make significant changes," Clarke said, "you have to make tough decisions."
Read Council's preliminary report here. The CSI plan is introduced by council and explained by others in the first video below. In the second, Clarke takes reporter questions.
WHYY is your source for fact-based, in-depth journalism and information. As a nonprofit organization, we rely on financial support from readers like you. Please give today.