Congressman John Lewis to Lincoln grads: 'Get in good trouble'
Lewis said graduates will now join the ranks of well-known Lincoln graduates as NAACP lobbyist Clarence Mitchell, Supreme Court Thurgood Marshall, and poet Langston Hughes.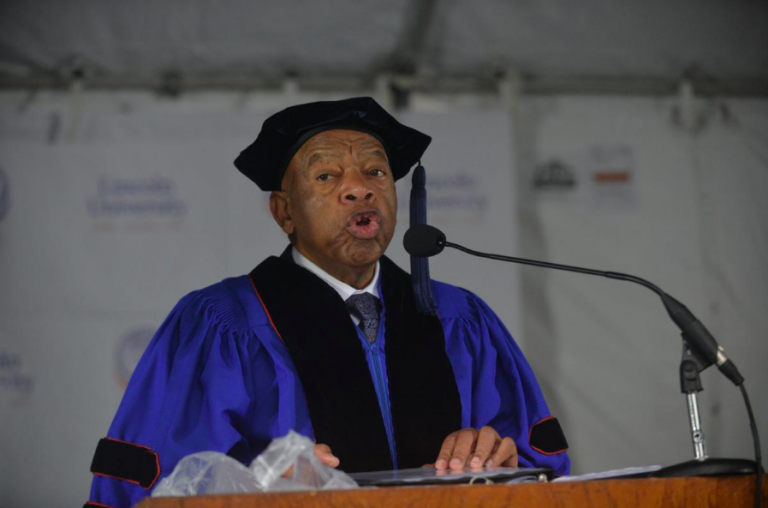 This article originally appeared on The Philadelphia Tribune.
—
It was a wet and rainy scene at Lincoln University Sunday morning during the college's 160th commencement ceremony, but graduates were all smiles as they walked across the stage to receive their degrees.
Congressman John Lewis, a longtime civil rights activist, told the approximately 400 members of the class of 2019, "Today you should enjoy it, take a long deep breath, take it all in. But after the parties and celebrations are over, get ready to roll up your sleeves and go to work. We need you now more than ever before."
Lewis, first elected to the House in 1987, was a member of the Freedom Riders and served as chairman of the Student Nonviolent Coordinating Committee, helping to organize the 1963 March on Washington.
"We marched, and you march today for others to march tomorrow," Lewis said. "Use your education as a nonviolent instrument and nonviolent tool to help change America and help change the world."
Lewis said graduates will now join the ranks of such well-known Lincoln graduates as former Lincoln President Horace Mann Bond, NAACP lobbyist Clarence Mitchell, Supreme Court Justice Thurgood Marshall, poet Langston Hughes and the founders of Ghana and Nigeria.
"Rosa Parks and Martin Luther King Jr. and hundreds of others inspired me to get in trouble," Lewis said. "What I call good trouble, necessary trouble. You must go out there and get in trouble … and help change America."
Because it was pouring rain and the graduates were sitting on folding chairs on the Thurgood Marshall Living Learning Center Lawn, Lewis cut his speech short.
Lincoln President Brenda Allen urged students to take heed of Lewis' charge, saying, "As our tagline goes, 'Learn, liberate, lead.' And now you're being set loose to go out and lead some of the necessary change that still needs to happen in this country."
Valedictorian Bridget Elizabeth Baldwin, a health science major from Wilmington, Delaware, said she will forever cherish the ups and downs she had at Lincoln.
"With these experiences, I will use them as a foundation to continue my graduate work for physical therapy," Baldwin said. "Some may think this is the end, but let's make it the beginning."
Student Government Association President Jabir McKnight encouraged fellow graduates to show resilience in the face of defeat.
"What determines who we are is not how many times we fall, but how many times we get up," McKnight said. "Over the previous past four years we've all been through hardships that have tried us. Yet after a treacherous journey, on May 5, 2019, you are all here, graduates of the first [HBCU] degree-granting institution, Lincoln University."
University administrators presented honorary degrees to Lewis and posthumously to Martin L. Kilson Jr., the first African-American professor tenured at Harvard University and a 1953 Lincoln graduate. Kilson's daughter, Hannah, accepted the degree on behalf of her father, who died in April.
WHYY is your source for fact-based, in-depth journalism and information. As a nonprofit organization, we rely on financial support from readers like you. Please give today.