Commercial real estate vacancies lower in Philly's center than the suburbs
The conventional wisdom about commercial real estate trends in the Philadelphia metro has been hardened for some time: the city loses office jobs to the suburban collar counties, partly thanks to our upside-down tax structure, resulting in a weak market for commercial real estate.
But while it's true that our post-recession office job growth has been weaker in the core central business district areas than what we're seeing in some of our peer metros, the data show that the commercial real estate market turned a corner in 2014, and the first quarter data from JLL Research find the city gaining some ground on the suburban office market: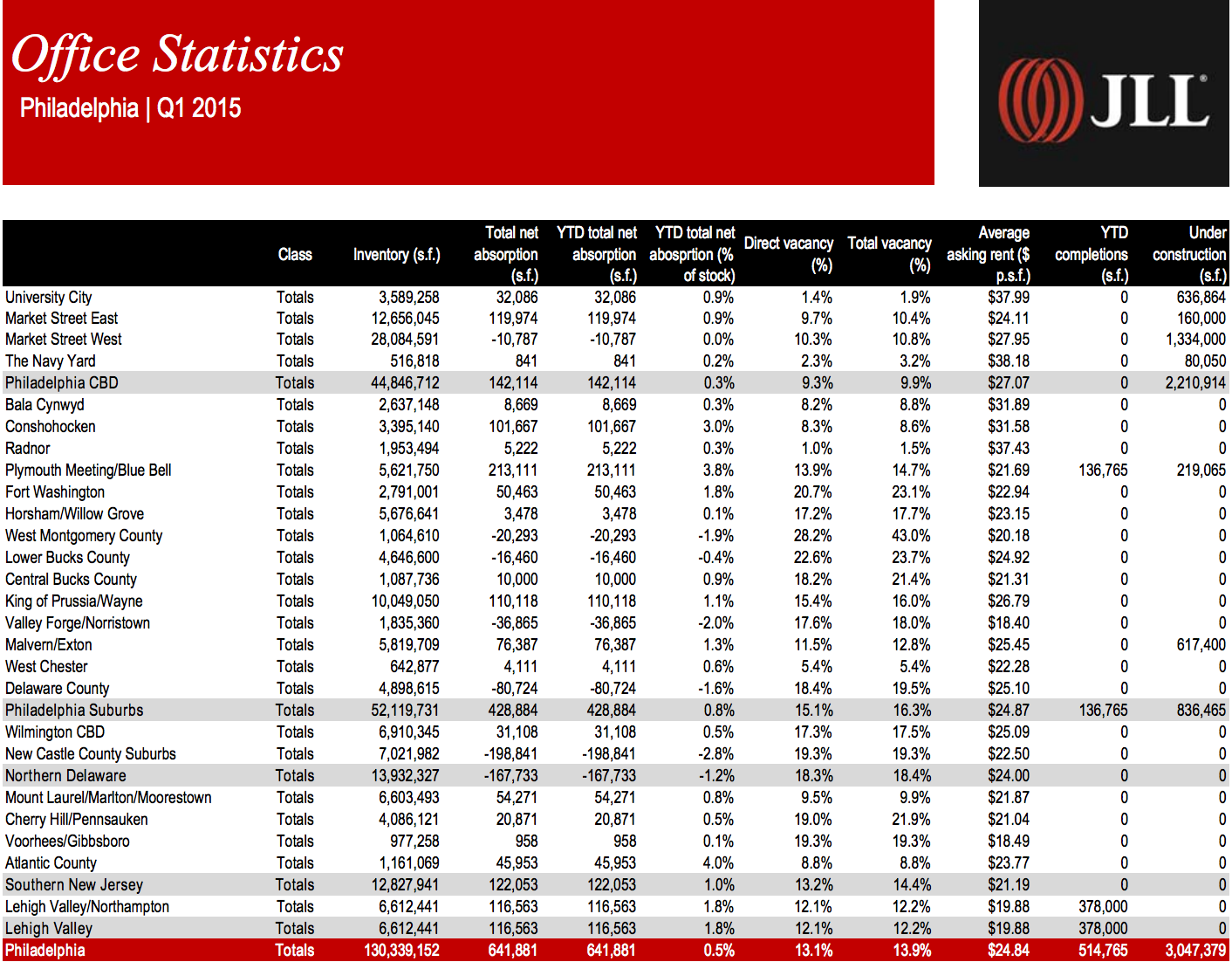 Total office vacancy rates were higher in the suburbs than in Philadelphia's central business district in Q1 (16.3% vacancy vs. 9.9% for the CBD, or 13.9% for the city at-large) and there is less supply coming on the market in the suburbs than in the CBD. About 836,000 square feet of office space is under construction in the suburbs while 2.2 million is under construction in Philly's CBD, out of about 3 million square feet for the city at-large. All of it is Class A.
To put that in perspective, Philadelphia has about 130 million square feet of office inventory, 45 million of which is in the CBD. The suburbs have about 52 million square feet of office inventory. Since the beginning of the year, 136,765 sqft of office space was completed in the suburbs, while 514,765 was completed in Philadelphia overall, zero of which was in the CBD. Year-to-date, absorption has been only slightly higher in the suburbs.
Where's the action mostly happening?
Plymouth Meeting, Blue Bell, Malvern, and Exton accounted for all the suburban office growth, while in Center City, Market West (ok, Comcast) accounts for most of the square footage under construction (1,334,000 sqft), followed by University City (636,864 sqft), Market East (160,000 sqft) and the Navy Yard (80,050 sqft.)
See the charts below for more details:
(JLL)

(JLL)