Clergy abuse victims fund launches in Philadelphia, other Pa. dioceses to come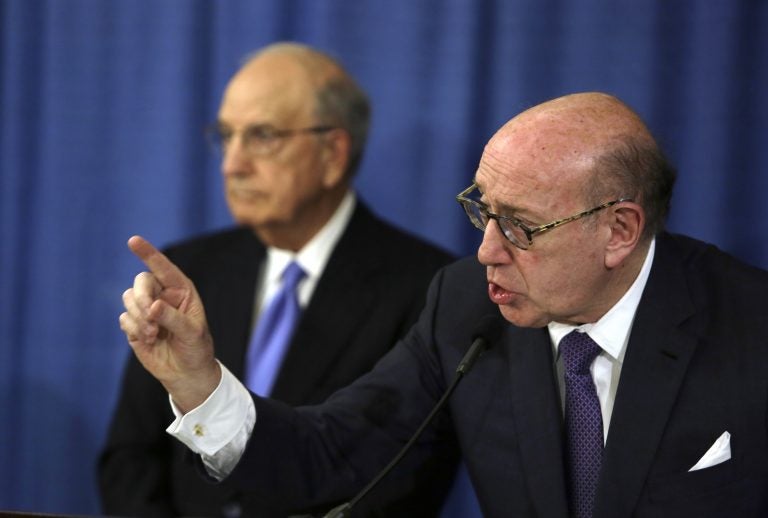 The Archdiocese of Philadelphia's new victim's compensation program is up and running, less than a week after it and six other dioceses around the state announced they would start paying survivors of childhood sexual abuse by priests.
"The wrongs that you endured will not be erased by this program, but they can be ameliorated," said former U.S. Senator George Mitchell, who chairs the Philadelphia Archdiocese's Independent Reconciliation and Reparations Program's (IRRP) independent oversight committee.
These programs provide an avenue for compensation and recognition for claims that have long since exceeded the statute-of-limitations under Pennsylvania law. They also come as the Church faces renewed scrutiny following a grand jury report released in August. The Archdiocese of Philadelphia was not a subject of the report, but two earlier reports in 2005 and 2011 detailed alleged abuses by priests there.
Mitchell, along with former Interim District Attorney for the City of Philadelphia Kelly Hodge, and former Chief Judge for the United States District Court for Pennsylvania's Eastern District Lawrence Stengel, will oversee the program.
Kenneth Feinberg and Camille Biros, who previously oversaw victims' compensation funds for five dioceses in New York State, among other scandals, will evaluate individual claims and determine the amount of money to be offered.
Biros said they have mailed information about the program to 342 known survivors, and that other victims may register a claim online until July 31, 2019.
The program covers complaints directed against clergy of the Philadelphia Archdiocese only. Similar programs were announced by the dioceses of Pittsburgh, Allentown, Harrisburg, Greensburg, Scranton and Erie. Details about these programs and launch dates are forthcoming.
The Diocese of Altoona-Johnstown says it has had a similar compensation fund in place since 1999.
The Archdiocese of Philadelphia, covering parishioners in Philadelphia, Bucks, Montgomery, Chester and Delaware Counties., has set no limit to how much it will pay survivors.
"The Archdiocese has made a commitment that there is no cap," said Mitchell. That money will come from the sale of existing Archdiocese assets and not from donations to Catholic parishes or charities, according to the release announcing the program last week.
To start the "confidential" process, victims who have not previously lodged complaints with the church must register basic information about their claim with the IRRP. From there, administrators will make an initial assessment of eligibility before determining whether to invite survivors to file a claim. Biros and Feinberg will then evaluate eligible claims to determine whether abuse is likely to have occurred, and, if so, how much compensation to offer.
Evidence such as medical or counseling records, notification of friends, family or law enforcement, as well as the frequency and duration of abuse may all be considered.
As soon as 90 days after a claim is filed, survivors may receive funding. The Church will not be able to challenge the findings of the program's administrators, however victims are free to turn down money offered. In order to receive compensation, victims must not have sued the Archdiocese in the past, and waive all future rights to sue.
Those running the program emphasized its healing potential, while some critics see it as a part of a playbook bent on continuing to shield the church from accountability.
"A claimant who for years, decades, may have been whistling in the wind about the legitimacy of a claim now finds a program where that claim is validated," said Feinberg. "Do not underestimate the importance of this."
Sexual abuse survivor Michael McDonnell, who leads the Philadelphia chapter of the Survivors Network of those Abused by Priests, said the programs may provide relief for some, but does not replace the need to change state law to allow survivors to seek damages from the Church in civil court.
"For too long, we've allowed the Catholic Church to police itself," he said.
Currently, victims younger than 18 at the time of their alleged abuse have until age 30 to bring a civil suit. Survivors rallied behind a bill which would have temporarily lifted that time bar. It passed the Pa. House of Representatives but failed to pass the state Senate last session.
WHYY is your source for fact-based, in-depth journalism and information. As a nonprofit organization, we rely on financial support from readers like you. Please give today.