City: Just-released inmate shot after ambushing Philly prison guard
Updated: Monday, Feb. 12, 1:05 p.m.
A Philadelphia correctional officer shot an inmate in the chest Friday night after the just-released inmate ambushed him in the parking lot and tried to steal his car, a prisons spokeswoman said.
Both Officer Michael Maratea, 66, and Jamal Bennett, 26, were taken to the hospital after the 11 p.m. incident in the parking lot near the House of Correction on State Road, according to prisons spokeswoman Shawn Hawes, and Lorenzo North, who heads the union representing the city's correctional officers.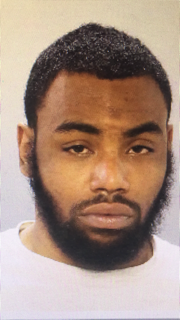 Bennett was shot once in the chest, while Maratea suffered scrapes and other injuries trying to fight Bennett off, North said. Correctional officers, who aren't typically armed with guns in prison, can check their personal weapons in a staff locker room before reporting for duty. Maratea had retrieved his personal weapon and was heading home when he got attacked, Hawes said.
Bennett had just gotten discharged from the Curran-Fromhold Correctional Facility. He has been in city prisons' custody seven times since 2011 and was most recently held for violating probation for weapons charges, Hawes said.
Maratea, who is assigned to CFCF, has worked for the prisons for 27 years, Hawes and North said. He was released from the hospital Saturday morning after treatment.
Bennett also allegedly tried to grab Maratea's gun and take his phone, North said. Inmates are given bus fare to get home when they're discharged, Hawes said.
"He did what he had to do," North said of the shooting. "But it could have been avoided. We're the only jail that I know of that shares the parking lot with families, inmates and visitors. We (staff) should have our own lot. When the officers pull up to work, they're harassed, threatened by inmates' families. Stuff like this, with officers walking to their car, you don't know who's waiting on you."
Police charged Bennett with robbery, simple assault, attempted carjacking, attempted theft, unlawful taking and recklessly endangering another person. He remains hospitalized in critical condition but is expected to survive.
At least one criminal justice reformer had concerns about the incident.
"Something about this story doesn't pass the smell test," said Asa Khalif, an organizer with Black Lives Matter. "Why after the inmate is finally free would he do this act of violence. I never take the word from anyone associated with law enforcement without checking under the rug."
Prisons officials and Philadelphia police are investigating the incident. But another reformer called for an outside investigation.
"If there are no witnesses or cameras, it's going to be the word of a prison guard against the word of a person recently released from prison. That's going to be hard for the public to swallow," said Reuben Jones, executive director of Frontline Dads.
Jones and Jondhi Harrell, who heads the Center for Returning Citizens, said Friday's shooting highlights longstanding problems with how the system releases inmates.
"On any given night, you can ride down State Road and folks are being released at 10, 11, 12 o'clock at night with two (public-transit) tokens and whatever clothes they came in with," Harrell said, adding that inmates who entered the system in the summer then might be walking out prison doors in February in shorts and a tank top. "You are literally releasing people into the world with nothing in their pocket."
With no support system, Harrell said, it should be less surprising that "their first thought is going to be predatory. We have multi-million budgets for security inside the prison, but perhaps City Council and the prisons system need to look at what is a more equitable way to release people to make sure they don't come right back into the system or a tragedy doesn't happen."
The union, which represents about 1,950 correctional officers, now is negotiating a contract. The last three-year contract ended July 1, North said. Improving security for correctional officers will be something the union will ask for, he added.
Correctional officers on bicycles and in marked cars already patrol the lot around the clock and direct visitors, after 2 p.m., to park on State Road, Hawes said. There are no surveillance cameras in the lot, Hawes said, and she didn't know if anyone witnessed the Friday night incident.
Officials have been considering resurfacing and otherwise improving the sprawling lot, which is pockmarked with potholes and often jam-packed, Hawes said.
"There have been discussions about making better parking in the lot, but we have nothing concrete yet," Hawes said. "We're looking at that problem."
Confrontations between correctional officers and former inmates aren't uncommon in the community "when correctional officers meet ex-inmates on the street, at the market, while going to church, while taking their kids to school and out to dinner with their families," North said.
Such clashes show that correctional officers should be allowed to live outside the city, as police and sheriff's deputies can, North added.