City Council hears about school closings – sort of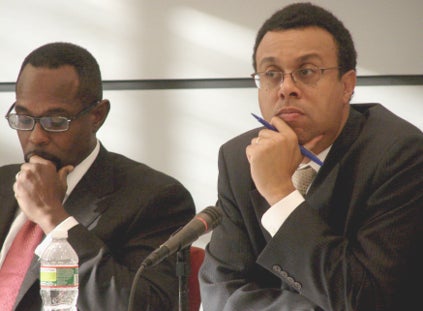 This story is the product of a reporting partnership on the facilities master plan between the Notebook and PlanPhilly.
The best proof yet that the School District of Philadelphia's modest school closings plan is provoking only minimal community and political controversy came in the form of a sparsely attended City Council hearing on the subject Monday afternoon.
For months, council members had braced themselves for a massive public outcry, expecting the district to announce dozens of school closings. Instead, early this month the district submitted a plan that called for just nine school closings, and the list omitted many of the facilities that seemed sure to prove most controversial.
Although additional closings seem likely in the years to come, the district's go-slow approach has for now clearly tamped down Council's concerns about the facilities plan. Only three council members – Jannie Blackwell, William K. Greenlee and Blondell Reynolds Brown – attended Monday's hearing on the school facilities plan.
Public interest in the hearing was equally light, with only a tiny handful of observers in attendance, none of whom took the opportunity to testify.
Instead, the hearing served as little more than a friendly Q&A session between the three council members and interim superintendent Leroy Nunery and members of his senior staff. It was a dramatic shift from the last time a schools superintendent appeared in Council chambers. On June 16, Arlene Ackerman was superintendent, and she was seeking additional cash from a skeptical council to help close the district's budget deficit.
Nunery referred obliquely to the district's recent history of strained relations with City Council in his testimony, saying at one point that he was "trying to signal a different approach then we've had in, let's say, recent months or years."
Both the Nutter administration and at-large City Councilman Bill Green have publicly suggested that the district was moving too slowly on its facilities plan. But Green did not attend Monday's hearing, and no Nutter administration official was on hand to offer testimony.
And so Nunery and his aides instead faced questions about detailed particulars such as the district's plans for creating the teams that will review potential new uses for closed school buildings; the inclusion of minority-owned firms hired by the district for real estate brokering and property appraisal services; the potential to re-use some shuttered schools for senior housing, and so on.
At one point in the hearing, Councilwoman Brown commended Nunery for "fully recognizing the enormity of the task before you" and opting to "slow walk" the process.
As the district begins to assemble teams to review development proposals for the former school sites it plans to sell, council members will be asked to suggest community leaders for the posts, Nunery said. Each district council member will also directly designate at least one member of the nine (or more) member evaluation teams, according to the district's current draft policy.
Contact Patrick Kerkstra at pkerksra@planphilly.com or Twitter.com/pkerkstra
WHYY is your source for fact-based, in-depth journalism and information. As a nonprofit organization, we rely on financial support from readers like you. Please give today.