Citizens Planning Institute graduates toss their caps at Philadelphia2035 presentation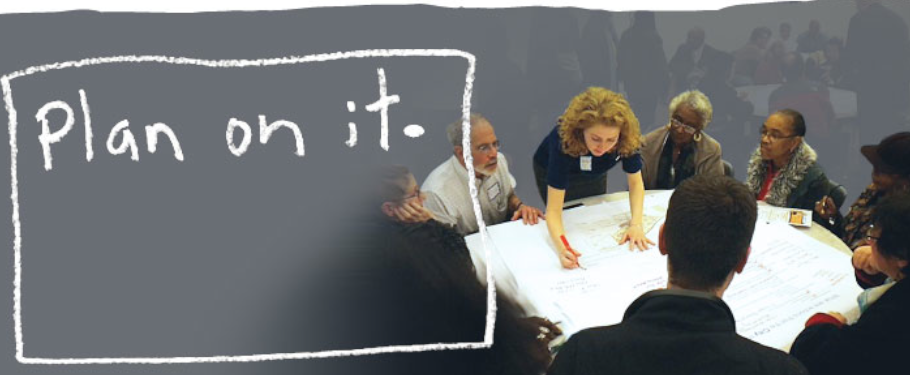 At a ceremony Monday night at the Center for Architecture, the sixth class of planners graduated from the Citizens Planning Institute, the education arm of the City Planning Commission's long-term planning and citywide visioning project, Philadelphia2035. Thirty students completed the course, which is aimed at teaching civic-minded individuals the basics of zoning, development, and urban planning, in order to put them "on equal footing with other stakeholders."
The class, taught by volunteer instructors, has been held twice a year since the fall of 2010. So far, according to director Donna Carney, the program has graduated 180 students from 85 neighborhoods in 11 of the Planning Commission's 18 planning districts.
The thirty graduates of this spring's course live and work in neighborhoods from Tacony to Point Breeze, and Mantua to East Kensington. Ainé Doley, a Germantown resident whose sister, Emaleigh, took the course last year, said she signed up to get a broader sense of how development and planning work in Philadelphia. The Doleys have caught regional attention for enlivening the block of West Rockland Street where they live, and Ainé said she was fascinated by learning about contrasting conditions in different neighborhoods across the city. In some places, she said, residents' primary concern is dealing with vacant land, while other communities struggle to keep up with development pressure.
Doley said she's looking into the possibility of creating a business association for Southwest Germantown where, she said, a full mile of the commercial corridor has no trash cans. Organizing the businesses in the area would not only beautify the street, Doley said, but also help neighbors prepare for the development interest which she sees closing in on the area.
"There's a lot going on right now," Doley said, "and I want to make sure that, just because there's opportunities there, people are thinking about the future."
Robert Glenn–a Logan resident who works for the Baltimore-based Cordish Companies, which developed the XFINITY Live! (sic) entertainment venue at the sports complex in Philadelphia–said the CPI course gave him an understanding of planning and development that he doesn't get in his day-to-day work. He said the class allowed him to see how developers, civic groups, and city agencies work together.
"I learned a lot more about community involvement than I understood coming into it," Glenn said. "I thought, as long as you have the funding, and the city was cool with it, you could go right in and you could build up anything that you really wanted to. It was really interesting when you had some community groups come out and they would show change that was implemented not from having equity or money come in but more so just from having community involvement, doing things that don't cost a lot of money but do take time."
Rachel Hildebrandt, a Hidden City contributor who works with the preservation group Partners for Sacred Places, said the course opened her up to the practical applications of the city's new zoning code.
"I'm interested in corrective zoning and the impact of corrective zoning," Hildebrandt said. "I'm really interested in seeing how it affects Philly and its future. There's zoning for commercial corridors that are declining and ones that are on the upswing, so I'm interested in seeing how the changes in zoning will impact what happens on those corridors, if at all."
Monday's graduation ceremony took place at the end of a presentation of the Planning Commission's two new district plans, for the Central and University/Southwest districts, which together make up what the Commission considers the metropolitan core of the city. The plans, adopted by the Commission last week, were presented by community planners Andrew Meloney and Laura Spina.
Deputy Mayor Alan Greenberger, who chairs the Planning Commission, praised the Philadelphia2035 as perhaps "the first truly comprehensive plan for the City of Philadelphia since 1682," when William Penn first mapped the city grid. Greenberger pointed that Philadelphia has grown for the first time in decades, and said, "Our job is to kind of look into the crystal ball [and] help shape where things are going to go."
The Philadelphia2035 project is a product of the Nutter Administration, and Nutter has said repeatedly that he believes in the importance of long-term planning. Nutter is likely to leave office before all 18 district plans have been completed, however, and the potential candidates in the 2015 mayoral race have been less outspoken in support of planning.
"What we're trying to do right now is institutionalize this whole process, so that when the next administration takes over, there's no question that it makes sense to keep going," Greenberger told PlanPhilly after the presentation. "That's really the goal here. That's the goal with a lot of things, but particularly with this district planning …"
Greenberger said the Commission recently re-hired former Zoning Code Commissioner Eleanor Sharpe to serve as a liaison between Planning and City Council and to work on implementing the recommendations of the district plans.
"Our hope is that over the next two and a half years as Eleanor does this with Council, Council members will build up confidence in our system, confidence in our methodology, and ultimately come to rely on it," Greenberger said. "That's what we want to have happen: rely on this professional organization to do the things that [Council members] think need to be done, as well as what the plan talks about, which we want, ultimately, to be the same things. That's the game plan."