Chris Christie gets little time in debate focused on national security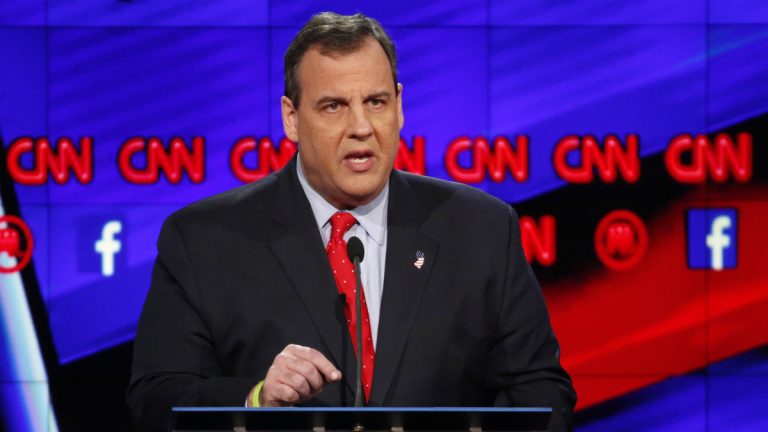 In Tuesday night's CNN Republican presidential debate New Jersey Governor Chris Christie got less time than the perceived front-runners Donald Trump, Marco Rubio and Ted Cruz. It was a setback for his campaign because the debate focused on national security. It's a topic that the Christie campaign has been trying to dominate in campaign ads touting Christie's experience as a former federal prosecutor in New Jersey.
The CNN debate was the first for Republicans since the attacks in Paris and San Bernardino, California, which heightened fears of terrorism in the United States. The attacks have ignited a political debate about President Barack Obama's effort to defeat the Islamic State in the Middle East and the nation's security posture in preventing attacks in the U.S.
In the limited time he did get in Las Vegas he repeatedly mentioned his role as the U.S. Attorney in New Jersey immediately following the September 11, 2001 attacks. He tried to position himself as the right person for the White House in the era of ISIS terrorism. Christie said that fear is the "new normal" in the United States.
During the televised debate, Christie used the example of the California mass shooting to suggest that if a "center for the developmentally disabled in San Bernardino is now a target for terrorists, that means everywhere is a target for terrorists
Christie also said today's closure of public schools in Los Angeles is evidence to him that President Obama has not done enough to keep people safe. More than 1,500 school buildings in Los Angeles were shut for a day and searched after an emailed threat of violence. They will reopen Wednesday.
Christie said the country needs a president who will "understand what actionable intelligence is going to look like and act on it."
ISIS
Christie said he would support and enforce a no-fly zone in areas controlled by ISIS in Syria. Kentucky Sen. Rand Paul followed up Christie's answer by stating, "if you're in favor of World War III, you have your candidate."
Paul said that is a "recipe for disaster" and shows poor judgment. He also jabbed Christie over the 2013 George Washington Bridge lane-closing scandal, saying that also showed bad judgment. Christie hasn't been charged in the bridge scandal, but others close to him have.
Christie ignored the bridge reference. He said he would shoot down Russian planes if "they were stupid enough to think that this president was the same feckless weakling that the president we have in the Oval Office is right now."
Syrian Refugees
When asked by a Texas Facebook user via video about how he would reconcile the Biblical principle of embracing those in need with his position that America should not admit any Syrian refugees, Governor Christie said America's security should be the top priority in setting refugee policies.
He said he's not backing away at all from that position, and said "the end of the conversation" for him was when the FBI director told Congress that the refugees can't be vetted effectively.
China
On the topic of China's alleged hacking of U.S. government computers, the New jersey governor said the U.S. needs to send a message to China. He said he would authorize hacks of Chinese computing systems and use the information to embarrass Beijing by showing the Chinese people how "corrupt" their government is.
Christie was one of nine Republican candidates featured in Tuesday night's 8:30 p.m. EST debate at the Venetian casino and hotel. He was joined by Donald Trump, Ben Carson, Ted Cruz, Marco Rubio, Jeb Bush, Carly Fiorina, John Kasich, Rand Paul on stage.
CNN also held a debate at 6 p.m. EST for the four candidates who are trailing far behind in the polls. This event included Rick Santorum, Mike Huckabee, Lindsey Graham and George Pataki. The only Republican candidate left out with Jim Gilmore who didn't meet CNN's minimum polling threshold. Gilmore spent the night tweeting about the undercard debate to his 1456 followers.
___________________________________________
The Associated Press contributed to this report