Center City District reports show cycling up, drivers and cyclists agree potholes and blocked lanes are the worst
Traffic seemed terrible this morning. Cars on the Ben Franklin Parkway were stopped from 22nd Street to 20th Street, where ongoing construction diverts drivers before they can reach Logan Circle. After hopping back on the Parkway, I struggled to get over to my turn onto Race Street, where jammed traffic failed to live up to the roadway's name.
Lucky for me, I was on my bicycle this morning, allowing me to observe the automotive gridlock as a detached observer. Admittedly, I felt a twinge of pity as I sailed past dozens of frustrated drivers on the Parkway—I hate to see my fellow man suffer so.
I replaced driving with bicycling as my main means of transportation a few years ago, and a pair of recent reports from the Center City District (CCD) suggests that I'm part of a growing trend.
CCD released its biennial Bicycle Commuting report Tuesday morning, and it shows steady, sizable increases in the number of bicycle commuters downtown.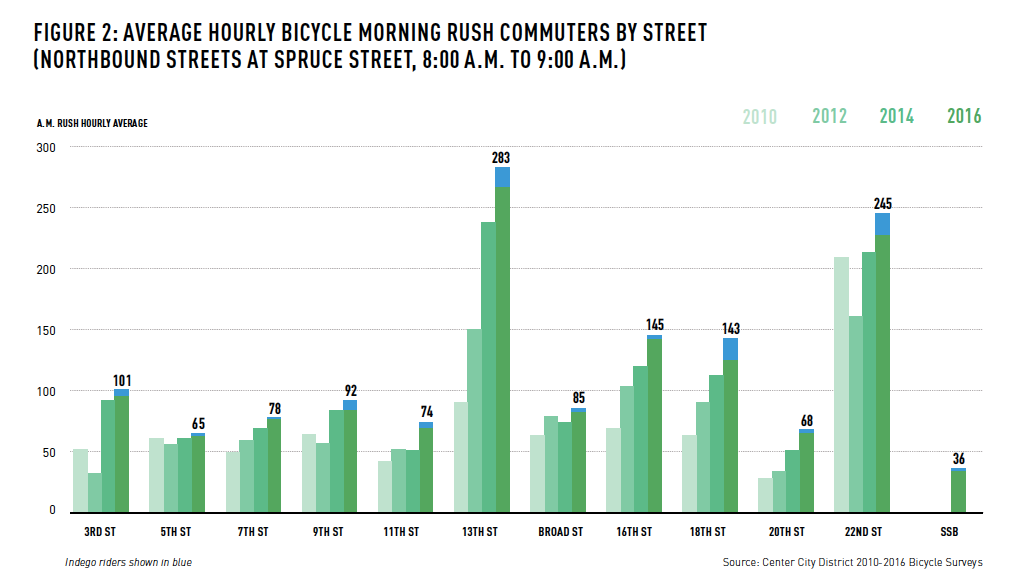 Since CCD started the bicycle counts in 2010, the average number of morning rush hour bike commuters increased from 790 per hour to 1,414 — a 79 percent increase. The count jumped 22 percent from the last survey in 2014. Unsurprisingly, 13th and 22nd Streets saw the most bike traffic—they are the only two surveyed streets with bike lanes. This year, 13th Street saw an average of 283 bicycles during the 8:00 a.m. – 9:00 a.m. hour and 22nd Street 245 bicycles.
For a rough comparison, according to Delaware Valley Regional Planning Commission (DVRPC) traffic counts from November 2012, 13th Street between Pine and Spruce Streets saw 4,334 cars per day, or about 180 per hour.
Now, some major caveats are in order before anyone starts claiming that more bikes use 13th than cars. The CCD counts are during one of the busiest hours of the day, whereas the DVRPC counts were all day, which makes the average of 180 cars per hour a bit misleading. Still, the numbers support the assertion that infrastructure like bike lanes encourages more bicycling, which has large health and environmental benefits compared to driving.
Riders tend to be younger. According to American Community Survey (ACS) data crunched by CCD, 3.3 percent of 18 to 34 year olds in Philadelphia commute via bicycle, whereas 1.4 percent of 35 to 54 year olds do, and just 0.9 percent of residents 55 and older bike. Those numbers can't tell us whether the millennial bike commuters will still get to work on two wheels as they get older and earn more money.
The ACS numbers measure commutes only, so they exclude non-work trips. They also don't count the occasional commute: People who bike just on casual Friday, or walk to work when the weather's particularly nice.
It turns out, most of us are multimodal — we use multiple, different means of getting around. That's a finding of a second, unpublished report from the CCD and obtained by PlanPhilly, which surveyed the Central Philadelphia Development Corporation's Transportation Committee, 125 Center City businesses and Young Professionals Council members on their transportation priorities.
Before we get into the results, more caveats: This was a survey, not a poll, and is by no means representative of Philadelphia as a whole, or even Center City. Still, the results are illuminating.
The survey asked how respondents get around in a typical week. In Center City, more than half said they walk, take the subway, drive, ride the bus, bike, or hail an Uber or Lyft either "frequently" or "occasionally." In Greater Center City, people are truly multimodal, and lumping people into starkly delineated commuter types method distorts a fuzzier reality: Drivers also take transit, subway riders also bike, cyclists also drive, and nearly everybody walks.
Given those shared transportation experiences, it's perhaps unsurprising that the survey respondents found a remarkable amount to agree on. The survey separated drivers who never bike (33 percent of respondents) and cyclists who never drive (25 percent), and asked them to rank the most important issues hindering mobility on a 1-4 scale. Drivers and bicyclists returned an identical top five: (1) Poor street conditions, (2) lack of traffic regulation enforcement, (3) vehicles blocking lanes, (4) poor sidewalk conditions, and (5) lack of courtesy for other road users.
When asked to rank the top three groups most responsible for congestion and unsafe streets, drivers and cyclists again largely agreed, with both blaming delivery trucks the most. Drivers were actually more likely to blame their fellow motorists for bad road behavior than cyclists, 78 percent to 72 percent. Only 35 percent of drive-only respondents pointed a shaming finger at cyclists for bad behaviors, just slightly more than the 33 percent of cyclists who did the same.
(Center City District)

(Center City District)
While these numbers are really only anecdotal, given the small and nonrandomized sample size, the consensus shown suggests that the driver v. bicyclist trope is as inaccurate as it is tired. If "the enemy of my enemy is my friend" has any truth, then cyclists and drivers should be best buddies, united against the scourge of delivery trucks that stop mid-street, blocking lanes.
On Twitter, local bike advocates have tried to make #unblockbikelanes into a thing, snapping photos of cars and trucks stopped in bike lanes. The temporary clogs aren't just annoying, they are dangerous, causing cyclists to swerve into automobile traffic. The same can happen when trucks stop in a travel lane, sending traffic into bike lanes — a scenario that can be even more dangerous for cyclists if the drivers don't look first. And on streets without bike lanes, it means everyone swerving everywhere.
Stepping up enforcement against illegally stopped FedEx, UPS and UHL trucks seems like an obvious solution, but that might not be enough, said CCD President Paul Levy. "[The delivery companies] have told us, and the PPA have told us, that [the delivery companies] accept the ticketing as a cost of doing business."
New York City has tried addressing this same issue by encouraging businesses to voluntarily schedule off-peak deliveries. Creating additional loading zones and requiring more new buildings to include off-street loading bays would also ameliorate the problem, but also mean less parking and potentially more expensive construction.
The survey also asked respondents to name the top three improvements they would like to see. Again, there was broad consensus at the top: Everyone wants to see more potholes repaired and roads repaved. After that, priorities shifted a bit, especially on expanding bike lanes, listed by 61 percent of cyclists but just 4 percent of drivers. Respondents also split on sidewalk repair, with 52 percent of drivers putting it on their priority list, compared to 22 percent of cyclists.
(Center City District)

(Center City District)
WHYY is your source for fact-based, in-depth journalism and information. As a nonprofit organization, we rely on financial support from readers like you. Please give today.