Art project helps Philadelphia celebrate collective consciousness in monumental way
Listen
0:00
During a recent, unseasonably warm weekend in Philadelphia, hundreds of people strolled through Rittenhouse Square to take in the sun and some unusual pieces of public art.
There was a pile of statue pedestals — just the pedestals, sans statues — engraved with the names of women who probably should have statues ("If They Should Ask" by Sharon Hayes). Nearby, two viewfinders imposed virtual-reality historical photographs over the current view of the park ("The Built/Unbuilt Square" by Alexander Rosenberg).
Young people in orange T-shirts, holding clipboards, hovered around.
"We're a public art history project in conjunction with the Mural Arts Program," said Rose Weinbaum, a high school student volunteering for Monument Lab, as she engaged strangers in conversation.
"If you had to pick a monument that represented contemporary Philadelphia, what would you choose," she asked.
"What do you consider a monument?" came a reply.
That exchange is the reason Mural Arts Philadelphia spent two years planning a citywide public art experiment, commissioning 20 artists to make installations in 10 city parks and squares.
It was all for that moment.
"The interface is the whole lab," said Laurie Allen, who designed the data collection effort for Monument Lab, from teenagers with clipboards to the resulting electronic data set. "It's the whole experience, people in public having conversations."
To Allen, the most important part of public research is what you put into the hands of the public; in this case, a clipboard, a Sharpie, and a piece of paper on which to describe an imagined monument for the city.
Allen insists the proposal form must be filled out by hand, while an individual stands in a public park and talks to a lab volunteer.
"We don't want people who are alone in front of a computer to decide what our public spaces should honor," she said.
Monument Lab was conceived as a public art exhibition and an ideas festival. The ideas written on the proposal forms — sometimes illegibly, sometimes with crude drawings resembling dream maps — are scanned, processed into a database, and made public as a spreadsheet.
Thousands of thoughts
So far, just over 3,000 proposals have been submitted, ranging from the reverent (a statue honoring abolitionist Lucretia Mott, city planner Edmund Bacon, or the first female African-American boxing promoter, Vernoca Michael) to the nutty (a multicolored pretzel, a giant fist bump, or a sculpture of a brick — because Philadelphia was built on bricks).
"The rumble of the subway is the heartbeat of the city; it keeps Philadelphia alive," wrote Lily Zimmerman in her monument proposal to commemorate trains and buses. "I love public transportation."
All of these — the good, the bad, and the wacky — are dutifully and respectfully entered into the database.
"If you want to find out crime statistics or home prices or bike safety, you can go online and download that. But where does cultural memory exist," asked Paul Farber, co-creator of Monument Lab. "This is a hope to join those conversations about data, and keep the fingerprints of Philadelphians on it."
After an preliminary event last year to ramp up interest for Monument Lab, about 500 proposals were gathered,and given to Ursula Rucker, a Philadelphia poet who performs spoken word onstage and with bands like The Roots. Her job was to make sense of it all.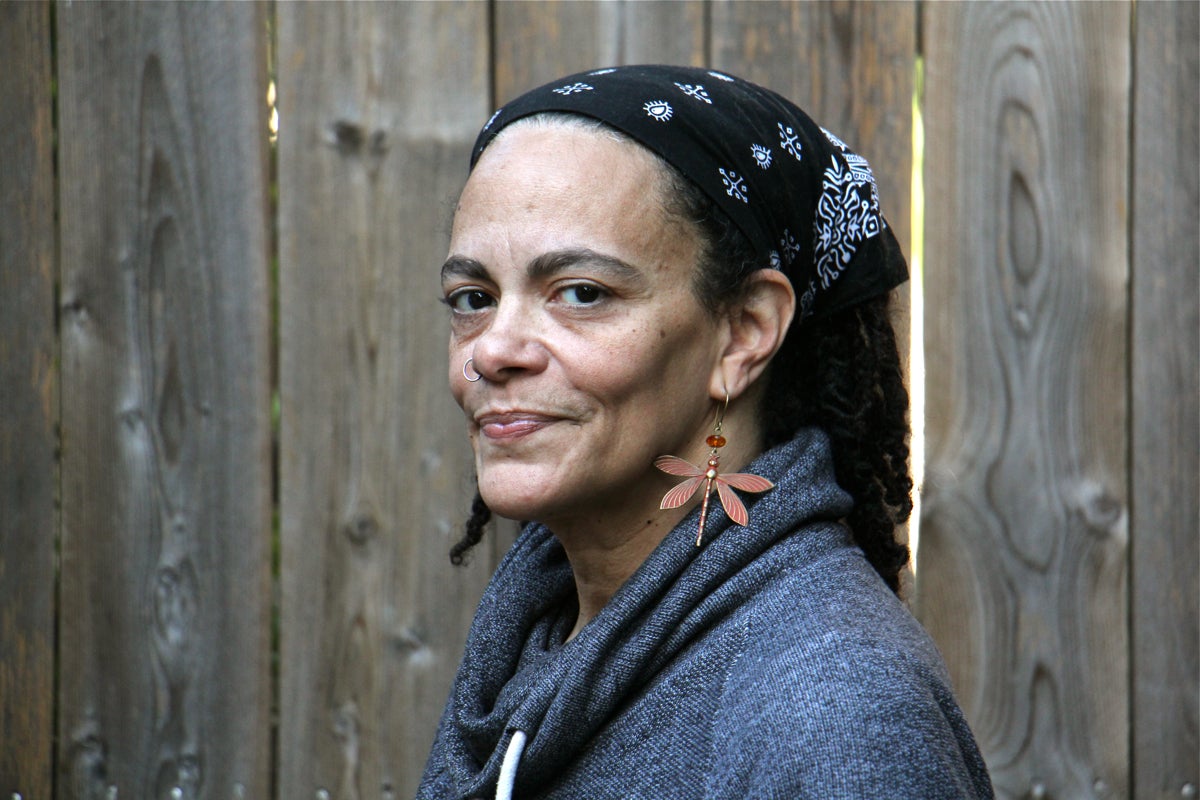 "So many papers. I'm not the type of person to look at graphs," said Rucker of the data set. "It took me time to figure out what I was looking at, to process the information. I found it beautiful. I was afraid it was going to be a bunch of negativity, but it wasn't."
Informed by that wild frontier of unedited public ideas, Rucker wrote a poem. She performed it, accompanied by a choir, for an audio monument called "Logan Squared," by artist Emeka Ogboh. It is broadcast from the roof of the Free Library in Logan Square every Sunday afternoon.
Here is a brief excerpt:
We are our own monuments.
The neighborhoods and sections that change in a second, from block to block –
These neighborhoods would be nothing without the people here,
The soul and the spirit of the people here.
Not perfect. Nothing ever is.
"The thing I was most surprised about was, most people wanted to celebrate the diversity of the city," said Rucker. "We're not like New York City, but we do have a nice grouping of human beings in the city. People wanted monuments that spoke to joy and peace. And tell the truth about the city, and it's place in history. It's a rough-around-the-edges city, but — when you're from here — it makes you special."
The ultimate end for the ideas collected from the public is not a poem, nor any kind of built monument. Monument Lab is not a contest to determine the city's next statue. It's strictly research, to take the temperature of the public and think critically about what, who and how we honor in public.
"For instance, Julian Abele; few people have proposed monuments to Julian Abele, the African-American architect who designed the Philadelphia Museum of Art," said Allen." Sometimes people say, 'I want a monument,' and it's obvious they want a statue. For others, they say, 'I want something that represents,' and we don't know that that is a statue."
It might be a parade, as many proposals suggested. Or a poem. Or a giant pencil with an escalator to its glass-topped point, to view William Penn's sylvan scene (pencil-vania, get it?).
New Orleans' Paper Mounuments
Monument Lab has inspired public art experiments in other cities. In New Orleans, four memorials of the Confederate army were removed earlier this year, creating controversy, conversations, and a few absent landmarks. In response, a group of artists and scholars created Paper Monuments to capture the moment.
New Orleans' Paper Monuments may be modeled on Philadelphia's Monument Lab, but it is carried out in a more charged environment.
"They are not getting white supremacists at their events, but we certainly are," said co-director Sue Mobley.
Paper Monuments created a series of posters graphically representing historical events and figures that might be worthy of monuments. The posters are distributed around the city to give those ideas an audition in the public sphere.
It also has a public feedback element. One idea was to utilize the column that the pedestal of General Robert E. Lee stood upon. Although the figure was removed, the tall column remains. What figures of runaway slaves were fixed to the top of that column?
"In New Orleans, in the 1700s, the slaves — the maroons — would go out to the lake and hide up in the oak trees," said Paper Monuments co-director Brian Lee. "There's this giant column that's still in the middle of New Orleans from Robert E. Lee. What if instead of a column we had a giant oak tree, with elders watching down upon us?"
The removal of those four Confederate statues created an opportunity not just to put something else in their place, but to rethink how we remember history.
"The act of leaving a pedestal that had a person on it supports the idea of valorizing a single individual on a pedestal. We need more representation of movements and collectives." said Mobley. "There is still an instinct to say, 'There's that one spot, so who should be on that one spot?' We're breaking that."
In Philadelphia, the public is invited to offer a vision of a possible monument, until Nov. 19.