CDC says N.J. has third-most hospitalizations with drug-resistant fungus
This story originally appeared on NJ Spotlight.
—
New Jersey is among the states worst affected by an increasing incidence of the potentially deadly fungus Candida auris, whose resistance to drugs is causing headaches for hospitals, state and federal health officials said on Monday.
There were 104 confirmed and 22 probable cases of people infected by the fungus in New Jersey by the end of February, according to the federal Centers for Disease Control and Prevention, up sharply from a handful when the fungus was first identified in the state about two years ago.
The state's number of cases — now the third-highest after New York and Illinois — has risen in tandem with an increase, first overseas, and now in the United States, in a trend that some doctors attribute to the overuse of drugs to treat infections, prompting the mutation of infection sources, in this case, a fungus.
The fungus mostly affects people who have existing illnesses, and may already be hospitalized with compromised immune systems, health officials said.
Nicole Kirgan, a spokeswoman for the New Jersey Department of Health, said she didn't know whether any of the state's cases have been fatal, and couldn't say which hospitals are treating people with the fungus because they have not, so far, been required to report their cases to state officials.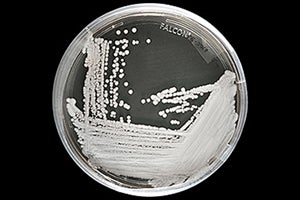 "Candida auris is a fungus that is causing serious infections in patients in the United States and around the world, primarily in healthcare settings, particularly post-acute and long-term care facilities and especially long-term acute care hospitals and skilled nursing facilities that take care of patients on ventilators," Kirgan said.
But she said the fungus is "still rare" in the U.S., and most people are at "low risk" of getting infected.
Hospitals struggling to find effective disinfectants
Although the fungus has been known to medical professionals in New Jersey for two or more years, it was not widely known to the public. It's profile was raised by a front-page story in The New York Times on Sunday describing its growing presence in overseas hospitals and, increasingly, in the U.S.
The best defense against spreading the fungus is rigorous handwashing, and disinfecting hospital rooms and equipment that have come into contact with a patient, Kirgan said.
But Dr. Ted Louie, an infectious disease specialist at Robert Wood Johnson University Hospital in New Brunswick, said many hospitals don't know how to eradicate the fungus once it has occurred.
Some disinfectants commonly used in hospitals have proved ineffective in removing the fungus, Dr. Louie said, so hospitals have been urged to use other disinfecting agents, although it's not yet clear which of them work, if any.
"This is a fairly new occurrence and we are still learning how to deal with it," he said. "We have to figure out which disinfectant procedures may be best to try to eradicate the infection, so at this point, I don't think we have good enough information to advise."
Experts advise vigilance
People in normal good health have little to fear from the fungus but are capable of carrying it, without symptoms, and then infecting others who already have less resistance, said Dr. Louie.
He warned that the CDC's tally of patients is only of those who have the fungus and the symptoms, and that there will be others that are carrying the fungus without symptoms but still have the capacity to infect others.
A patient's chances of recovery from Candida auris will depend mostly on how sick he or she is to begin with, Dr. Louie said.
"The sicker you are, the more of a problem you have with your immune system, the more procedures you have done, then you will be much more prone to get Candida auris," Dr. Louie said.
He said infected patients do have a high mortality rate, partly because of their existing illnesses, and because the fungus is harder to treat than other fungal infections. "Some of the conventional anti-fungals do not work against Candida auris," he said.
Dr. Louie said the fungus is not a threat to public health that's comparable to the ebola virus — which killed previously healthy people — but he urged people to be vigilant.
"It's not something that one should be hysterical about, but one should be concerned," he said.
Overuse of antibiotics thought to be a factor
He argued that the increase in Candida auris probably reflects the overuse of antibiotics, and urged doctors and patients to cut back on treating illness with those medications.
"As a society, we are using too many antibiotics and we are getting all these bacteria and fungi that are becoming resistant," he said. "Candida auris is just the latest of these."
The New Jersey Hospitals Association also called on the medical profession to reduce the use of antibiotics so that there's less opportunity for drug-resistant organisms such as Candida auris to develop.
"One of the goals is to ensure 'the right drug for the right bug' so that organisms don't have the opportunity to become drug-resistant," said Kerry McKean, a spokeswoman for the trade group. She called the fungus "worrisome" because it's drug resistant.
In its Sunday story, The Times quoted numerous experts theorizing that the sudden rise in the appearance of the drug-resistant organism was also a result of the overuse of fungicides in agriculture.