Can Philadelphia continue to thrive without immigration?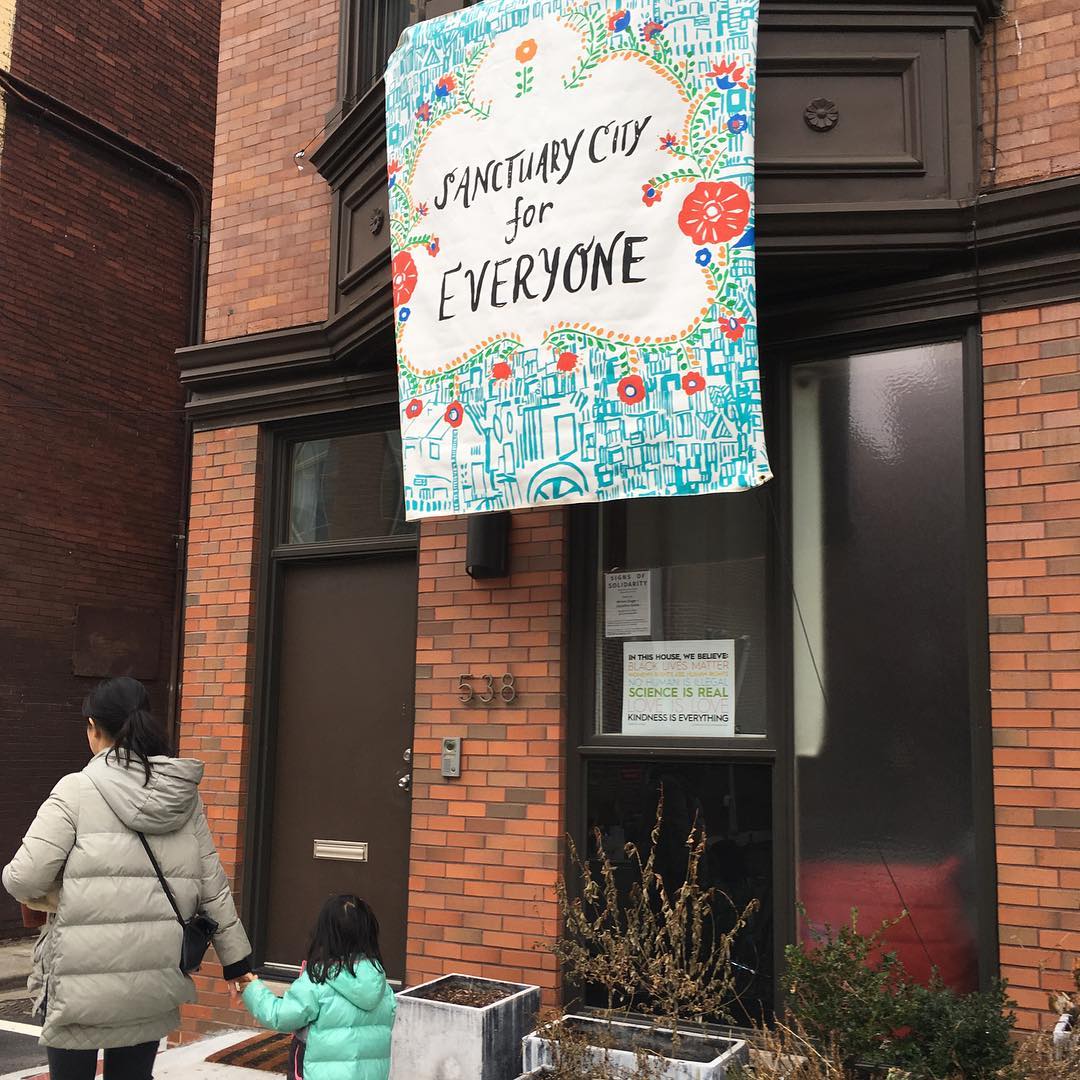 Philadelphia boosters never forget to mention that the city's population is growing again. Don't worry, the narrative goes, we aren't like those other old industrial cities. Philly may have its problems, but we're not St. Louis or Detroit. Our population is growing again, and check out our fresh crop of skyscrapers!
What isn't mentioned as often: The enormous role immigration plays in Philadelphia's rebounding population and improving fortunes.
Many American cities still lose more native-born U.S. residents each year than they gain. This is certainly the case in Philadelphia. The latest research shows that the city gained 42,648 native-born residents in 2013,but lost 54,945— a loss of 12,297. Despite that decline in native-born residents, Philadelphia still grew by 4,518 in 2013, thanks to immigration and new births, which have fueled the city's growth over the past ten years.
What then will become of the city if President Donald Trump is successful in his effort to stem immigration and crackdown on those who already live here? The consequences for Philadelphia's neighborhoods, especially those beyond the revitalizing core, could be devastating.
"The effect is going to be huge," says Emilio A. Parrado, chair of the University of Pennsylvania's sociology department. "Immigrants in particular flock to cities, where they have been compensating for U.S. [native-born] population loss."
"Fertility is low, births by themselves are not going to boost populations," said Parrado."Domestic migration is not going to. It's going to be very hard for urban areas."
If the flow of immigrants into Philadelphia stops, the city is very likely to shrink again. In many neighborhoods that have experienced an exodus of white residents—like South Philadelphia and the Lower Northeast—the influx of immigrants over the past few decades prevented the kind of destabilizing blight that marred many neighborhoods in North Philadelphia.
Apprehension already reigns in Philadelphia's immigrant communities. Trump issued a executive orders to limit both refugees and immigrants from entering the U.S. Republicans in Congress and in Harrisburg are eagerly piling on as well, promoting punishments for so-called "sanctuary cities" like Philadelphia,which have resisted efforts to use local police to enforce federal immigration law.
"Everyone I know is worried because they fear President Trump will be a threat to immigrants," says Manuel, an undocumented immigrant from Mexico living in South Philadelphia, who asked his last name not be used over deportation fears. "There are so many immigrants in South Philadelphia. Everyone I know is worried."
Manuel moved to Philadelphia in 1999 after trekking to the United States from the Mexican city of Puebla. The cook has worked in the city's restaurant industry for years, putting in time at a variety of establishments. A few years ago, he's started a family. Manuel says that most of the people from Mexico he knows in South Philadelphia live in the country without proper documentation, just as he does.
"I moved to Philly because it seemed like a tranquil, peaceful place," says Manuel, who chose the city over New Jersey, where he first lived. "It just seemed easier to live here and there were more opportunities to work [than in New Jersey]."
By the time Manuel arrived in the city, immigration had been seriously remaking Philadelphia's demographics for about 10 years, but Philadelphia's population hadn't yet begun to grow again. During the mid-to-late 20th century the city's foreign-born population stagnated, while the white population shrank and the African-American and Puerto Rican populations grew. But since 1990, the percentage of the city's population born outside the United States almost doubled to 13 percent.
While native-born populations are growing in Center City and its nimbus of surrounding neighborhoods, they have declined in most other areas of the city, resulting in population loss unless there have been enough incoming immigrants to compensate. In the areas that have managed to attract foreign-born residents, once moribund commercial corridors have sprung to life again. That's because immigrants are twice as likely to start small businesses as native-born Americans, a fact easily confirmed with a stroll down the Northeast's Castor Avenue or Seventh Street in South Philadelphia.
"Immigrants have been a tremendous factor in stabilization of the population," says Larry Eichel, director of Pew's Philadelphia research initiatives. "Without them it wouldn't have happened."
Eichel acknowledged that millennials have played a role recently, but they haven't had the long-term impact immigrants have. "If you look in the more recent period, young adults—the millennials—have been extremely important," said Eichel. "On a longer range you see immigrants being the bigger factor and in the short-range perspective millennials are maybe an equal factor."
In 2007, the city marked its first period of sustained population growth since the 1950s. Every year since it's grown anemically by between 5,000 and 10,000 people annually, for a total bump of 76,581 over the last decade. By contrast Maricopa County, which contains Phoenix— Philly's rival for fifth largest city in the country—grew by 77,925 last year alone.
All this talk of macro population numbers and larger historical trends are not specifically important to the lives of individual people like Manuel, of course. For them, Trump administration's hardline stance against immigrants is a much more personal threat.
"I'm afraid about my kids," says Manuel. "If Donald Trump was to deport people like us, what would happen to them? They were born here. There's no future for them in Mexico. They don't even speak Spanish very well."
Manuel hopes that Mayor Jim Kenney's stridently pro-immigrant rhetoric, and his embrace of the sanctuary city concept, will provide protection for his family and friends.
"I've seen on the news that the mayor says Philadelphia is a sanctuary city," says Manuel. "I know that he has said he won't cooperate with Donald Trump's government. I think that the mayor understands that the economy has grown a lot from immigrants coming to the city.."
On the campaign trail Trump threatened to cut all federal funding from sanctuary cities.In December Senator Pat Toomey (R-Pa.) recommended that the president-elect take executive action to punish cities, like Philadelphia, that refuse to use local law enforcement to enforce federal deportation orders. Since taking office President Trump issued a vague executive order reaffirming that commitment.
The concept of the federal government forcing local jurisdictions to alter their public policies raises constitutional questions, which may hamper Trump's ability to follow through on his threats. But cities are creatures of their state governments and there is little ambiguity in the power that Harrisburg can wield over Philadelphia. The Pennsylvania Senate—where Republicans wield a veto proof majority—is working on legislation to strip state funds from sanctuary cities too. That could cost Philadelphia $500 million according to the staff of state Sen. Guy Reschenthaler, who sponsored the bill.
Mayor Kenney said he will not bend to such acts of intimidation. City Council President Darrell Clarke, however, argued that difficult compromises must be considered to ensure that the funds other vulnerable Philadelphians rely on are not sacrificed.
No matter what happens to sanctuary cities, whether Trump can increase deportations, America as a whole will become less hospitable to immigrants. If immigrants stop coming to this country, it's cities like Philadelphia that will feel the effects the most. The inflows the city has enjoyed for the last twenty-five years will likely slow and perhaps even stop. If and when that happens, Philadelphia will be forced to return to the unlovely politics of managing population decline.
WHYY is your source for fact-based, in-depth journalism and information. As a nonprofit organization, we rely on financial support from readers like you. Please give today.