Camden's new superintendent unveils his strategy to improve schools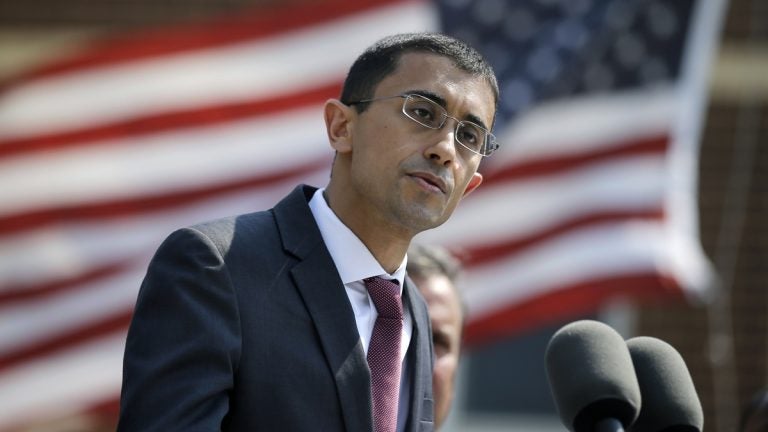 A month after Newark's leadership unveiled its plan for reorganizing that city's public schools, Camden's state-appointed superintendent yesterday launched his own strategic plan – which could prove to be equally controversial and challenging.
Superintendent Paymon Rouhanifard's plan, "The Camden Commitment," is not as detailed as Newark Superintendent Cami Anderson's "One Newark" plan for the state's largest district, also run by the state.
But Rouhanifard's goals appear to be just as ambitious and his plan bears several similarities to Newark's, including proposals for a universal enrollment system and a broad partnership with charter school networks that are already on their way to serving half of Camden's students within the next five years.
The Camden plan encompasses five categories: school safety, school facilities, educational excellence, parent and family responsiveness, and central office effectiveness.
Rouhanifard said these were the prime issues raised by residents, families and employees in his first three months since being appointed by Gov. Chris Christie.
"Our plan takes dead aim at the fundamental rights we owe our children and children," Rouhanifard said last night as he presented the plan to about 300 people who attended a community meeting held at the Catto Family School.
In each area, the superintendent laid out broad strategic aims, including "safe corridors" for students traveling to and from school, new and updated technology, improved building conditions, and leaner and more efficient spending.
He drew applause for stressing career training and technical education, and for his goal of having a preschool program with 100 percent enrollment.
Another idea that drew a few murmurs was a proposal for a residential school for the city's most at-risk students.
But the plan was short on details about how Rouhanifard would accomplish those aims — or how he would pay for them in a district that is already likely facing funding shortfalls and reductions in its $343 million budget.
While Rouhanifard was candid about the budget situation last night, he asserted that savings could be found through efficiencies. But he also said in an interview over the weekend that "difficult decisions" lay ahead, which is a veiled reference to possible layoffs and cuts.
"We are dramatically understaffed in some areas, and dramatically overstaffed in some areas," he said in the interview. "We are going to have make difficult decisions, ones that not everyone will agree with."
Certain to the most controversial aspect of his plan is the idea of fostering partnerships with charter schools, specifically through the state's new Urban Hope Act, which has already cleared the way for one network of five so-called "renaissance schools" that will serve 2,800 Camden students.
At least one more network is likely to set up shop in the city, as the district this week is expected to recommend the finalists selected from seven proposals submitted to the city last month. Some of those charter networks are hoping to open their doors this fall.
Rouhanifard said his aims include building at least one new school under the Urban Hope Act in the next two years, a plan already under way for the city's Lanning Square neighborhood. He said least three other existing district schools could also be renovated and overhauled under new leadership through the act.
In addition, a central part of the partnership would be a universal enrollment system allowing parents and their children to pick their schools, whether district or charter, through a central hub run by the district.
"We should aim to build a rich tapestry of schools – district, charter and renaissance — where the goal is to hold all schools to the same high standard," Rouhanifard said last night.
Rouhanifard stressed that none of these changes would happen without discussions within the community, although he did not hide the fact that he and the Christie administration will continue to have the final say in the state-run district.
The universal enrollment system is at least a year away, he said, and would go through considerable development and discussion.
"I will make one thing clear, we will not make those decisions without dialogue with the families and the communities," Rouhanifard said, repeating a theme he returned to frequently last night.
The similarities — and differences – in comparison to Newark's initiatives will be interesting. Rouhanifard is a former senior official under Anderson, as well as in the New York City public schools, where many of these proposals have their roots. But while Anderson has faced stiff resistance in Newark, with a new round of protests over her plans expected this week, Rouhanifard has so far encountered a less-contentious reception.
That may change tonight, when he goes before the local advisory committee, but any acrimony is still unlikely to rise to the level it has reached in Newark, where public meetings have become raucous events.
Still, the Camden proposals are sure to generate plenty of debate and will probably provoke considerable pushback from community activists and union leaders who already resent the state's takeover.
Adding to the tensions will be the fact that virtually all of the school district's employee unions are working under expired contracts, with prospects for the next negotiations uncertain.
Even before the meeting last night, emails went out from some activists who said they were not involved in development of the plan and claimed it was further proof of the city's disenfranchisement under the state takeover.
Several fliers were circulated at the meeting, as well, including from alumni groups and others who contended they were not involved in developing the plan.
"We, the People of Camden, reject the Christie Administration's plan to privatize and sell off our public schools," read one public letter that was circulated. "We had no role in the creation of the Christie Administration's plan and are not being given the opportunity to democratically approve or reject it in any way."
Not all were ready to make judgments last night.
Elizabet Ceprero-Abreau has been a bilingual teacher in the district for eight years, and is the parent of a current kindergarten student. She came to last night's meeting with her son, cautious but hopeful.
Rouhanifard "has some great ideas, and we just hope he communicates with us (as teachers)," Ceprero-Abreau said. "We all want the same thing, what's best for the children."
"I'm not against him, I just want him to understand we are good teachers," she said. "I believe in him, but he also needs to believe in us."
___________________________________________________
NJ Spotlight, an independent online news service on issues critical to New Jersey, makes its in-depth reporting available to NewsWorks.