Camden officials bristle at Murphy's critique of N.J. tax incentives
After governor slams lax oversight of the tax break program, saying the money could have been better spent elsewhere, Camden officials point to how it's improved the city.
Listen
3:56
Workers prepare steel for shipment at Camden Yards Steel Company. (Emma Lee/WHYY)

Camden Yards Steel has operated in the former New York Shipbuilding space in Camden since 2002. The company recently took advantage of tax incentives to add and upgrade equipment. (Emma Lee/WHYY)

Benjamin Ruiz of Camden operates machinery at Camden Yards Steel Company. (Emma Lee/WHYY)

Isaac Pernell of Woodlynne, who started at Camden Yards five years ago in the packaging department, now operates a leveler, which straitens out the curled steel that arrives in rolls. (Emma Lee/WHYY)

Tax incentives have allowed Camden Yards Steel Company to add new machinery, according to CEO Mike Amato. (Emma Lee/WHYY)

Steel rolls await processing in a warehouse at Camden Yards Steel Company in Camden. (Emma Lee/WHYY)

A trucker secures a heavy steel roll outside the Camden Yards Steel Company. (Emma Lee/WHYY)
During his first State of the State speech earlier this week, New Jersey Gov. Phil Murphy highlighted his administration's recent audit of the state's tax break program.
He criticized lax oversight at the Economic Development Authority and said the money could have been better spent elsewhere.
More than just bashing enforcement of the incentives, Murphy criticized the law itself.
"The audit revealed bad policy, badly run, a program more likely to have been drawn-up in a smoke-filled back room than created for New Jersey's future," he said Tuesday.
Yet in Camden, perhaps the largest beneficiary of these tax breaks, officials saw a different picture.
"The Economic Opportunity Act created opportunities for investment at a level that was appropriate for Camden City," said Camden County Freeholder Director Lou Cappelli. "Thousands of jobs have been or will be created."
Cappelli was referring to the Economic Opportunity Act of 2016, which opened up the tax break program and, according to Cappelli, paved the way for $2.5 billion in investment in Camden in the last five years.
"Prior to this program, Camden City had the highest crime rate, the highest dropout rate in high school, the highest unemployment rate in the nation. That has all been reversed," he said.
Cappelli agreed that businesses that break the rules should face consequences, but he said the program itself has spurred historic levels of investment in the city.
Camden Yards Steel moved to the city's port in 2000, well before the expansion of the state's tax incentive program.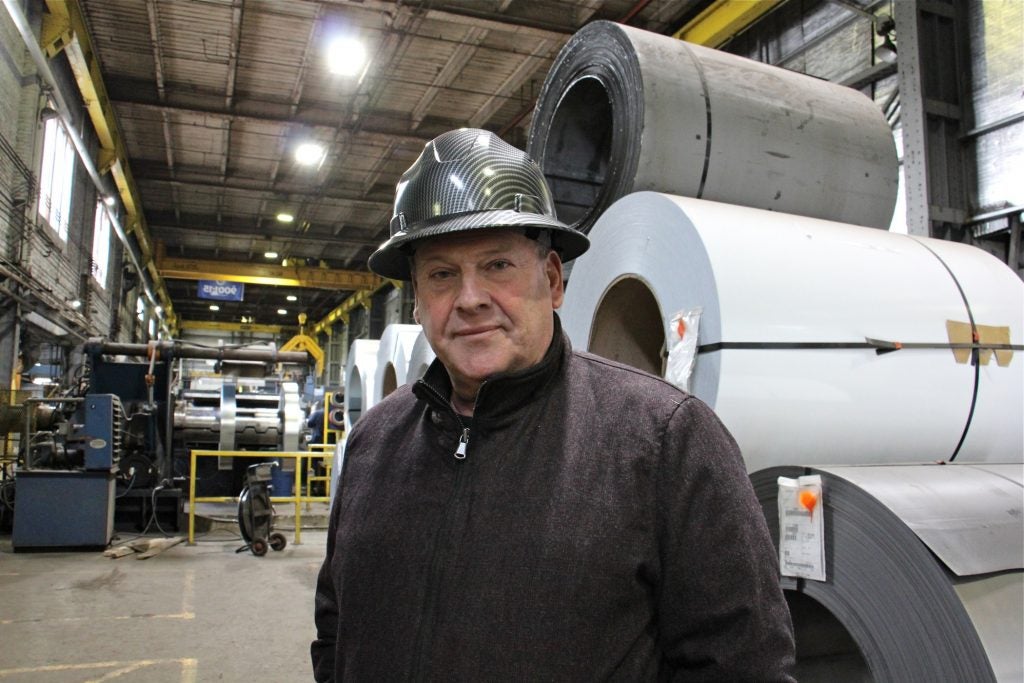 "This city was kind of like a doldrum for many, many years and just kept getting more depressed," said CEO Mike Amato. "Something had to happen."
Then, a few years ago, tax breaks started going out.
Camden Yards Steel received one to remain in the city. Other companies like Holtec International, Subaru, the Philadelphia 76ers and American Water set up shop there. Though some drew criticism since they only relocated from elsewhere in New Jersey.
"As you can see," Amato said during an interview at Camden Yards Steel, "there's a lot of action around us."
Murphy later clarified that he was not specifically referring to Camden when he criticized the state's tax break program.
"I didn't have Camden in my mind, as I've been thinking about this," said Murphy at a Wednesday press conference. "I've got the entire system of $11 billion going out the door, trying to figure out what the heck happened to it."
Murphy has turned his criticisms of the current tax break programs, which expire over the summer, into suggestions for a new incentive program that would cap awards and toughen reporting requirements.
Still, some critics within Camden believe Murphy's critiques are spot on.
"From the very beginning, I saw it as a corporate welfare scheme," said Kelly Francis, a past president of the Camden NAACP.
Francis said the state doled out tax breaks to then Gov. Chris Christie's friends and political allies, like South Jersey power broker George Norcross.
Conner Strong & Buckelew, the company Norcross runs, received a state tax break in 2017 to move its headquarters to Camden. Norcross sits on the boards of Holtec and Cooper Hospital, which also received incentives.
Francis' concerns went beyond cronyism though. He said the companies moving into Camden are simply relocating from elsewhere in the state and are not offering jobs that residents are trained for.
"They are high-tech jobs, professional jobs, corporate jobs," he said. "So there are very few that benefit Camden city residents."
About one third of the workforce of Camden Yards Steel lives in Camden. But the state's tax incentives do not mandate that companies hire from within the city.
WHYY is your source for fact-based, in-depth journalism and information. As a nonprofit organization, we rely on financial support from readers like you. Please give today.