Camden boosters hold invite-only defense of tax breaks in county building
Camden is in the middle of a feud between Gov. Phil Murphy and South Jersey Democrats over how the state gives out lucrative tax breaks.
In the midst of an intensifying political feud over how New Jersey doles out corporate tax breaks, two former governors appeared in Camden on Thursday to tout the good those subsidies have done for the city.
But they were met there by activists protesting what they see as giveaways to the politically connected that do little to benefit Camden residents. When the activists tried to enter the news conference, held in a county building, they were stopped and told it was invite-only.
Camden's political and business leaders have grown defensive of the tax breaks in recent weeks as investigators appointed by Gov. Phil Murphy, a Democrat, dig into allegations of corruption and self-dealing in how companies won the awards.
At a hearing earlier this month, those investigators scrutinized organizations tied to South Jersey powerbroker George Norcross — widely considered the most influential unelected Democrat in the state — and suggested they may have gamed the application process to their benefit.
As detailed in a recent report by WNYC and ProPublica, of $1.6 billion in tax credits awarded to Camden since 2013, Norcross and his associates were tied to about two-thirds of them.
New Jersey's current tax incentive programs are due to expire at the end of June, and Murphy has called for a complete overhaul.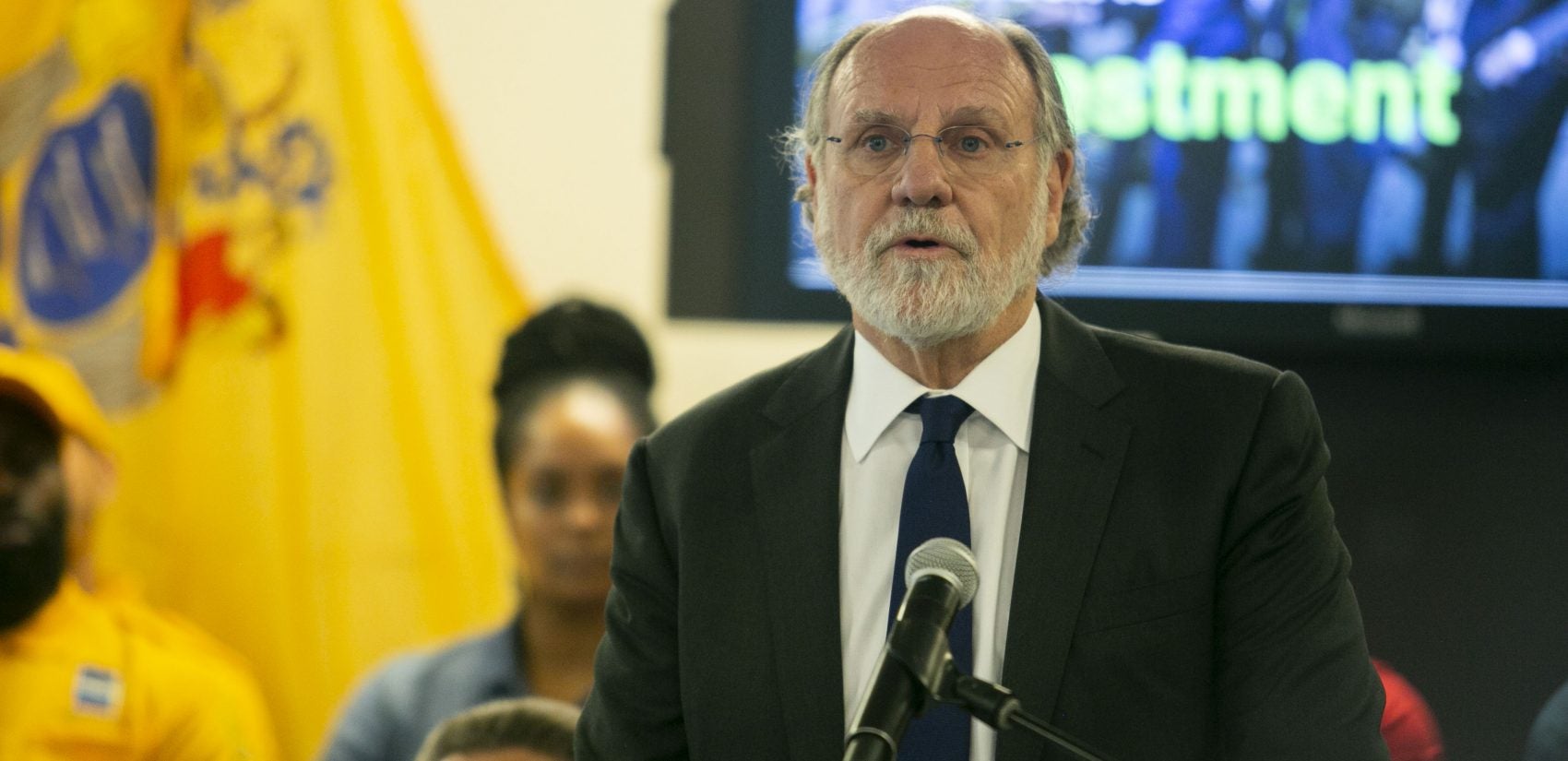 But Camden boosters on Thursday sought to counter criticism of the programs, arguing the investments have helped spur a "turnaround" in the city.
"Here in the city of Camden, once the poorest and most crime-ridden city in the country, enhanced tax incentives have brought business investment, jobs, tax revenues and hope," said former state Sen. Ray Lesniak, a Democrat from Union County in North Jersey who helped author the tax incentive law. "Hope to a city that had been devoid of hope for its residents and its future."
Also in attendance were two former governors, Jon Corzine and Jim Florio, both Democrats, as well as CEOs, elected officials, union representatives, city workers, the head of the state NAACP and many others.
Outside, protesters handed out fake $1,000,000 bills with Norcross' face on them and stood near a towering inflatable pig dressed as a cigar-smoking robber baron.
The message was clear: To them, the tax incentives were more about helping the powerful than longtime city residents.
Ronsha Dickerson, a founder of the Camden Parents Union, criticized the organizers of the news conference for barring dissenting voices from the room inside a public building.
"Do not have these private, backroom-deal meetings anymore," she said. "Just because you put a few African Americans inside the room, NAACP people, that does mean it speaks for the voice of all the residents in Camden."
Asked why local activists weren't allowed in, Dan Keashen, a spokesman for Camden County, confirmed the event was invite-only and said the venue, the James J. Florio Center for Public Service, is a "secure facility" that houses the Camden County Prosecutor's Office.
WHYY is your source for fact-based, in-depth journalism and information. As a nonprofit organization, we rely on financial support from readers like you. Please give today.