'Buyer & Cellar' and the price of great fame (1812 Productions)
Listen
0:00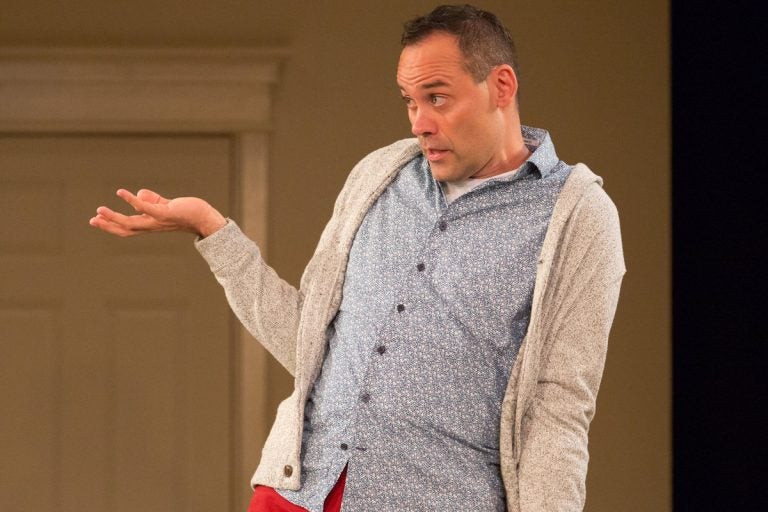 The first thing I have to tell you is what a great performer Dito van Reigersberg is when he's not wearing a dress. I'd almost forgotten. He's so visible here and in New York as his alter ego, the cabaret drag queen Martha Graham Cracker – and so well loved in that role, along with a buoyant backup band – it's easy to forget that you've seen him do Shakespeare. (OK, a weird Shakespeare, but still.)
The other thing I have to tell you is that the one-man play he's performing, "Buyer & Cellar," in a constantly jocular version from 1812 Productions — is better off for his participation. It's — get ready – about a guy who takes a job minding the private mall Barbra Streisand built in the basement of her barn in Malibu to contain her estimable belongings. In the play, she's the only customer who comes in, except for the time when her husband James Brolin appears in the sweets store for some late-night frozen yogurt.
Van Reigersberg (say it RYE-gerz-berg) plays everyone in the 90-minute show: the guy who gets the mall-manager job, his failed-actor boyfriend who comes to hate hearing about Babs, her husband James Brolin, the manager of Streisand's entire Malibu residential campus and, of course, Barbra. The actor Michael Urie gave a beautifully measured performance in those roles when the show was a recent hit Off-Broadway, and he captured Streisand by only half-way imitating her so that in stage conversation, she was instantly different from his rendition of the mall-keeper.
Yet that production seemed long to me, and the underpinning joke about a down-on-his-heels Hollywood guy falling into a palatial office space wore thinner than anything Barbra would have in her mall inventory. When I saw the show the other night at Plays & Players, where 1812 Productions stages its season, I couldn't get enough of Jonathan Tolins' script. It zips by in van Reigersberg's perfectly timed performance and with Dan O'Neil's lively direction. Van Reigersberg doesn't even try to imitate Barbra – the scripted narrative at the show's beginning tells us that he won't. He channels her with only a slight change in the pitch of his voice, a teeny bit of Brooklynese you have to listen carefully to catch and his ample acting talent. Clearly, he knows when he's being Barbra. Just as clearly, so do you.
Time for a caveat. Don't believe everything you hear from the stage, even though you may find the dialogue Tolins writes to be entirely credible, especially the cautious, vulnerable, sometimes domineering and sometimes clueless Streisand he draws. Tolins offers early-on explanation that van Reigersberg delivers as gospel: The basement mall is real, the story of its management and all the dialogue is a fabrication.
In fact, Tolins – a swell writer — was inspired to create the play after his husband bought him a copy of Streisand's impressively written and self-photographed coffee-table book "My Passion for Design" (Viking, published 2010). The book takes readers though her collection – and through her mall. Fun fact for Philadelphians: Streisand got the idea of displaying her collection of dolls, costumes and such after strolling though Winterthur, in Delaware.
Which brings us back home to this production. Its scenic design by Christopher Haig is simple. A portable tray with shelving and a high-back chair serve when van Reigersberg is playing a role in a dumpy L.A. apartment; when he moves the furniture to the rear of the stage, the space becomes Streisand's windowless basement mall, elegantly lit here by Maria Shaplin. You might wonder whether this abstract setting in a funny, sometimes strange and often sweet play does anything to enhance Streisand's reputation. That's up to you, of course. In the end, for me, Barbra Streisand is "Buyer & Cellar's" springboard to a deeper concept that, in a very funny way, explores stellar fame and its inevitable road to isolation.
_
"Buyer & Cellar," produced by 1812 Productions, runs through Oct. 29 at Plays & Players Theatre, on Delancey Street between 17th and 18th Streets. 215-592-9560 or 1812productions.org.