Bustleton's Klein Pantry helps feed elderly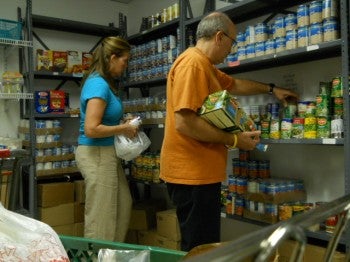 IN THE BASEMENT of a Jewish Community Center, in an office no larger than a college student's dorm room, six adult women operate a pantry aiding the effort to feed Philadelphia's seniors.
Meet Nina Cohen. She's sitting in her angel-blue upholstered desk chair swiveling in the middle of the office, leaning across a round table to grab, unfold and then rotate back around to hold up the front page of the Philadelphia Inquirer, with the top story addressing the city's hunger epidemic.
"This is very real. This is not in some third-world country, this in the United States of America, this is in Philadelphia," says Cohen, director of emergency food and home delivered meals at JCC Klein in Bustleton, referencing the newspaper's report. "In this city, there are people who are not eating, so it's very important to us to not only distribute food but try and educate people about poverty as well."
The pantry operates a program called Kosher Meals on Wheels and provides supplemental foodstuffs to senior citizens' doorsteps on a weekly, bi-weekly or monthly basis, as needed. The pantry counts on volunteers to help prepare, package and deliver the more than 1,000 rations a week to residents of the Northeast, as well as parts of Lower Bucks County and Abington Township.
"You will find no age group that is hungrier than another," Cohen says. "But, what you will find with many of the seniors is a difficulty to ask for assistance. Remember, this is a generation that survived the Holocaust, survived the Depression and survived World War II, and they never expected to live as long as they have, and are really starting to run out of resources now at this late age, and we try to help bridge this gap."
THE KLEIN PANTRY is governed by the Jewish Federation of Greater Philadelphia's Mitzvah Food Project, which provides an estimated 20,000 food staples to needy seniors. The project operates five pantry locations in the city.
In the Klein Pantry, there are two distinct programs for the aging population to choose from: Cook for a Friend or Catered Meals.
Cook for a Friend are meals provided by local volunteers, synagogue groups, Hebrew school classes and other organizations within the Jewish community, either cooked in their own facilities, or prepared in the JCC's renovated kitchen on the first floor, using the pantry's food supplies. There are 26 different cooking groups in all.
The food is stored in two closets opposite each other that precedes the back office, and are both full of non-perishable canned and boxed food items. The closets are bordered by a wide hallway lined with silver industrial double-doored refrigerator/freezers that house the packaged meals in metal trays.
There is no charge for participation in Cook for a Friend, but the pantry does ask for a voluntary contribution to help defray the costs of the program.
"In other words, a senior could get a week's worth of meals for the total cost of one Catered Meal. It's all based on finances, really." said Suzanne Wolfenson, the program coordinator. "But all ingredients are fresh and made with love. We try to make sure that no one goes hungry."
Catered Meals are also frozen, microwavable meals, but are prepared by a local caterer at a set cost of $5 per meal, with the main difference being variety from the Cook for a Friend meals.
There is a choice of chicken, beef, dairy and fish. Upon availability, soup, juice and bread are added to the bags. The meals are placed in brown shopping bags and are marked by area and address in black permanent marker.
Cohen is finding room for the shipment of food supplies that just arrived from Philabundance. The giant, brown Jenga-like square is a series of small boxes containing food supplies to be used in the making of the Cook for a Friend meals. She is communicating between the two maintenance men who brought the shipment in off the loading dock, her coworkers who are working the phones and asking anyone who will listen to her aloud rhetorical question: "Why can't we find the cheese?"
As she orchestrates, two volunteers just come back from delivery.
ON OCT. 14, all volunteers were honored at the annual volunteer recognition luncheon, along with all charitable foundations, with small tokens of appreciation and recognition.
The volunteers are the "the heart and soul of the [Kosher Meals on Wheels] program," Cohen says. "Without their support, hundreds of frail and homebound elderly would not receive the support they need to live independently in their homes."
The two volunteer drivers are returning from some two hours of deliveries. The two women, in their mid-to-late '60s, are friends who started volunteering for the David Neuman Senior Center on Bustleton and Magee avenues in Castor Gardens, but came to work for the JCC when the program moved 20 years ago.
This is Janet Silbert, the soft, sweet-talking shorter woman who speaks with the innocence of a first grader raising her hand for the first time in class, and the other is Loretta Katz, with her raspy voice, who would fit the mold of the teacher who calls on her.
"We wanted to do something to give back," Katz says.
Silbert adds: "The people are just wonderful. When we deliver they are so appreciative, it makes us feel good."
Katz replies: "And for a lot of them we're the only people they see all day long. So you really feel that you are not only delivering meals, but we're delivering other things too as far as having them have somebody to talk to for five minutes in a day. And we always check to make sure the food from last week isn't still there, that they're eating."
Says Silbert: "It's very rewarding."
COHEN IS OFF the cheese. She's now busy talking to her phone resting on her right shoulder with her head tilted to hold it in place, while shuffling around yellow and white papers that erratically cover the round, white desk.
She can't say goodbye, only shake the hand in front of her and nod only enough to not disturb the receiver below her ear drum.
She is speaking with representatives from contributors, philanthropists, non-profits and community organizers. There are plenty of people hungry for her help, and hundreds of mouths she has yet to feed.
"A lot of these seniors can stay in their homes," Cohen says about the seniors she aids and the program itself. "And that's what they want to do. They don't want to live in an apartment building or an institution or nursing home. They want to live in their own homes. But the problem is that a lot of times their child feel concern for their parent's, 'is mom OK.' So this is reassurance mechanism where they know mom is getting her meals, she is getting the assistance she needs. Especially for children, or even grandchildren who live out of state and a lot of them do, this a link for them to know mom is going to be OK."
Tom Rowan and Gail Austin are students in Temple University's Multimedia Urban Reporting Lab. You can also see this story here on Philadelphia Neighborhoods.