Breaking poverty: Crime, poverty often linked
Three of the poorest ZIP codes in the city are responsible for almost a third of the city's homicides since January 2013.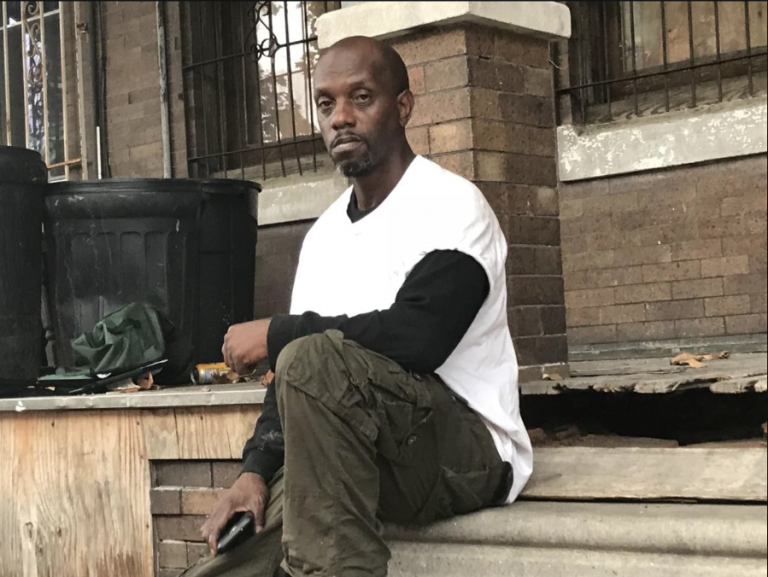 This story originally appeared on The Philadelphia Tribune.
—
There are the everyday burdens of life and then there are those Eric Eberhart is facing.
In April, the 17-year-old Nicetown resident watched in horror from the passenger seat of his father's car as bullets fired from a passing van exploded through the driver's-side window and tore holes in Eric Eberhart Sr.'s chest, leaving him dead in the 4400 block of Germantown Avenue, right below Roosevelt Expressway. Eberhart Sr. had dropped off his 2-year-old daughter at a day care center just a few moments earlier.
By itself, this is unimaginable trauma. But there's more.
A few weeks later, while he was sitting on a porch in Chester on a warm night, Eberhart Jr.'s younger brother was hit by a stray bullet that was believed to be intended for someone else. The bullet grazed the 14-year-old boy's spinal cord before it exited his body. Doctors are uncertain if he will ever again walk unassisted.
What is certain, however, is the body of empirical evidence that shows the homicide rate is higher in poorer parts of the city like Nicetown.
Scope and size
Philadelphia has the highest poverty rate among U.S. cities with 1 million or more residents.
The federal poverty level for a household with one adult and two children is $20,780. Approximately 400,000 Philadelphians — 26 percent of the city's total population — are living below the poverty level. For perspective, that's more than the number of people living in Cleveland, Tampa or New Orleans.
About half of impoverished Philadelphians — roughly the same number of people who live in Montgomery, Alabama — live in deep poverty, which is approximately $10,000 annually per household.
"The next closest city to us has a [poverty] rate of about 20 percent — that's 5 percentage points lower than ours," said Philadelphia Police Commissioner Richard Ross. "Imagine what the reduction in homicides would be if we cut that by 5 (percentage points). It contributes because people, when they are mired in a sense of hopelessness, they tend to see no way out of their circumstances. Desperate people do desperate things."
Across the city's 46 ZIP codes, the median household income ranges from a low of of $17,016 (North Philadelphia-East) to a high of $101,648 (Center City-Society Hill). Just as disparate as the two are economically, so too are they different in terms of violent crime.
Last year, there were 312 homicides in Philadelphia — the most since 331 were killed in 2012.
The police commissioner said the exploding opioid crisis was largely responsible for the spike in homicides. The most notable increase, he said, occurred in the 25th Police District, which includes large pockets of poverty in West Kensington (the 19125 ZIP code) that have been ravaged by the drugs. A city-high 27 murders have occurred in the 25th through Thursday.
However, most of Nicetown is also in the 25th District and it is not known for opioid trafficking. It's in the 19140 ZIP code, which is one of the poorest ZIP codes in Philadelphia and has the highest number of homicides to date this year.
Three of the poorest ZIP codes in the city — 19132 (North Philadelphia-West), 19134 (Port Richmond) and 19140 (Germantown, Nicetown and North Philadelphia-West) — are responsible for almost a third of the city's homicides since January 2013.
"And therein lies the challenge of deployment," Ross said. "The opioid crisis was directly related to last year's numbers. It exploded last year, so naturally you adjust and plan to intensify deployment in that area. The opioid problem isn't nearly as bad in the Southwest. But again, the consistent thread in the areas is the day-to-day struggle to survive."
'It's a vicious cycle'
"When you walk these neighborhoods and you see what you see, the struggle from day to day just to survive, it's discouraging. All this poverty leads to hopelessness and desperation. And it definitely feeds right into the problem of violence," Ross said. "Very few guys who are working get shot. Economics, without a doubt, becomes the common denominator."
Philadelphia District Attorney Larry Krasner says it's a "vicious cycle."
"Poverty causes crime and crime causes poverty," said Krasner, long a critic of the criminal justice system. "The system will take relatively minor offenses, turn them into criminal convictions."
Unable to afford expensive legal representation, the poor, when they find themselves in need of legal defense, usually have no other recourse than to secure a public defender, Krasner said. And oftentimes after a young man is convicted and serves his time, he now has the added burden on a felony on his record. The system, Krasner said, ensures "that a young man is never going to be employed. That is going to cause poverty."
"Likewise," Krasner continued, "When you have concentrated poverty like we do in Philadelphia, people are still going to want to survive. They are going to want to make money. And therefore what it leads to is a fertile ground for criminal exploitation in various different forms, such as drugs, drug turf wars and the violence that's associated with them. It becomes a fertile ground for people looking to self-medicate themselves, so you are talking about theft, breaking into cars, breaking into homes. Violence and homicides result from that."
Poverty, trauma go hand in hand
The Nicetown neighborhood, with its trash-strewn streets, boarded up houses and African-American men wandering from corner to corner with seemingly nowhere to go in the middle of the day, illustrates the commissioner's point.
On a summer afternoon, Derrick Eberhart, Eric Eberhart Jr's uncle, pointed to the crowds of unemployed men on one Germantown Avenue corner and then another. In all, there are about 20 in total.
"That's why you have this," he said. "A lot of these guys want to work. But they don't have the skills that are needed."
It is against this backdrop that Derrick Eberhart, 46, fights a constant battle to make sure his nephew does not wind up another statistic. A cook by trade who grew up in Nicetown, Derrick knows the dangers of the neighborhood. His deceased brother, the father of five, was raising Eric Jr. and his half brother by himself just a few blocks from where Darnell Snell, who has since turned himself in to police, is alleged to have killed him.
For Derrick, who has a stepson of his own, there is no choice other than to step in and attempt to fill the void left by his brother's murder. His nephew is scheduled to graduate next year, and Derrick said the young man's future hinges on the decisions he will make over the next year.
"It's up to me to bring him up," he said. "But it's hard because he's traumatized by two different things — his father and his brother. There are times when he's not all there, when he's looking out into space and I have to check him. But then I have to step back sometimes because of what he's going through. But he has to know that he can't be too emotional because you are going to be the head of this family."
—

WHYY is one of 19 news organizations producing Broke in Philly, a collaborative reporting project on solutions to poverty and the city's push towards economic justice. Follow us at @BrokeInPhilly
WHYY is your source for fact-based, in-depth journalism and information. As a nonprofit organization, we rely on financial support from readers like you. Please give today.