'Blowout tide' continues this afternoon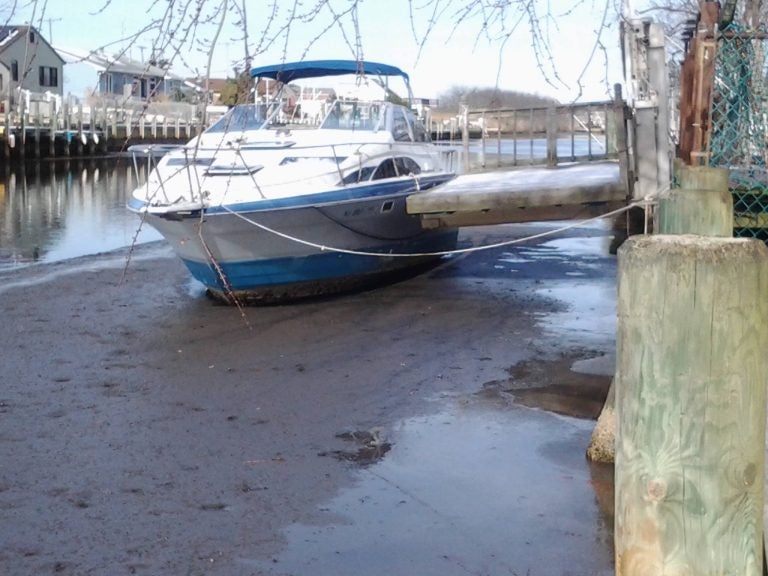 For the second afternoon, a blowout tide is impacting some lagoons along the Jersey Shore.
JSHN contributor Roger Gary captured the above image of his lagoon in Forked River, where bulkheads and the mud bottom are completely exposed.
Yesterday in Mystic Island, Rob Libonati said he had never seen his lagoon so low.
"All my years here in Mystic Island, I have never seen a blowout tide as bad as it is right now," he said. "No water at all in my part of the lagoon."
A blowout tide occurs when west-northwest winds blow water out of a waterway, producing unusually low tides, according to the National Weather Service.
While not regular, blowout tides do occur on occasion.
Earlier yesterday, the National Weather Service office in Mount Holly, NJ advised of low tidal water levels. Forecasters said that marine interests should monitor tidal departures.
When asked about how the current blowout tide condition could impact the potential moderate to major tidal flooding threat for Saturday, the meteorologist-in-charge of the local National Weather Service office said he doesn't think there is much of a connection.
"I don't think that will help us much on Saturday. What is helping us is the slightly slower storm track," Gary Szatkowski said. "More surge from the storm is being pushed after the Saturday morning high tide by the timing."