Bill would help Delaware suspend teachers who pose 'clear danger' to students
A vote is anticipated by the end of the legislative session on June 30.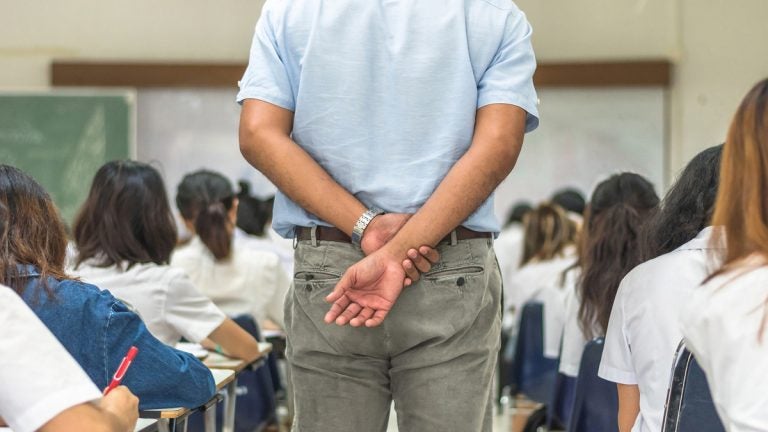 Delaware's education secretary would be permitted to temporarily suspend the license of a teacher accused of sexually abusing children or committing other serious misconduct under a bill working its way through the General Assembly.
The measure would allow the state Department of Education to take the disciplinary action and hold a licensing hearing while a district is mulling action that some officials said can take up to a year.
The aim of the bill is not only to remove dangerous teachers from their current classroom as soon as possible, but to prevent them from getting a job elsewhere before their district fires or disciplines them and refers their case to the state for possible action against their license.
The bill, which was introduced this week, has been released from the Senate Education Committee, and a vote is anticipated in both chambers by the end of the legislative session on June 30.
Advocates of the measure — among them the state teachers union — say the bill strengthens the state's ability to protect children in Delaware. That can't help but benefit children in a state where several teachers in recent years have committed serious sex crimes against minors from their school and the community.
Among those cases:
Smyrna High School teacher and track coach Joshua Rutherford pleaded guilty in March to attempted inducement of a minor after seeking to have sex and receive child pornography from what he thought was a 14-year-old girl whose father he met online. The alleged victim was actually a police officer posing as the girl's father.
 In November, Smyrna Middle School teacher Karen Brooks pleaded guilty to two counts of fourth-degree rape for a sexual relationship with a 17-year-old boy she met when he was at her school. Prosecutors said they also uncovered a second sexual relationship between Brooks and a different student.
McKean High athletic director Brian R. Budd pleaded guilty in May 2017 to offering a sex act to a 16-year-old boy after luring him to a shopping center parking lot by texting him and pretending to be a 20-year-old woman.
Former Caesar Rodney High teacher and wrestling coach Richard "Dickie" Howell II pleaded guilty in 2016 to sexually abusing a 17-year-old student who testified that he had destroyed her life and damaged her psychologically.
Then there's the case of former Smyrna High teacher Donovan Garvin, who pleaded guilty in 2013 to first-degree sexual abuse of a 15-year-old female student. Prosecutors said in court that before Garvin taught at Smyrna, he had been let go from other unidentified districts for similar allegations of sexual misconduct with students.
Under current law, unable to take action
The Department of Education also provided examples of the four cases in the state where officials said they were unable to take licensing action. Spokeswoman Alison May, who provided the example, did not provide the educator's names, citing legal reasons.
The cases:
Over more than 10 years, a male educator has been accused three separate times by female elementary students of touching their thighs and making sexually inappropriate comments.  No criminal charges have ever been brought and the district never issued an "intent to terminate letter," May said.  When the third incident occurred, he resigned. This teacher was hired elsewhere in the state and is currently teaching children. Under the current law, the state has no grounds to conduct an investigation to determine if his license should be limited, suspended, or revoked, May said. If the state wanted to take action and the man challenged the state, the state would very likely lose due to the restrictions for action within the law, May said.
An educator was accused of not reporting child abuse as required by law. This educator entered into an employment agreement to go onto disability pension with the district. Upon review, the hearing officer found that the educator had not separated employment and therefore the state had no jurisdiction to investigate and the Professional Standards Board upheld this decision.
A principal who stole money from Parent-Teacher Association eventually entered a plea of probation before judgement. Since this is not technically a conviction, no action could be taken against their license.
An educator was charged with a felony for having pushed an autistic student and causing him physical injury. The educator could take a job elsewhere despite the charges being investigated, May said.
In the last 18 months, the state has conducted 54 licensure investigations, according to data provided by May.  Those inquires have resulted in six revocations, six suspensions, 10 educators being put on probation, and seven surrendering their licenses.
Advocates of the bill say the state would be able to do many more investigations instead of waiting for a district to first take action.
Bill would not let accused 'bounce around'
Mike Matthews, president of the Delaware State Education Association that represents teachers and other school employees, said crimes and violations like those cited in this article spurred his union's lawyer to work with state education officials, attorneys and others to craft the legislation.
Matthews said the DSEA "strongly supports" the bill because it could prevent the ability of child abusers to "bounce around'' to different school districts with their teaching license intact while a serious allegation goes through a copious investigative process at the district level. The bill would also provide extensive due process to protect teachers who are unfairly accused by students, parents or other faculty, he said.
"It clarifies the process that I think maybe has been muddied for some time," Matthews said. "It kind of separates this idea that the employer, the district and board, has to take action before [the state can take action] to revoke or suspend an educator's license when there are allegations of a serious crime."
Under current law, in the event of criminal charges the state cannot take action to revoke, suspend or limit a license unless a teacher pleads guilty or "no contest" to a crime against children or a drug offense.
The Department of Education's Professional Standards Board can take action for immorality, incompetence, misconduct or neglect of duty – but only if the teacher is first "terminated or dismissed." In the case of immorality, action against a license can also be taken if the teacher resigns "pending dismissal," but only if  "clear and convincing evidence establishes the underlying misconduct occurred."
The proposed legislation, however, removes the provision that the teacher must first be fired or resigns pending dismissal before action can be taken.
Also, currently the education secretary can now take action without holding a hearing when a teacher is charged with a violent felony. But the bill would let the state's top education official do so whenever a teacher is charged with any felony "against a child."
The bill also would make "all final orders" against a teacher's license public documents accessible under Delaware's Freedom of Information Act.
Jon Neubauer, an associate education secretary, said current law hamstrings the state in its duty to properly police educators who run afoul of the law or regulations.
"It hinders our ability to prosecute some individuals who engage in immoral conduct who are, let's say for legal reasons, not terminated or dismissed by their employing district," Neubauer told WHYY. "We cannot take action against the educator's license."
'Temporary suspension' seen as solution
The bill also provides the education secretary with broad powers to order a "temporary suspension" against a teacher while a criminal case is working its way through the courts or a district is weighing disciplinary action.
That could occur when a complaint is made that a teacher "presents a clear and immediate danger to the health, safety or welfare of students," according to the bill.
But first, the teacher or his attorney would get 72 hours before a temporary suspension to contest the action in writing. Should the secretary order the suspension, the action can remain in effect for up to 60 days pending a hearing on the matter. That time period can be extended only if the teacher requests a continuance.
The hearing examiner will get 20 days to decide whether there is a factual basis that a "clear and immediate danger" exists. Should the examiner decide that it does, the standards board would get up to 60 additional days to decide whether to revoke, suspend or limit the license.
The bill also has a provision that could apply when the state determines that no violation has occurred which warrants disciplinary action, but that "an act or omission" by the teacher is a "matter of concern." Such a concern could be that the teacher creates inadequate Individualized Education Programs for students who are identified as in need of special education services.
In such cases, the secretary can issue a "letter of concern." Should the teacher receive three such letters, the secretary may limit their license through measures such as restricting the ages of students he can work with or require additional supervision, education, counseling or a psychiatric examination.
The bottom line, Matthews said, is that kids need to be protected.
"I am always disturbed when children are harmed, either violently, sexually or mentally in any way,'' Matthews said. "It should not be tolerated.
"The bill takes necessary steps to remove those educators if there is clear fear of harm coming or having come to a child. I like to believe that like any other profession we are always going to have those who do not represent our profession well and need to be exited when it comes to these allegations and potential crimes."
Neubauer agreed.
"It's intended to prevent educators who have engaged in immoral conduct from slipping through the cracks and moving to another district," he said, "without the department's ability to investigate."
WHYY is your source for fact-based, in-depth journalism and information. As a nonprofit organization, we rely on financial support from readers like you. Please give today.